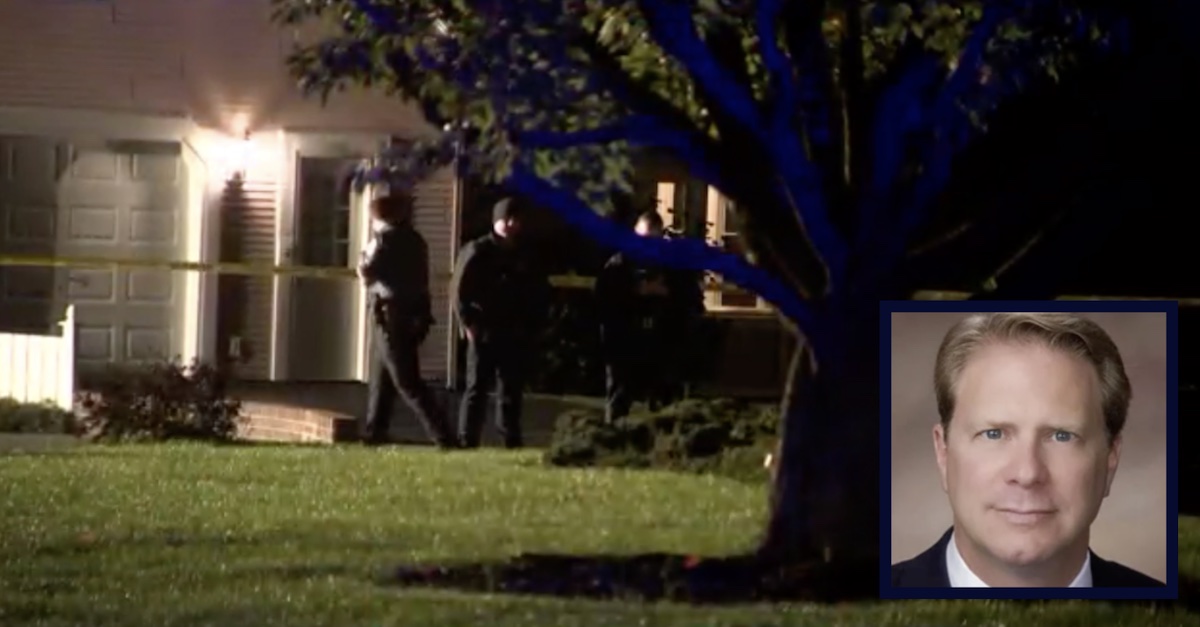 Police put up crime scene tape outside home where Judge Andrew Wilkinson (inset) was fatally shot (WUSA/screengrab)
A 52-year-old state judge was found fatally shot in his own driveway Thursday night, in an incident that has rocked the Hagerstown, Maryland, community and close colleagues — just hours after the jurist issued a ruling in a divorce case.
In an update Friday, the Washington County Sheriff's Office said they were searching for 49-year-old Pedro Argote, a party to the divorce case, in connection with the shooting of Washington County Circuit Court Judge Andrew Fisher Wilkinson.
"Anyone with information on the location of Pedro Argote, 49, is asked to notify law enforcement immediately. Argote is 5'7″, 130 lbs. with black hair and brown eyes," investigators said. "He may be operating a silver 2009 Mercedes GL450, displaying Maryland registration plates 4EH0408."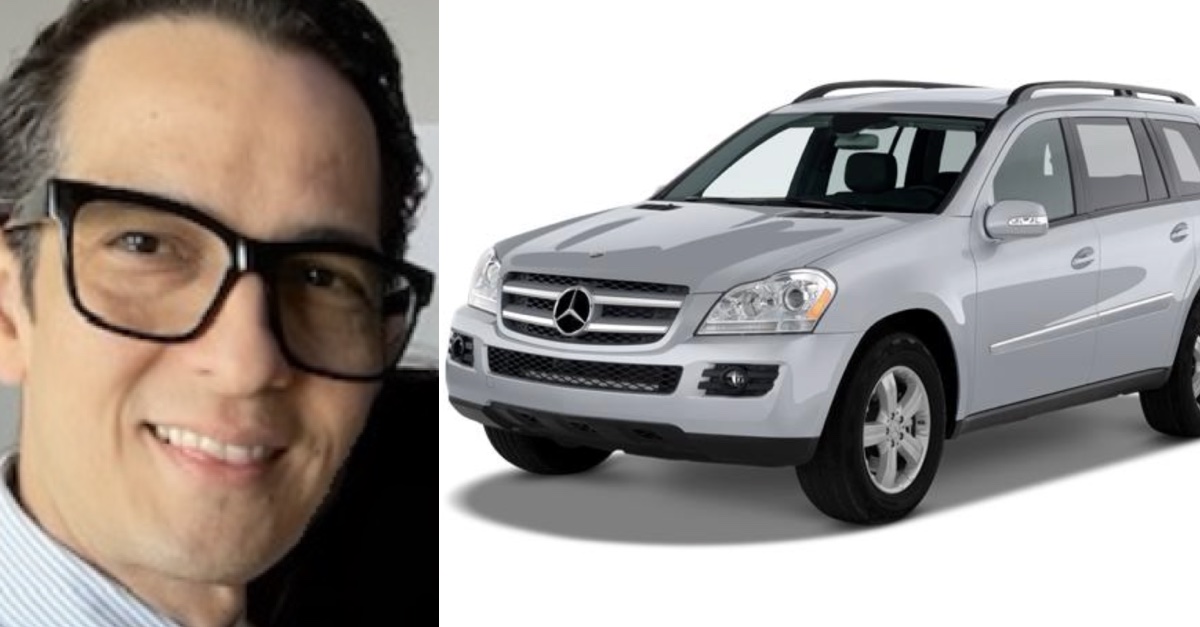 Pedro Argote (left) and a car he was possibly driving (right), images provided by Washington County Sheriff's Office
"Anyone with information in reference to Argote's location is asked to not approach him but to immediately notify law enforcement," the sheriff's office added.
Court records reviewed by Law&Crime show that Judge Wilkinson presided over Argote's divorce case and that a hearing was held as recently as 9:30 a.m. on Thursday.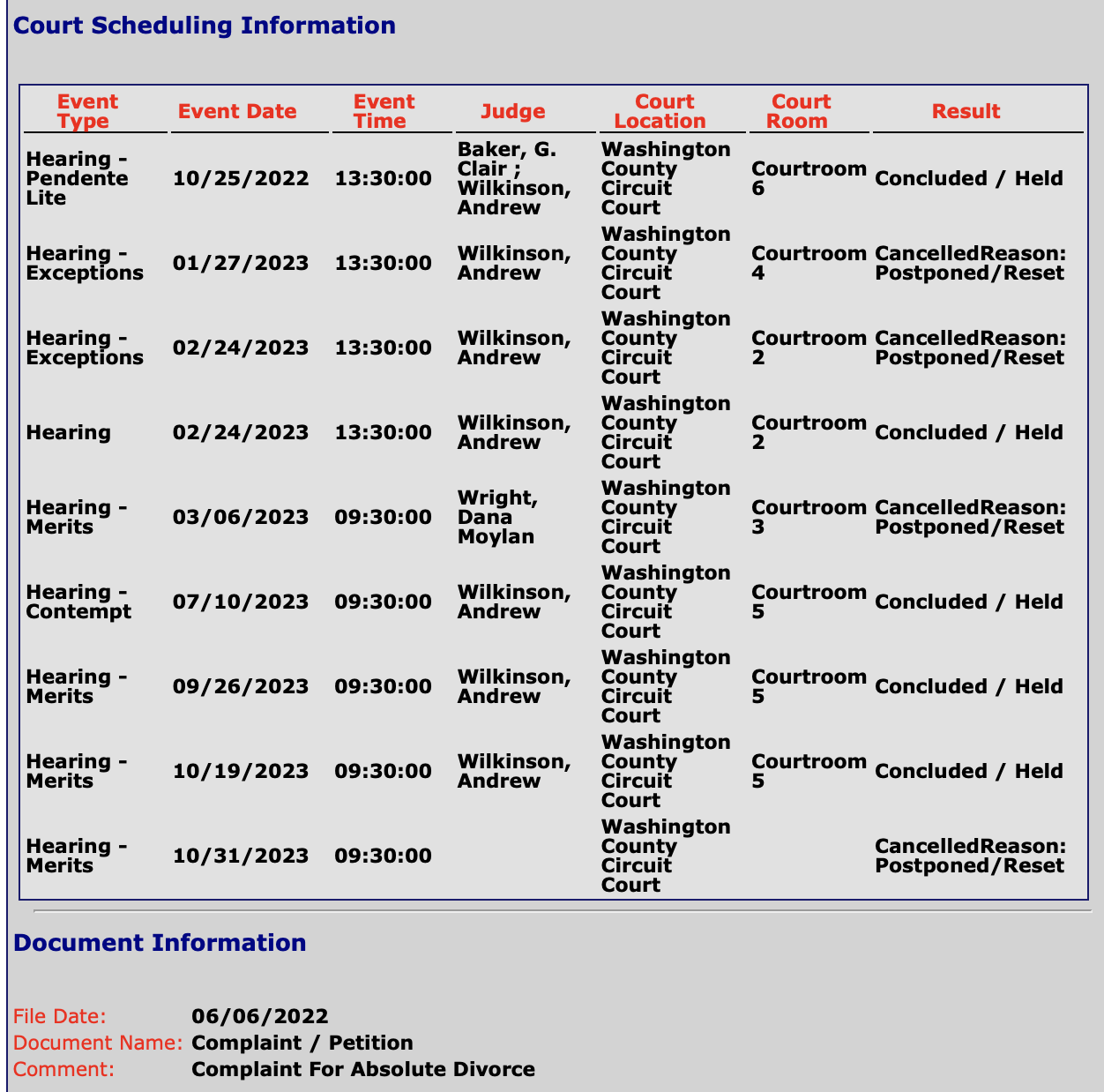 Records also indicate that a partial judgment of absolute divorce was issued Thursday.

Judge Wilkinson had served as an associate judge in the 4th Judicial Circuit since Jan. 10, 2020, after then-Gov. Larry Hogan (R) picked him to be the sixth judge on the Washington County Circuit Court.
A story from 2019 said that prior to his nomination and appointment, Wilkinson owned a law firm that focused on civil matters in real estate, family law, and personal injury cases. When Hogan appointed Wilkinson, he said he was confident that Wilkinson would be a strong advocate for the law and would serve Washington County "admirably."
Tragically, on Thursday night around 8 p.m., the judge, a husband and father, was shot and killed on Olde Waterford Rd., where he made his home, the Washington County Sheriff's Office said.
"The victim, an adult male, was located in the driveway of a residence. The victim was suffering from what appeared to be gunshot wounds. He was transported to Meritus Medical Center, where he later succumbed to his injuries," authorities said in an initial statement on the investigation Friday.
More Law&Crime coverage: Repeat felon dies four days after shooting, killing retired Wisconsin judge who once sentenced him to prison
Biographical information provided by the state said that Wilkinson, born in Guam in 1971, received his law degree from Emory University School of Law in 1997. That same year, he began serving as a law clerk in Washington County, the very county where he would become a judge more than two decades later.
Before he became a judge, Wilkinson worked in private practice at two law firms, Barton & Williams and Divelbiss & Wilkinson, in each case rising to partner. In 2018, Wilkinson established his own law firm.
Outside of his legal career, the judge's bio said he had been active during the 2010s as a youth soccer coach, whether with the Hagerstown YMCA, the Hagerstown Area Youth Soccer League, or the Hagerstown Soccer Club. The bio indicated Wilkinson was active with the Hagerstown Soccer Club to the present day. The judge was also an assistant little league baseball coach in Maugansville and a longtime parishioner at St. Ann Catholic Church.
According to the New York Times, Administrative Judge Brett R. Wilson reacted to the death of his colleague by emphasizing just how tight-knit the judges are.
More Law&Crime coverage: New Jersey passes 'Daniel's Law' After misogynist attorney killed the son of a federal judge at home
"We are a courthouse of six judges," Wilson reportedly said. "We all know each other very well."
The Poole Law Group, a local personal injury firm, mourned Wilkinson's death, calling him a "good, kind, and humble man" who "worked to ensure justice in our local court system."
"In his court, everyone had their fair chance and he was the very sort of man our community cannot afford to lose," the firm said. "Our hearts and sympathies go out to the Wilkinson family, his staff, colleagues and friends."
Have a tip we should know? [email protected]