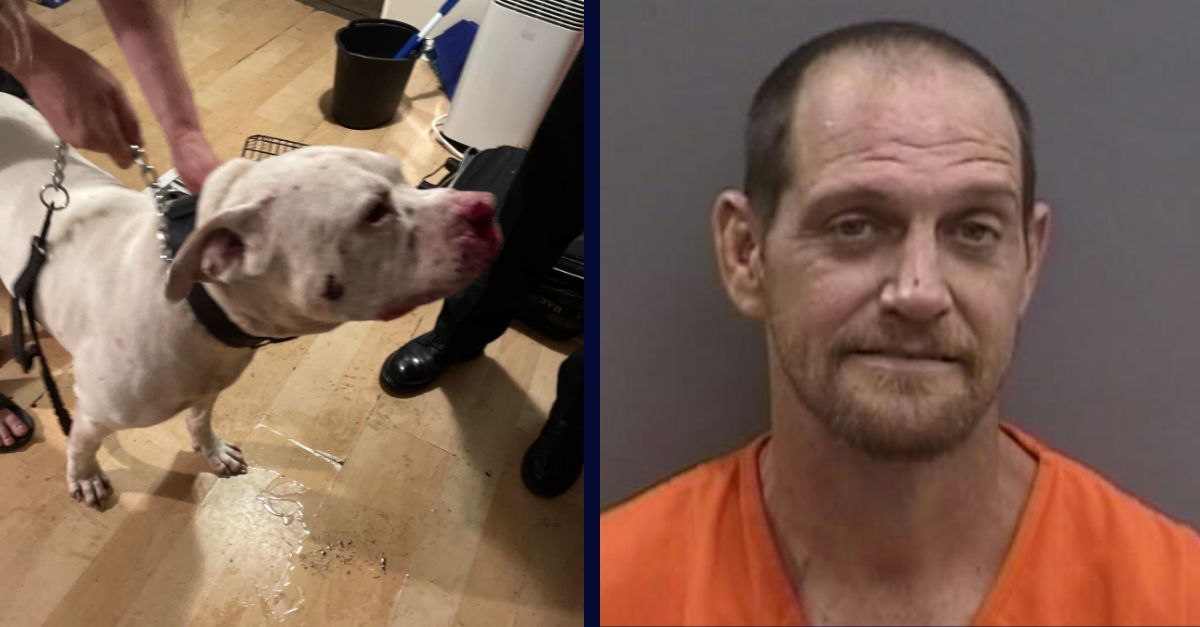 A courageous dog, left, and Joshua Joseph Mueller, on the right. (Hillsborough County Sheriff's Office)
A Florida dog intervened when its owner was slashed during a knife attack last week, according to authorities in the Sunshine State.
The woman and her four-legged companion were harmed, but both are now recuperating after the incident on Halima Road in Dover, a census-designated place some 20 miles northeast of Tampa.
Joshua Joseph Mueller, 40, stands accused of one count each of aggravated cruelty to animals with a weapon and aggravated battery with a weapon causing great bodily harm, according to a press release issued by the Hillsborough County Sheriff's Office.
On Thursday, a man and a woman were arguing about an undisclosed topic in front of a residence, the sheriff's office said. The woman was allegedly seated in her car while the man was outside. At some point, things became physical and violent, according to law enforcement.
"Mueller became upset and shattered the front driver's side window with his fist," the press release reads. "He then went inside and grabbed a large kitchen knife. Walking back outside, he confronted the victim and slashed at her arms several times."
Then, the valiant canine sprang into action to protect the woman, the sheriff's office said. The dog's defense allegedly prompted Mueller to turn his violent attention to the animal. The defendant is accused of stabbing the fearless creature in its face and chest.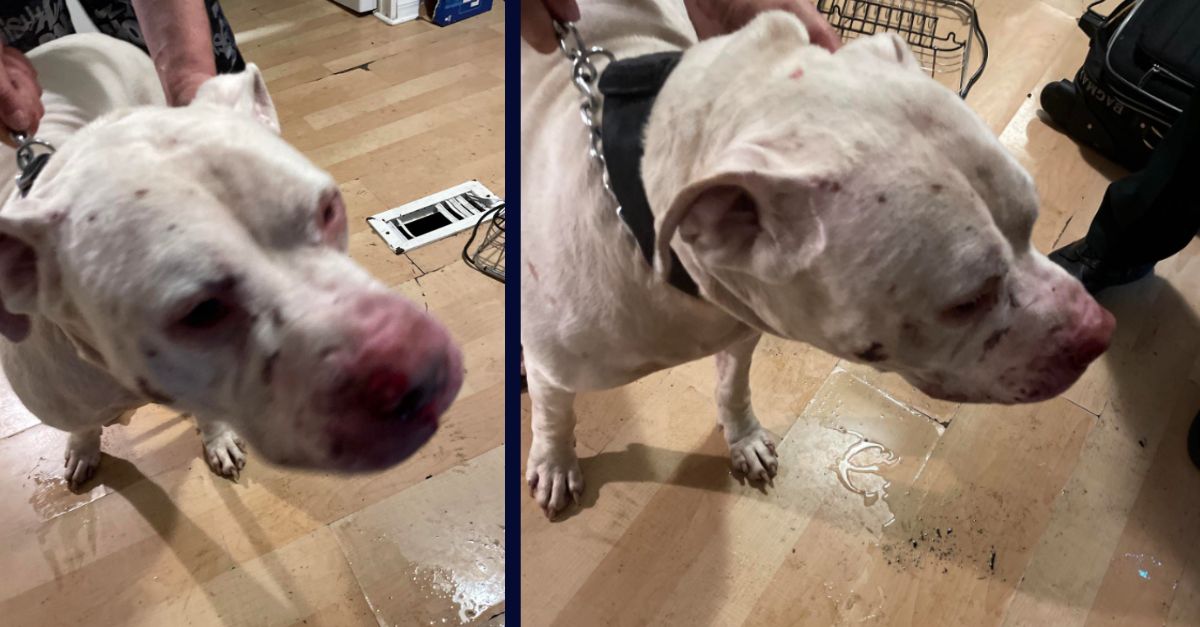 More images of the unnamed hero dog in Florida. (Hillsborough County Sheriff's Office)
Eventually, law enforcement arrived. Authorities did not say how the knife attack ended.
The sheriff's office claims Mueller gave responding detectives a "full confession" when he was arrested without incident. A Tuesday defense filing in his case, however, seeks to affirmatively assert his Fifth and Sixth Amendment rights to remain silent and to be represented by counsel. The court document is also dated the day after his arrest.
Mueller was booked into the Hillsborough County jail the same day as the incident. He was granted a court-appointed attorney on Friday and released on a surety bond two days later. Mueller was ordered to have no contact with the victim and not to possess any weapons as conditions of his pre-trial release, according to court records reviewed by Law&Crime.
The human victim's name cannot be released, according to the terms of the court order. Law&Crime reached out to the sheriff's office for additional details on this case – like the dog's breed and name. Those inquiries were forwarded to the agency's public records department, a spokesperson said.
Judging by the photographs provided by the sheriff's office, the heroic dog appears to be a pit bull or a related breed.
"This is a sad and reprehensible act of domestic violence and animal abuse that will not be tolerated in our county," Hillsborough County Sheriff Chad Chronister said in the press release. "While this individual cools off and faces the consequences of his violent actions, our heart goes out to the victim and their brave pup, and our deputies are working to get them the help they need to move forward."
Have a tip we should know? [email protected]