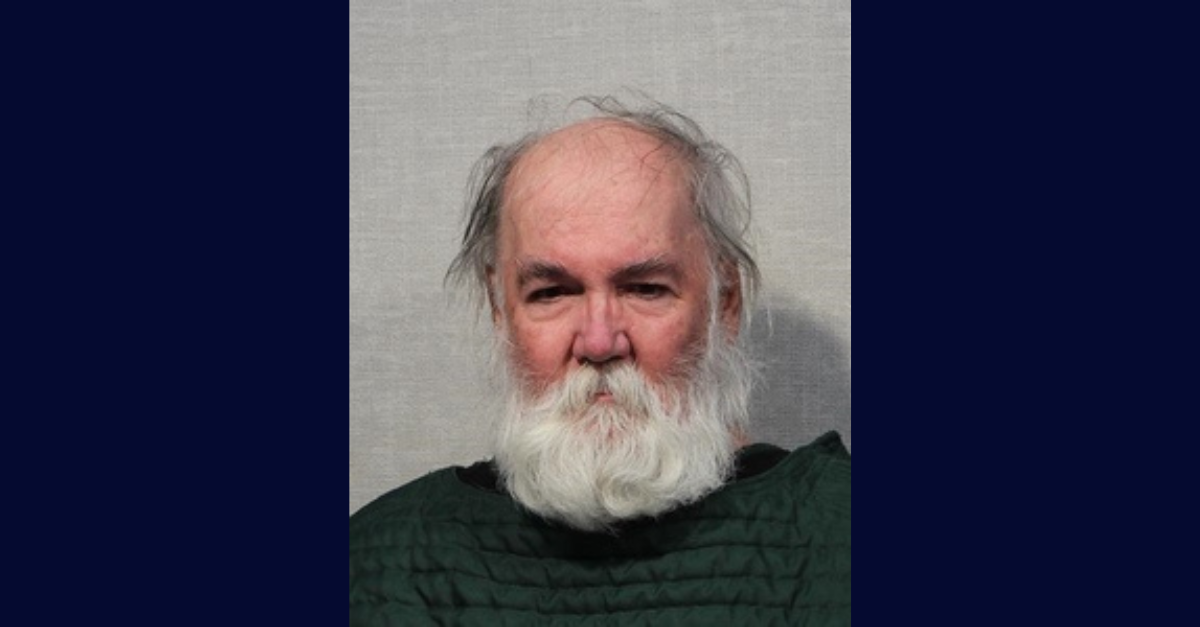 Ronald Jack Anderson shot and killed Clifford Smith in 1982, authorities said. (Mug shot: Indiana State Police)
Forty-one years to the day, troopers in Indiana said they arrested a brother-in-law for shooting off part of a man's head with a shotgun.
Ronald Jack Anderson, 61, allegedly told ever-shifting stories throughout the years about what happened that night.
Two animal trappers discovered Clifford Smith, 24, dead along the White River on Dec. 1, 1982, according to state troopers in a statement and a probable cause affidavit. He was face up in a small pool of water.
"The top portion of the body's head was missing, as was an area by the ear," they wrote.
There were "many pieces of buckshot" in his head.
"It was further opined that the gun was fired with the barrel inside the mouth," they wrote.
The coroner at the time suggested it could have been a suicide, but investigators turned up a contentious situation after they found his ID on his body. It turned out that his wife had reported him missing the previous Nov. 4.
She eventually told investigators Anderson and Smith arrived at a home on 13th Street late on Oct. 30, 1982, with some stolen items, documents stated.
In this account, Smith wanted to go home with his wife, but she refused because he was drunk. He kept urging her to join him. This angered her.
"I wish someone would blow your head off," she allegedly said in her account.
Smith said they would not have to because he would die by suicide. One of the residents of the home took Sith aside to talk in the bedroom. At that time, Anderson allegedly told the wife the stolen items were from a burglary and it was Smith's fault.
Anderson allegedly asserted Smith had been hitting him all day and said that if Smith did it again, he'd kill him.
He took a shotgun belonging to a resident and put it in Smith's vehicle. Having returned to the home, he allegedly threatened the wife to keep silent, or he'd kill her.
"At that time, Ronald began yelling for Clifford to come out so Ronald could leave and get his beer and go home," the documents said.
When Smith emerged, Anderson pestered him to leave.
"Clifford then struck Ronald twice in the shoulder," authorities wrote. "Ronald did not say anything else." But he allegedly went to Smith's car and repeatedly honked the horn.
Meanwhile, Smith was angry at his wife, according to this version of events. He allegedly removed his wedding ring, bent it up, and threw it on the floor, saying she would return home with him and he would die by suicide.
Anderson picked him up off the street, and they left.
Later, Anderson claimed to his sister that Smith's car was at Shields Park and she should not touch it for several days. Also, he said he had returned the shotgun after washing his fingerprints.
Anderson allegedly told his sister several stories of what happened that night, and though these each ended with him leaving Clifford at home, he told her not to say anything about the shotgun or she would die.
He allegedly reiterated his threat when an investigator on Dec. 10, 1982, took them to an Indiana State Police post for questioning.
From there, Anderson spent years telling investigators different versions of what happened. According to documents, he professed innocence but changed key details such as who killed Smith, how many did it, whether he witnessed it or not, and whether anyone else was present.
In 2021, an investigator got in touch with Anderson to show the scene of the crime.
But Anderson balked at it on June 4 of that year, saying the phone call bothered him and he could not think of anything else the whole night.
"He said that his nerves were shot," they wrote. "Ronald said that he did not want to go with us or be involved with us anymore. He just couldn't take it. This was the last time I spoke with Ronald."
Anderson remains at the Jackson County Jail, records show.
Have a tip we should know? [email protected]