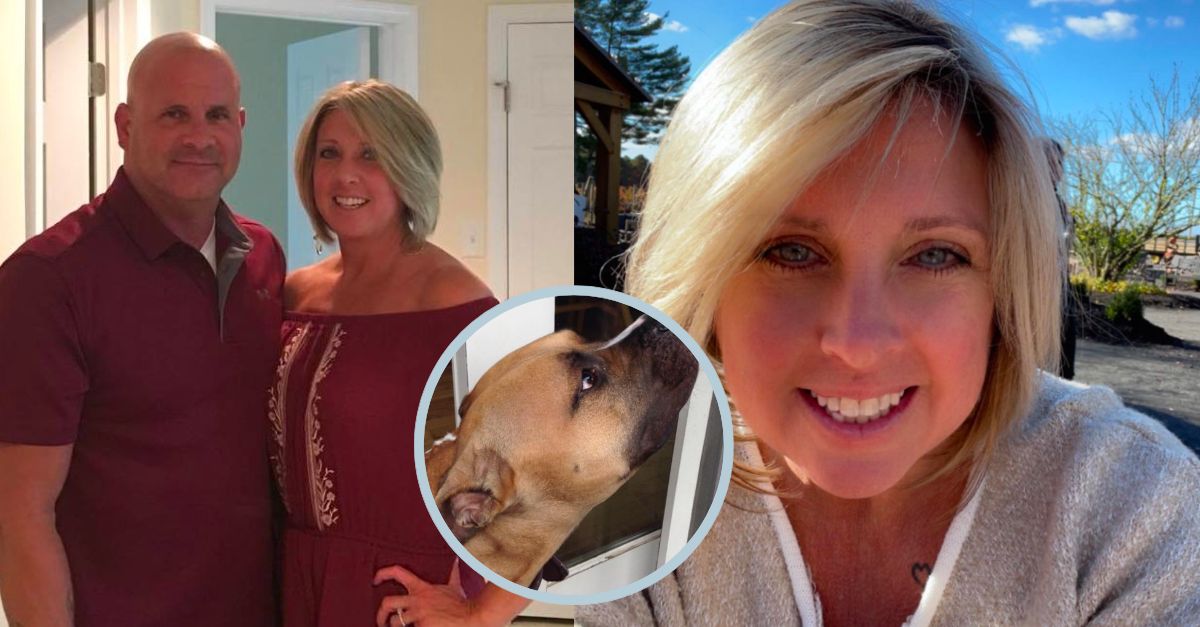 Carl Schulz, on the left, and Kimberly Hoffman, center, and on the right; Hoffman's dog appears inset. (Facebook)
A New Jersey man killed his ex-wife and her dog over the weekend in a murder-suicide at the woman's own apartment, authorities say.
Carl Schulz, Jr., 52, is alleged to have shot and killed his ex-wife, Kimberly Hoffman, 49, before eventually turning the gun on himself.
During the early morning hours on Saturday, July 29, Hoffman made a frantic 911 call. At 5:10 a.m., officers with the Little Egg Harbor Township Police Department responded to the residence on Whitemarsh Court; but by then it was already too late.
Hoffman was able to tell the dispatcher that she thought she heard someone breaking into her apartment, according to a press release issued by the Ocean County Prosecutor's Office. Responding officers had to force entry into the residence, where the mother of two was found, deceased, with a gunshot wound to her face.
The assailant is believed to have also shot and killed Hoffman's dog – which was also found dead with multiple gunshot wounds.
The ex-husband, for his part, was found with a gunshot wound to his head, and alive, the prosecutor's office said.
"Schulz – who was conscious when police arrived – was transported to AtlantiCare Regional Medical Center in Atlantic City, where he later succumbed to his injuries," the press release reads.
The resulting investigation was carried out by detectives with the OCPO, the Ocean County Sheriff's Office, and the local police department. Details regarding the inquiry are scarce. Law enforcement determined that Schulz first shot and killed his ex-wife, then shot and killed her dog, "before turning the gun on himself," the press release says.
More Law&Crime coverage: Man allegedly shot and killed his pregnant transgender boyfriend and then himself in murder-suicide
Authorities have not floated a potential motive for the shocking act of violence.
Hoffman worked at a local rehabilitation clinic and nursing home in Little Egg Harbor, according to radio station 101.5.
A GoFundMe was started by a family friend to help the deceased woman's two children with "immediate and long-term expenses, including educational needs, counseling, medical bills, and any other essentials they may require as they adjust to life without their mother."
"Kim was a remarkable person who touched the lives of many with her kindness, compassion, and an infectious smile," the fundraiser reads. "She had a heart of gold and was always there to lend a helping hand to those in need. As a dedicated mother, she poured her love into her two children, making sure they felt safe, loved, and cherished every day."
"Kim's life was tragically cut short, leaving behind her children who now face a future without their beloved mother," the GoFundMe continues. "The pain of her loss is immeasurable, and we are all devastated by this senseless act of violence. Our hearts ache for her children, and we want to do everything we can to ease their burden during this difficult time."
A few weeks before she died, Hoffman changed her profile picture on Facebook to an image of herself smiling and standing next to one of her sons wearing his high school graduation regalia.
Have a tip we should know? [email protected]