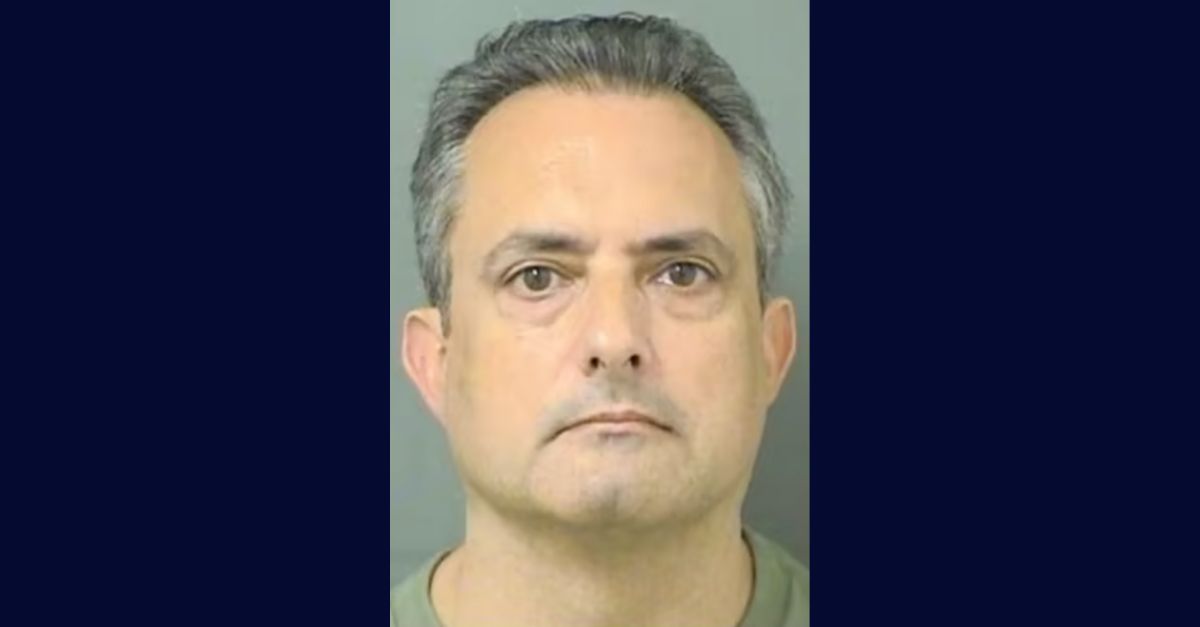 Charles Maglio appears in a booking photo. (Palm Beach Sheriff's Office)
A former Florida high school teacher accused of sex crimes with a student is dead, according to authorities in Broward County.
On Sept. 8, 54-year-old Charles Maglio, who taught math at Wellington Community High School, was arrested on charges of unlawful sexual activity with a minor and offense against a student by an authority figure, according to the Palm Beach Sheriff's Office.
On Oct. 4, a document was filed in Palm Beach County to dismiss the charges after he died. At first, the cause of his death was unknown.
"The cause of death for Mr. Maglio is 'Intraoral gunshot wound, and the manner is suicide," the Broward Medical Examiner's Office told Miami-based ABC affiliate WPLG on Wednesday.
A lengthy investigation into Maglio began in December 2022 after a then-16-year-old girl received a flower delivery at Tijuana Flats, a Tex-Mex fast-casual chain, according to court documents in the case obtained by West Palm Beach-based Fox affiliate WFLX. The restaurant manager called the flower shop and learned the sender's name. After that, the restaurant manager called the high school. Officials contacted the girl's grandmother.
Maglio allegedly had some help that first night.
"[The teenager] contacted Charles that night and gave him a heads up about a possible investigation," an arrest affidavit reads. "She said she deleted all their text messages and was sure he did the same."
When questioned by investigators, the 16-year-old allegedly said: "I don't want him to get in trouble. I'm in love with him."
According to the girl, she met Maglio at the beginning of the 2022-23 school year. At first, the teenager allegedly told law enforcement she went to the teacher's classroom after school because she was looking for "a mentor fatherly figure, but it escalated."
More Law&Crime coverage: 'Sex education was taken literally at this school': Teacher charged with rape after allegedly giving birth to 17-year-old student's baby
That alleged escalation moved onto social media. The girl said Maglio suggested they use Snapchat to communicate "so that their conversation wouldn't be saved, and there would be no evidence."
Eventually, the teenager allegedly said that she and Maglio had sex "several times" at his apartment in Greenacres – a medium-sized city in Palm Beach County. She said she slept over at the apartment numerous times – even keeping a toothbrush and clothes there.
Investigators allege that Maglio gave the girl rides to work and rides back home from the apartment. During their illicit relationship, the former math teacher bought the teenager various gifts like bras, lingerie, dresses, a necklace, and a ring. The pair often went to movies and restaurants together, authorities say.
 "[T]hey are both aware that 'it is wrong' however, 'it feels right' to them," an arrest report reads. "Charles apparently has a calendar behind his door where he is counting down the days until she turns eighteen so they can be open with their relationship."
A warrant was served at Maglio's apartment. Investigators found a receipt for a ring and women's clothes.
Maglio's daughter, however, said the clothes were hers from when she was younger. When pressed by investigators, she said she did not think her father was in any kind of a relationship, according to the sheriff's office report.
More Law&Crime coverage: 'I'll do it by myself': Prosecutors play jaw-dropping phone call in court, claim it's proof teacher is pregnant with rape victim's baby
Months later, during a controlled phone call with law enforcement, Maglio allegedly said he loved and missed the girl.
"If you can wait until you're 18, we can see each other," Maglio allegedly said, according to his arrest report. The document continues: "When she asked him why didn't he wait until she was 18, he said, 'I don't know. I always saw you as a woman. I'm not a predator.'"
Months later, law enforcement claimed to have discovered Maglio's DNA in the high school student's underwear.
He was arrested soon after that.
According to The Palm Beach Post, Maglio was hired by Wellington Landings Middle School in 2016 before moving to high school in 2020. Before his teaching career in Palm Beach, he taught math at Marjory Stoneman Douglas High School in Broward County.
Have a tip we should know? [email protected]