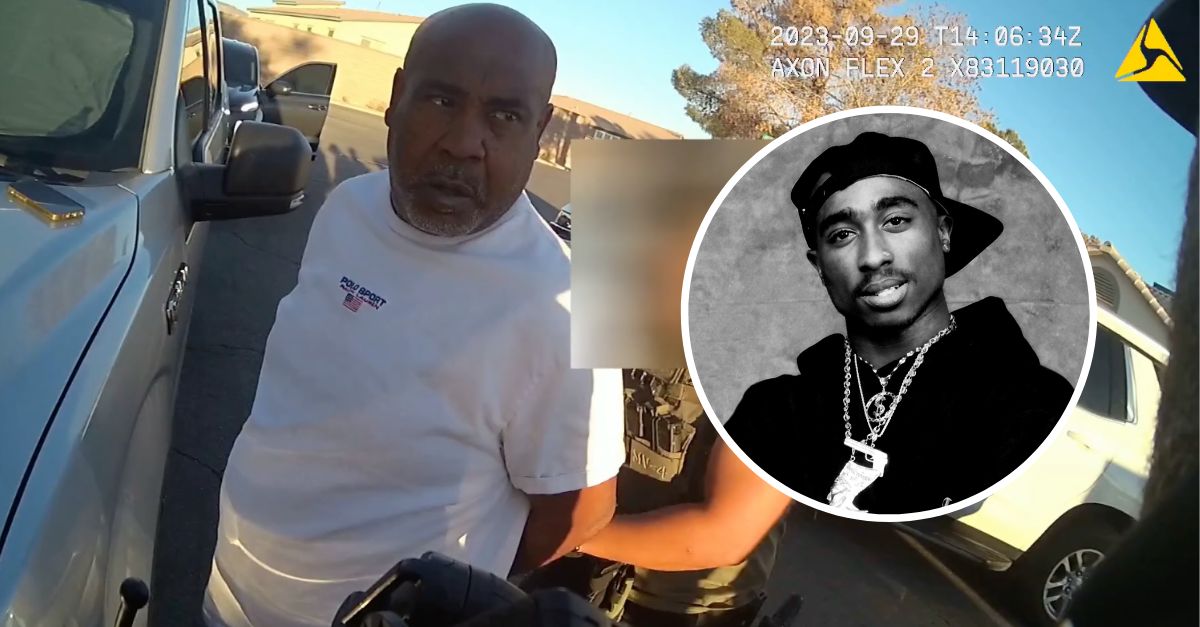 Body camera footage shows the arrest of Duane "Keefe D" Davis by Las Vegas Police on Sept. 9, 2023 for his alleged involvement in the murder of rapper Tupac Shakur in 1996 (via LVPD). Inset: File photo of Tupac Shakur (Pat Johnson/MediaPunch /IPX)
Las Vegas authorities are revealing some of the evidence they have against Duane "Keefe D" Davis, 60, who stands accused of orchestrating the murder of rapper Tupac Shakur more than 20 years ago.
Newly released police body camera video shows officers arresting Davis, as he appears to be out for a walk on the morning of Sept. 9. At one point, he tells the officers, "I'm a pro," indicating he understands how the arrest process works. Davis spent time in federal prison on drug charges and was a leader with the Compton South Side Crips.
A grand jury indictment in Clark County District Court accuses Davis of murder, with sentencing enhancements for the use of a deadly weapon and alleged gang activity.
On Sept. 7, 1996, rapper Tupac Shakur was gunned down at the height of his career while riding in a car near the Las Vegas strip with Death Row Records producer Marion "Suge" Knight.
Authorities accuse Davis of ordering his nephew, Orlando "Baby Lane" Anderson, to shoot Shakur as the white Cadillac they were in pulled up alongside the BMW Knight was driving. Shakur was shot multiple times and died a week later.
Anderson was killed in a shootout in 1998. He always denied any involvement in Shakur's death.
In his memoir, "Compton Street Legend," Davis admitted he was in the front passenger seat of the Cadillac and passed a gun to the backseat, where the shots allegedly came from.
Then in 2009, Davis found himself in trouble on drug charges, and agreed to confess to his role in the killing of Shakur. But that confession, known as a proffer, couldn't actually be used to prosecute him.
During the nearly three-month grand jury investigation before Davis' 2023 arrest, prosecutors showed jurors clips from interviews Davis granted to the "Art of Dialogue" YouTube channel.
In an interview from September 2021, Davis talks about waiting for Shakur and Knight to show up at a club after the Mike Tyson fight, so Anderson and Shakur could fight. When the two didn't show, the men in the Cadillac left, but spotted Shakur riding in the BMW.
According to that interview, the expectation was that another man in the Cadillac, DeAndre Smith, was going to shoot Shakur. But Davis told the interviewer, "not everyone is a killer." So Anderson reportedly took the gun from Smith and fired the fatal shots.
The grand jury also saw photos of the crime scene, including a picture of the Death Row Records chain Shakur was wearing that night, photos of other vehicles in Shakur's caravan, and images of shell casings on the ground. The photos also included a shot of the bloody interior of the BMW.
Davis appeared briefly in court on Oct. 4 but did not have an attorney in Las Vegas to represent him. The judge rescheduled his arraignment hearing for Oct. 19. Davis did not enter a plea and will remain behind bars without bond.
Angenette Levy contributed to this report.
Have a tip we should know? [email protected]