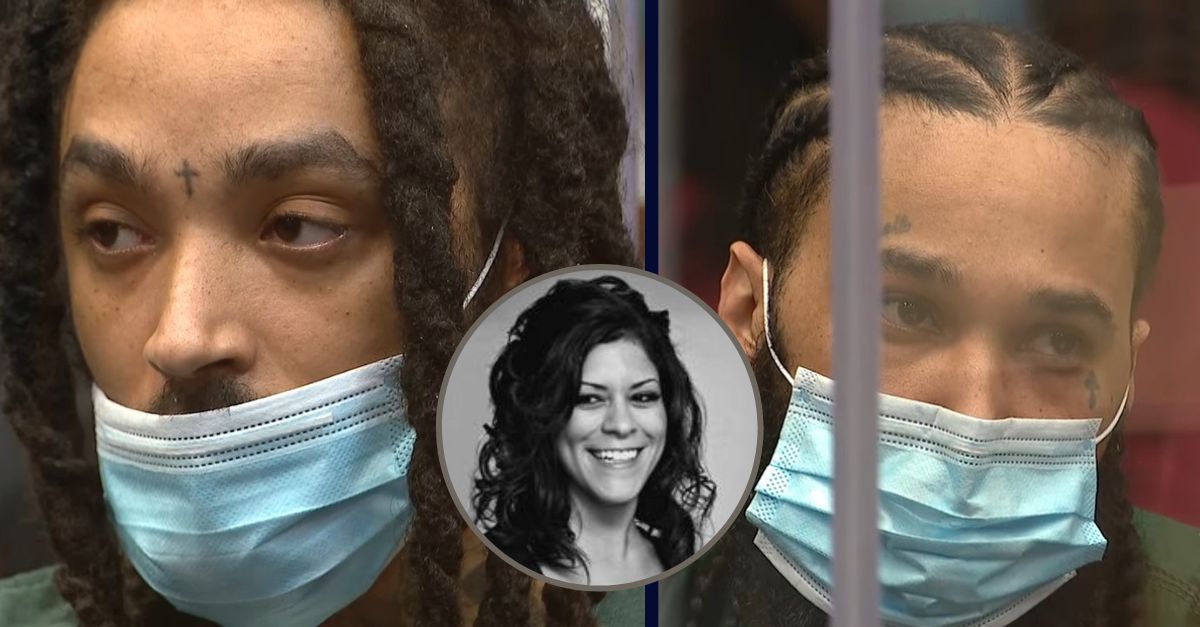 Shandon Ray Groom, left, and Timothy Eugene Moore, right, learn their fate in the slaying of Egypt Covington. (Courtroom screenshot from Detroit's Fox affiliate WJBK/YouTube; Covington's photo from her obituary)
Two Michigan men were sentenced to prison after admitting to breaking into the wrong side of a duplex to steal marijuana, but instead barging in on a woman watching a movie, then tying her up in Christmas lights and fatally shooting her.
Shandon Ray Groom, 30, and Timothy Eugene Moore, 37, both from Toledo, Ohio, were sentenced on Thursday in the slaying of Egypt Covington, 27, a singer and account manager, in a Wayne County duplex southwest of Detroit in June 2017.
Groom was sentenced to 17 to 26 years in state prison after pleading guilty to second-degree murder, prosecutors said. Moore was sentenced to 20 to 55 years after he pleaded guilty to second-degree murder and felony firearms charges.
In court, the victim's father, Chuck Covington, said the two deserve death, the Detroit News reported.
"They hogtied — hogtied — my daughter with Christmas lights," he said, the paper reported. "They used a pillow, they used a pillow to muffle the sound of the gun. They shot my daughter in the back of the head."
The victim's sister Jessica Covington pleaded with the judge to give the men the maximum punishment.
"When we know that individuals are so diabolical and evil and subhuman, it does not make sense to me that there is a chance that they will walk amongst the rest of us free," she said, Detroit's Fox affiliate WJBK reported.
A third man, Shane Lamar Evans, 34, was sentenced to 15 to 25 years in May after pleading guilty earlier this year to second-degree murder. He had agreed to testify against Moore and Groom.
Authorities said Evans worked at Covington's complex. He knew her neighbor and that this individual kept marijuana at their home. The person was going out of town, so Evans planned on stealing the drugs when the place was empty. Evans, Groom, and Moore drove together, prosecutors said. Evans pointed out which door to the duplex to break into, and he stayed behind.
Groom and Moore entered through the wrong door into Covington's place. They tied her up in Christmas lights. Then Moore shot her in the head.
"I hurt you all, and I'm so sorry for what happened," Evans told Covington's family in court during his sentencing, according to the Detroit News. "I don't know what to say. I pray for your forgiveness, but I understand if you don't forgive me, but I'm truly sorry."
Evans "deserves nothing less than the maximum sentence allowed for my daughter, for my family," Chuck Covington said at the time.
Arbor Brewing, the company where Covington worked, created a beer, A Girl Named Egypt, a hazy golden ale brewed with pink guava and lemongrass, in honor of her "as a tribute to her love and passion for life." The company says proceeds from the sale of the beer will be donated to charities that support music scholarships, animal welfare, and victims of domestic abuse.
"Egypt possessed an energy that inspired every life she touched," the website tribute reads. "She loved music and was quick to show compassion to those less fortunate than her. We are proud to call her a friend. We brewed this beer not only to honor her memory, but also to raise awareness for issues that were important to her."
Law&Crime's Alberto Luperon contributed to this story.
Have a tip we should know? [email protected]