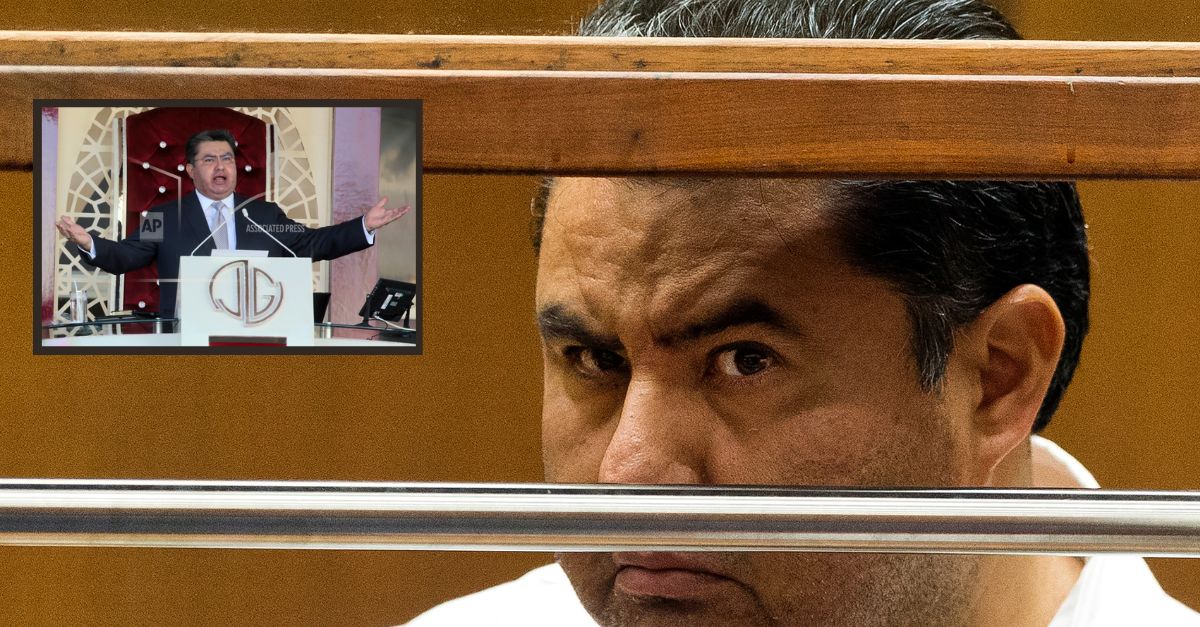 FILE – Naason Joaquin Garcia, the leader of the La Luz del Mundo, Spanish for The Light of the World, appears in Los Angeles County Superior Court, on June 5, 2019. (AP Photo/Damian Dovarganes, File). Inset: FILE – Naasón Joaquín García leads a service at his church "La Luz del Mundo" in Guadalajara, Mexico on Aug. 9, 2018. (AP Photo/File)
The disgraced leader of an international megachurch serving more than 16 years in a California prison for sexually abusing children has been hit with federal child sex abuse material charges.
Naasón Joaquín García, the leader of the La Luz del Mundo church — also known in English as the Church of the Living God, Pillar and Ground of the Truth, The Light of the World — forced a child into sexually explicit acts and recorded it, the U.S. Department of Justice announced in a press release Wednesday.
The federal two-count indictment charges Garcia with one count of production of child pornography and one count of possession of child pornography, the DOJ announcement says.
"[O]n May 6, 2019, García knowingly employed, used, persuaded, induced, enticed, and coerced a minor — identified in the indictment as 'Minor Victim 1,' who was 16 years old at the time — to engage in sexually explicit conduct for the purpose of producing a visual depiction of such conduct," the DOJ says. "On June 3, 2019, García allegedly possessed an iPad that contained five videos depicting Minor Victim 1 engaging in sexual activity. Law enforcement seized the iPad when García was arrested at LAX."
Garcia, 54, is the so-called "apostle" of the of the Church of the Living God. He admitted to various child sex crimes in June 2022 after a lengthy prosecution in the Golden State. He was subsequently convicted and sentenced to nearly 17 years in prison. He is currently incarcerated at the California Institution for Men in Chino.
The church has stood by its leader despite the guilty plea, and victims expressed their disappointment in the plea deal.
Los Angeles Superior Court Judge Ronald S. Coen said at the time that he couldn't reject the plea deal and that his hands were "tied" by the deal the lawyers had made. He did, however, admonish family members who "abandoned" the victims in favor of the church.
"Shame! Shame on you," he said at the June 2022 sentencing hearing.
A lawsuit filed in September 2022 alleged that Garcia raped hundreds of victims and that the church "has made the economic and sexual exploitation of children and others a centerpiece of its operations for decades."
Have a tip we should know? [email protected]