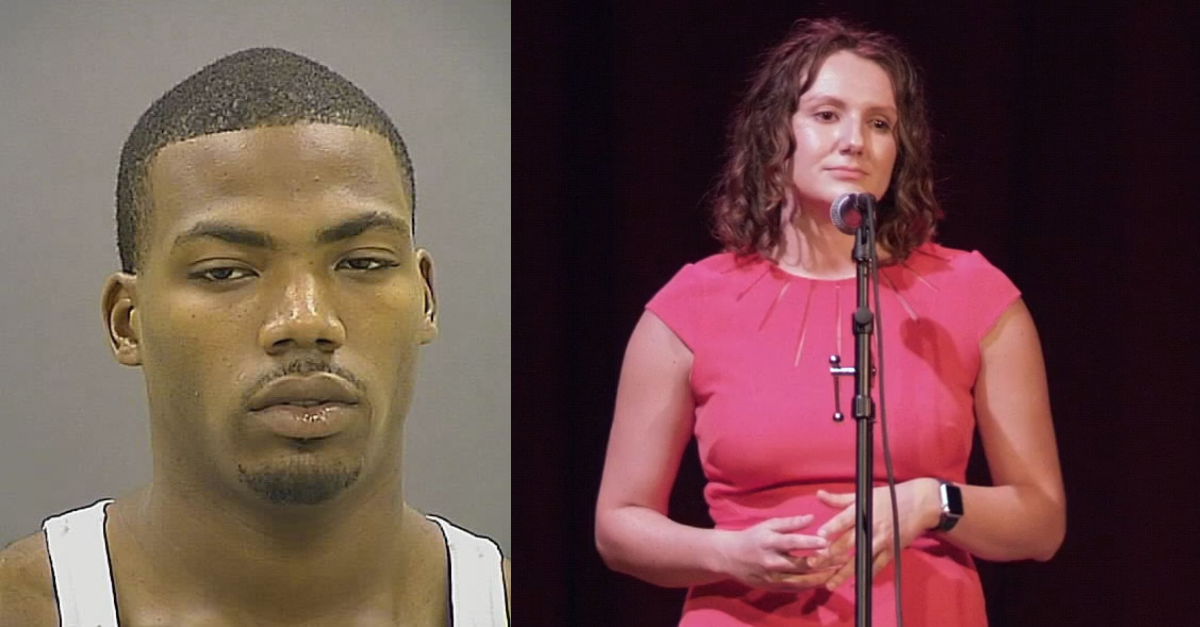 Jason Billingsley murdered Pava LaPere, according to cops. (Screenshot of LaPere: Ignite Baltimore; mug shot: Baltimore Police Department)
Update: Officers in Baltimore, Maryland, are looking for local man, Jason Billingsley, 32, as the suspect who allegedly killed Pava LaPere, 26.
He is wanted for first-degree murder.
Police warn that they consider him armed and dangerous. Officers ask the public to call 911 if you come into contact with him or if you have any further information.
"Billingsley was previously arrested in 2013, 2011 and 2009 for multiple charges to include sex offense, 2nd degree assault charges and robbery," police wrote. "BPD's Special Investigations Section is working to determine potential connections to Billingsley and other cases."
Our original article is below.
****
Police in Baltimore, Maryland, say they found a tech CEO dead from blunt force trauma in her apartment and homicide detectives have now taken over the case.
Forbes profiled Pava LaPere, then 25, earlier this year under the Social Impact category of their 30 Under 30 list. She was the co-founder of EcoMap Technologies.
"EcoMap curates data about all the organizations, resources, and other assets within any ecosystem– from a city's tech community to an entire industry– and puts that information into free platforms that enable users to navigate them," Forbes wrote in their profile about LaPere. "With over $4 million raised and a team of nearly 30, the Johns Hopkins grad runs a company whose clients include The Aspen Institute, Meta, the WXR Fund, and T.Rowe Price Foundation."
Here's how LaPere put her work in a 2019 speech before the event series Ignite Baltimore in 2019: "Hey, guys, I'm Pava, and I'm an entrepreneur, but I'm actually one of those weird types of entrepreneurs because my job is to help other people become entrepreneurs."
Baltimore cops said they responded Monday at approximately 11:34 a.m. to an apartment complex in the 300 block of West Franklin Street for a call for service. They arrived to find LaPere dead with signs of blunt-force trauma.
"The Medical Examiner's Office responded and took possession of the victim's body," they wrote. "Next of kin notification will be made by detectives. Preliminary investigation revealed that a missing person's call had been dispatched a short time prior."
Homicide detectives took over the case. They ask that anyone with information to call 410-396-2100 or Metro Crime Stoppers at 1-866-7LOCKUP.
More Law&Crime coverage: Suspect arrested for allegedly stabbing and killing Cash App founder Bob Lee
"With profound sadness and shock, EcoMap announces the tragic and untimely passing of our beloved Founder and CEO, Pava LaPere," EcoMap Technologies said in a statement. "The circumstances surrounding Pava's death are deeply distressing, and our deepest condolences are with her family, friends, and loved ones during this incredibly devastating time. Pava was not only the visionary force behind EcoMap but was also a deeply compassionate and dedicated leader. Her untiring commitment to our company, to Baltimore, to amplifying the critical work of ecosystems across the country, and to building a deeply inclusive culture as a leader, friend, and partner set a standard for leadership, and her legacy will live on through the work we continue to do."
It is with profound sadness and shock that EcoMap announces the passing of our CEO, Pava LaPere. We'll honor her legacy; please keep her family and loved ones in your thoughts and prayers. pic.twitter.com/W8PKWOCKt3

— EcoMap Technologies | The Ecosystem Company (@EcoMapTech) September 26, 2023
The company pledged their support for LaPere's family.
They asked the public for privacy and respect as they grieve and process what they called an "unimaginable tragedy."
Have a tip we should know? [email protected]