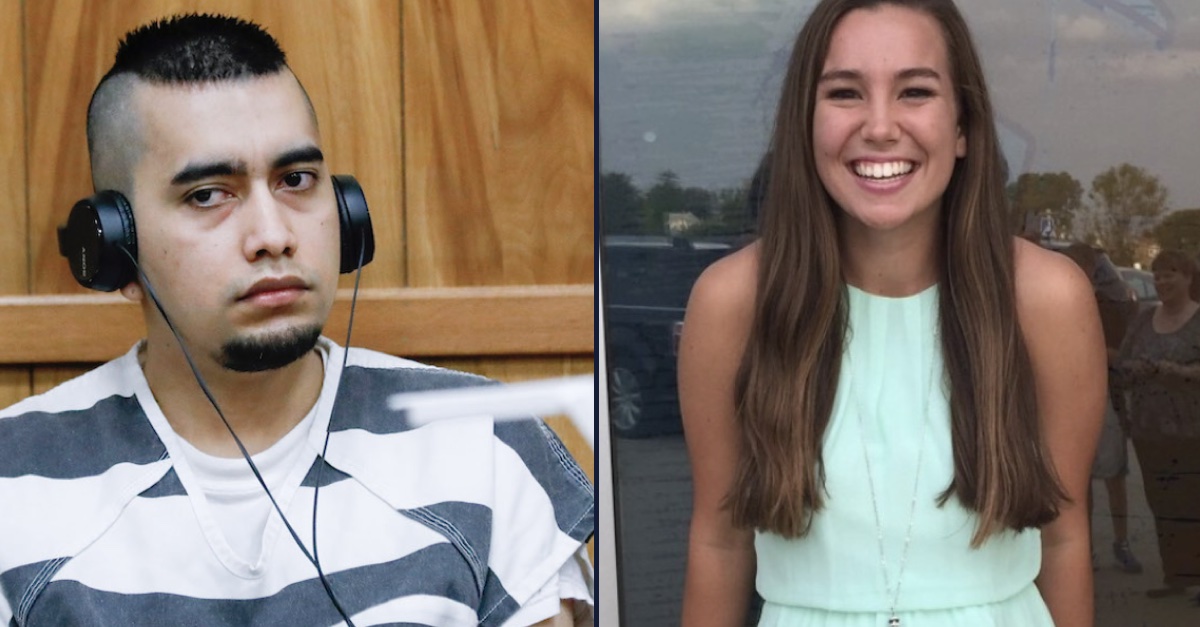 Cristhian Bahena Rivera (left), Mollie Tibbetts (right) (Image of Rivera via Jim Slosiarek/The Gazette/Pool; image of Tibbetts via Poweshiek County Sheriff's Office photo)
The former dairy farm worker convicted of murdering 20-year-old college student Mollie Tibbetts as she jogged in Brooklyn, Iowa, in 2018 has lost his argument that statements he made to cops about blacking out and concealing the victim's body under corn stalks should have been thrown out at trial.
Cristhian Bahena Rivera, now 29, has been serving out a life sentence without parole in the Iowa State Penitentiary since Aug. 31, 2021, the day after he learned his punishment.
In May of 2021, jurors convicted Bahena Rivera of attacking and killing Tibbetts while she was jogging, putting her body in the trunk of his car, and then dumping the victim's body in a cornfield.
At trial, after the defense had already lost out on arguments that their client's statements to investigators were involuntary, Bahena Rivera's lawyers, attempted to walk back the defendant's confession by arguing that two unknown men had abducted him from his living room at gunpoint and knifepoint, forced him to drive them around, and that one of those individuals murdered Tibbetts.
The undocumented immigrant from Mexico and his lawyers asserted that Bahena Rivera's police interview took place after a grueling 12-hour work shift and that he was clearly sleeping in the interview room. The defense further said that because their client didn't speak English — and the interview was conducted through a translating officer from Mexico who spoke a different Spanish dialect — the confession was a false one. The defense also argued Bahena Rivera wasn't adequately advised of his Miranda rights.
The defense previously lost out on a motion for a new trial and they lost on their appeal Wednesday after raising evidence suppression and discovery violation issues.
The Iowa Court of Appeals was clear that the trial court "properly found statements Bahena made to police before an immigration detainer was placed on Bahena occurred when he was not in custody" and that the convicted killer "voluntarily waived his Miranda rights following the discovery of Tibbetts's body."
"We also conclude," the decision continued, "the district court did not abuse its discretion when it denied Bahena's motions for a new trial."
The court's examination of the police warnings given to Bahena Rivera concluded that the waiver of his rights was "knowing":
We determine the warnings Officer Romero gave Bahena complied with Miranda. While there were a few grammatical mistakes—she informed Bahena that he had "the right to remain silence" and that an attorney "will be assign to you without charge"—the grammatical errors do not rob the warnings of their meaning. Officer Romero also advised, "You also have the right to, uh . . . want to talk to me, anything that you say could be use against you." Bahena contends this part of the warning was inadequate because it failed to inform him that his admissions could be used against him in court. But law enforcement need not clarify Bahena's rights to that level of specificity. See United States v. Castor-Higuero, 473 F.3d 880, 886 (8th Cir. 2007) (finding the omission of "in court" in a Spanish translation of Miranda rights did not invalidate the warnings). We conclude the warnings Officer Romero provided to Bahena after the discovery of the body adequately advised him of his Miranda rights. And Bahena confirmed he understood the rights after Officer Romero provided them.
Read the Iowa Court of Appeals decision upholding Rivera's conviction here.
Alberto Luperon contributed to this report.
Have a tip we should know? [email protected]