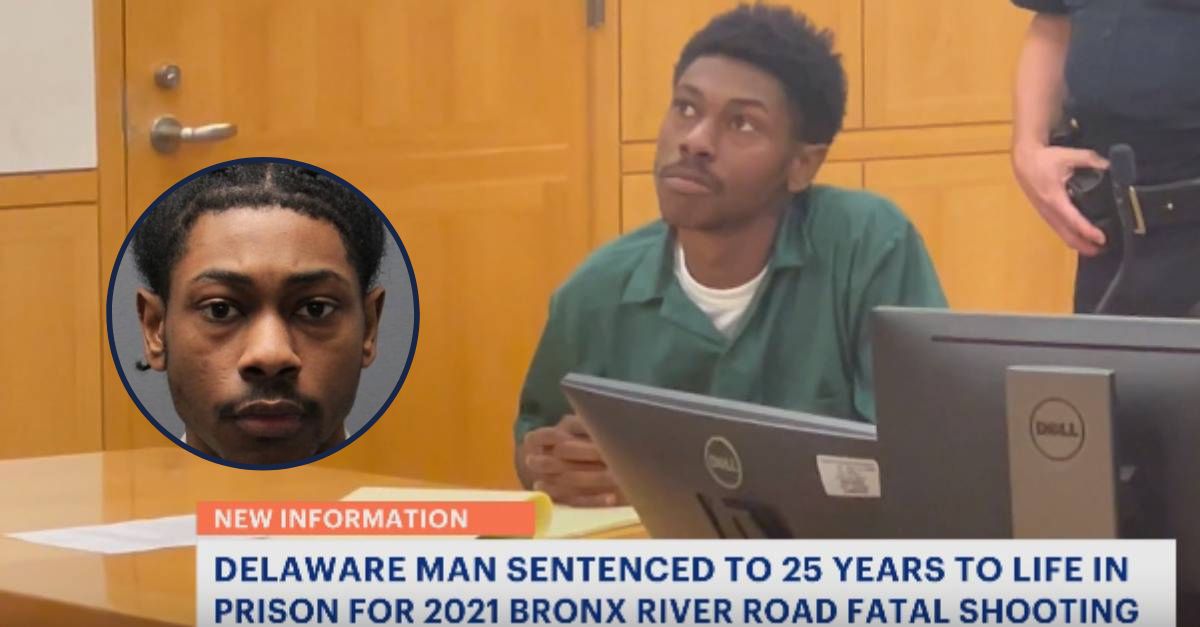 Eric Lamont Prince Williams was sentenced to 25 years to life in prison in the killing of Jabree West. (Mugshot from Yonkers Police Department; Screenshot from News12)
A Crips street gang member who told detectives he shot and killed a friend in the back of the head while he slept on a New York front stoop over a sex video of his girlfriend posted on Instagram was sentenced to 25 years to life in prison.
Eric Lamont Prince Williams, 24, learned his fate on Friday in the Yonkers killing of Jabree West in 2021 after a jury in June found him guilty of second-degree murder and criminal possession of a weapon in the second degree after a four-week trial, prosecutors said.
"All I want is my son. And yet, Mr. Williams made the decision to kill Jabree," said Ebony Mays, the victim's mother, in her victim impact statement in court. "But he did not just kill Jabree, he killed part of me. This has been very difficult and traumatizing, more than anyone can know. I suffer from extreme fatigue because of my grief, and I constantly have pains in my heart from it being broken."
Westchester County District Attorney Miriam E. Rocah applauded the sentence.
"Due to the tireless efforts of our prosecutors and law enforcement partners, justice has been served for this ruthless and cold-blooded murder," Rocah said in a statement.
It happened before dawn on June 20, 2021, officials said. Williams shot West with a 9 mm semi-automatic while the victim was sleeping in front of a residential building on Bronx River Road in Yonkers before dawn, prosecutors said.
Yonkers police found the victim unresponsive on the ground with an apparent head injury. West died at a nearby hospital, police said in a news release.
Officers cordoned off the area while detectives interviewed witnesses and forensics analysts processed the scene.
Surveillance video showed the defendant walking back and forth in front of the building near where West was sleeping, appearing to "rack the slide of his gun" before he walked off camera, and a gunshot was heard about a minute later, prosecutors said.
"The defendant was observed quickly walking away from the crime scene," officials said.
Additional surveillance footage captured Williams walking around Yonkers for hours after the shooting before getting picked up and driven back to Delaware, prosecutors said.
Police recovered the victim's cellphone, which had videos and photos of the defendant and victim together during their trip to New York from Delaware. No murder weapon was recovered, authorities said.
Authorities identified the victim going on little initial information. They learned he was from Delaware and worked backward, tracing his movements and developing associate information, including a person of interest.
"Over the next five months, in collaboration with prosecutors from the Westchester County District Attorney's Office, Detectives worked to enhance the case and bring charges against the suspect," officials said.
While canvassing a Staten Island residence, Yonkers police and members of an FBI Westchester County Safe Streets Task Force found the suspect as he left his father's home and arrested him on Dec. 19, 2021. He was found with a loaded, illegal Glock .40 caliber semi-automatic handgun, officials said.
At the time, the defendant made numerous admissions, prosecutors said.
"I killed a killer. I didn't kill some innocent kid," the indictment said he told detectives during six hours of a recorded interview. "I killed a demon. This wasn't a robbery. I don't give a f— about the money. I know you found money on him. He outed my b—-. He posted a sex video of her on Instagram."
The Rockland/Westchester Journal News reported jurors disagreed with Williams' contention that a "mystery man" buying a gun from West shot him after a fight.
Williams said his statements to police were not related to him actually killing West but was about how he enabled the killing because he couldn't get the money that day to get him and West an Uber to Harlem, the paper reported.
Lynda Visco, his defense attorney, argued in court that his statements were coerced and that he initially thought investigators were interviewing him as a witness.
Visco plans to file an appeal, she said in an email to Law&Crime.
Have a tip we should know? [email protected]