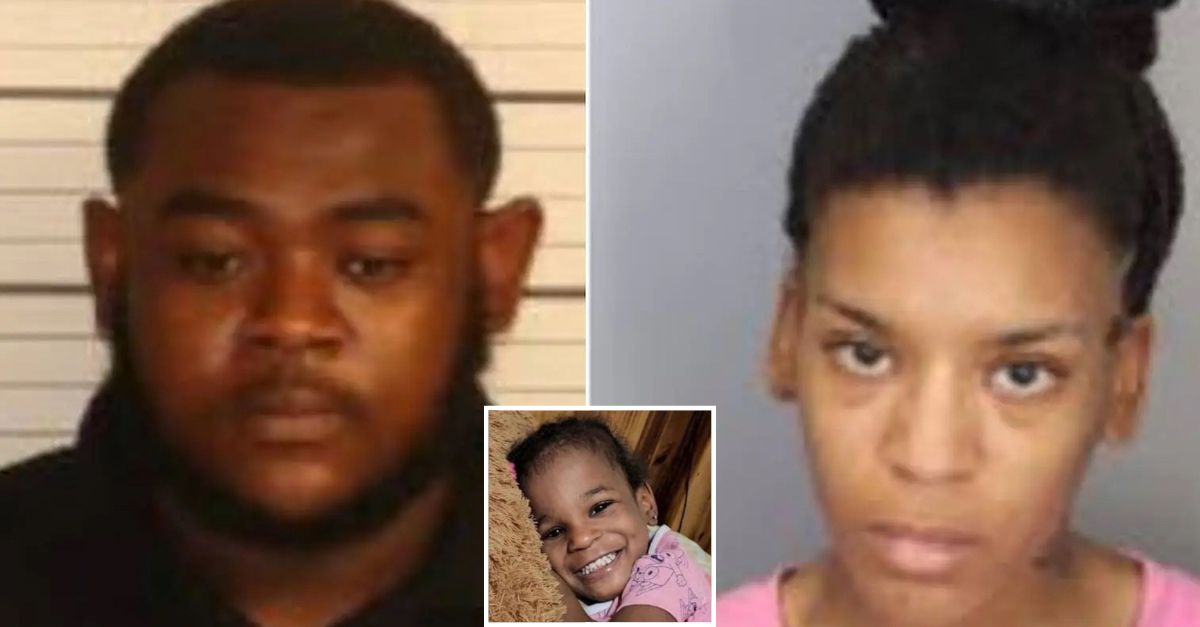 Brittney Jackson, Jaylon Hobson, and Sequoia Samuels (Shelby County (Tenn.) Sheriff's Office and Memphis Police Department).
A 25-year-old Tennessee mother and her 21-year-old boyfriend are facing a litany of felony criminal charges for allegedly falsely reporting the woman's 4-year-old daughter missing when the couple had actually beaten the little girl to death and hidden her body several weeks earlier.
A grand jury in Shelby County this week returned true bills indicting Brittney Jackson and Jaylon Hobson on two counts each of first-degree murder and aggravated child abuse, and one count each of abuse of a corpse, tampering with evidence, and false reporting in the slaying of young Sequoia Samuels, court records reviewed by Law&Crime show.
The Memphis Police Department on Thursday, June 15, issued a City Watch Endangered Child Alert for Samuels after Jackson and Hobson reported the girl missing. Jackson allegedly told investigators that when she woke up that morning at around 7:55 a.m., she found that the front door of her apartment in the 200 block of Caldwell Avenue was open and Sequoia was not inside of the house.
Sequoia was described as standing around 3 feet tall, weighing 30 pounds, and having a feeding tube on the left side of her stomach. She was last seen on a neighbor's video doorbell footage leaving her house and walking on the street along at approximately 3 a.m. Thursday morning.
However, police on Friday morning announced that a child's remains believed to be Sequoia were recovered in a dumpster that serviced Jackson and Hobson's apartment complex.
According to a probable cause affidavit obtained by Law&Crime, investigators believe that Sequoia actually died "several weeks" before Jackson and Hobson reported her missing.
In an interview with police, Jackson allegedly admitted that she made the false report, claiming that Hobson actually "physically attacked" Sequoia multiple times over the course of several weeks until he ultimately beat her to death.
"After the last attack, [Sequoia] became unresponsive. Hobson attempted to revive [Sequoia], however, she never regained consciousness. Jackson never attempted to render aid to her daughter," the affidavit reportedly said. "Hobson placed [Sequoia's body] in several garbage bags, and they stored the bags in the house until today [June 15, 2023]. Jackson maintained the corpse for several weeks. Jackson advised that [Sequoia] was dumped in the garbage container and moved to the East side of the apartment with the other garbage cans."
Police say Jackson positively identified photographs of the garbage bag and container where they left Sequoia's body.
During the "several weeks" Sequoia's body was allegedly kept in the residence, three other children — ages 4, 5, and 6 — were also residing in the home.
Hobson repeatedly denied having any involvement with Sequoia's disappearance or death. He claimed he last saw the girl alive on June 11, 2023, which police said was "impossible due to the advanced state of decomposition of the human remains."
Both Jackson and Hobson remain incarcerated at the Shelby County Detention Center. Jail records currently indicate that Jackson is being held in lieu of $500,000 bond and Hobson is being held in lieu of $50,000 bond.
Have a tip we should know? [email protected]