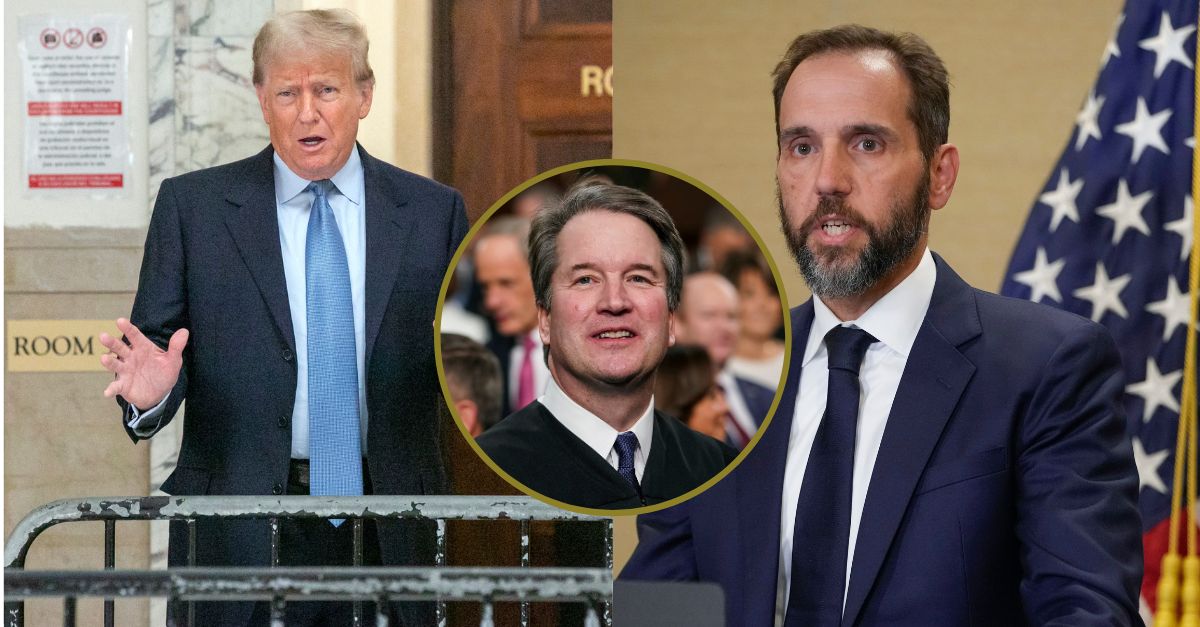 Left: Former President Donald Trump speaks in New York City on Wednesday, October 18, 2023, outside the New York Supreme Court room where the civil fraud trial is underway that imperils his real estate empire. (AP Photo/Ted Shaffrey). Center inset: Supreme Court Associate Justice Brett Kavanaugh at the Capitol in Washington, on Feb. 5, 2019. (Doug Mills/The New York Times via AP, Pool, File). Right: Special counsel Jack Smith speaks about an indictment of former President Donald Trump, Aug. 1, 2023, at a Department of Justice office in Washington. (AP Photo/Jacquelyn Martin, File)
In a double serving of what could arguably be described as doses of one's own medicine, special counsel Jack Smith plucked apart Donald Trump's latest efforts to throw out criminal conspiracy charges against him in Washington, D.C., by citing two arguments the former president would seem hard pressed to deny — one from the U.S. Supreme Court justice he appointed, Brett Kavanaugh, and the other from Trump's own mouth when he was impeached for the second time.
The pointed response from federal prosecutors is found in a 52-page filing directed at Trump's early October motion when he urged U.S. District Judge Tanya Chutkan to dismiss the election subversion indictment against him on the grounds that as former president, he held "absolute presidential immunity" from prosecution.
While Trump argued his public proclamations of rampant voter fraud and efforts to advance slates of false electors, among other things, fell squarely within the parameters of his duties as president, special counsel argued those schemes were largely rooted in "fraud," "conspiracy," "exploitation" and "deceit."
Discussion of the nature of the crimes themselves aside, Smith contends that an inability to prosecute a former president for his crimes alleged or otherwise as Trump would have it is antithetical to the very premise of the office of the presidency, the meaning of the U.S. Constitution and longstanding legal precedent on similarly aligned subjects throughout years of case law.
"Indeed no sound policy supports granting a former president blanket immunity from criminal prosecution for a time he or she served as president," Smith wrote.
The Office of Legal Counsel has, however, recognized that there are burdens that come with permitting the criminal prosecution of a sitting president.
Imposing a prison term on a sitting president could make it physically impossible for them to carry out his or her work; the stigma of criminal proceedings could hamper the performance of official duties; and, Smith noted while citing a Harvard Law review article from Brett Kavanaugh, the "mental and physical burdens of assisting in the preparation of a defense for the various stages of criminal proceedings" would simply be too great a burden for an incumbent president to bear.
"Even the lesser burdens of a criminal investigation— including preparing for questioning by criminal investigators — are time-consuming and distracting. Like civil suits, criminal investigations take the President's focus away from his or her responsibilities to the people. And a President who is concerned about an ongoing criminal investigation is almost inevitably going to do a worse job as President," Kavanaugh wrote in a 33-page article entitled "Separation of Powers During the Forty-Fourth Presidency and Beyond."
Smith also noted Kavanaugh's overarching position about the equity of laws as it related to Trump specifically. In Kavanaugh's  2020 concurring opinion for Trump v. Vance, the justice affirmed that no one is above the law and that this concept "applies, of course, to a president."
And as for former presidents, Smith wrote Thursday, there are no "duties" nor any "leadership role" that a former president could have interfered with as the result of charges being brought or convictions being sought.
Calling Trump's arguments "startling," prosecutors emphasized that to dismiss the charges on the grounds as the defense has insisted would mean absolute immunity could be granted to any president going forward, regardless of the heinousness or treachery of their acts.
"It would grant absolute immunity from criminal prosecution to a president who accepts a bribe in exchange for lucrative government contract for a family member; a president who instructs his FBI director to plant incriminating evidence on a political enemy; a president who orders the National Guard to murder his most prominent critics; or a president who sells nuclear secrets to a foreign adversary," Smith wrote.
The special counsel also flatly rejected the assertion from Trump's defense attorneys that Trump cannot be indicted today for crimes related to Jan. 6 because he was already acquitted of Jan. 6-related charges by the U.S. Senate during his second impeachment in early 2021.
First, prosecutors note, there is a difference between those congressional proceedings and actual charges made under the purview of the Justice Department. Second, Trump took the exact opposite position during his second impeachment, arguing then that the Senate trial was punitive, meritless and without jurisdiction.
Trying to prosecute him for anything around Jan. 6 would be double jeopardy after those proceedings, Trump said in 2021 and throughout 2022.
"In the old days, they used to call it double jeopardy," Trump said, according to a Nov. 2022 article in the New York Post.
In recounting this recent history to the judge, the special counsel cited over two dozen Republican lawmakers, including former Senate Majority Leader Mitch McConnell, who stressed that impeachment wasn't the best course of action since, if there were any crimes to be charged, that could be tested later through the rigors of the criminal justice system.
"At least 31 of the 43 senators who voted to acquit explained that their decision to do so rested in whole or in part on their agreement with the defendant's jurisdictional argument underscoring the defendant's claimed immunity from prosecution would create a yawning impunity gap," Smith wrote. "A president who leaves office before the House and Senate can consider impeachment would escape accountability altogether. Further, some senators explicitly referred to the availability of criminal prosecution as an alternative means of providing accountability."
And beyond this, the special counsel's team pointed out that the specific charges during impeachment were not exactly related to the charges in this matter.
The impeachment charges were centered on Trump's incitement of violence and insurrection at the Capitol. The four criminal counts he faces in Washington, D.C. are focused on his alleged attempts to stay in power by deploying vast conspiracies to upend the proper electoral processes. All of this culminated in violence at the Capitol, but in this indictment, the charges are tailored to the broader schemes prosecutors say unfolded for months.
As far as immunity goes, Trump has struck out with this argument when it comes to civil matters. In 2022, U.S. District Judge Amit Mehta rejected Trump's attempts to dismiss civil lawsuits against him from former U.S. Capitol Police and members of Congress who said he bore legal responsibility for the violence and destruction of Jan. 6.
Mehta found it was reasonable to infer that Trump would have understood the impact of his actions could lead to violence, and while the judge acknowledged it was "no small step" to deny a president immunity from civil damages, the facts of the case itself were "without precedent," he wrote.
All of Trump's commentary about how "we" needed to "fight" could be reasonably viewed as a call to action, Mehta said.
This and other statements went to the plausibility of the plaintiff's claims, Mehta said. Trump has appealed that ruling.
Read Smith's motion, below.
Have a tip we should know? [email protected]