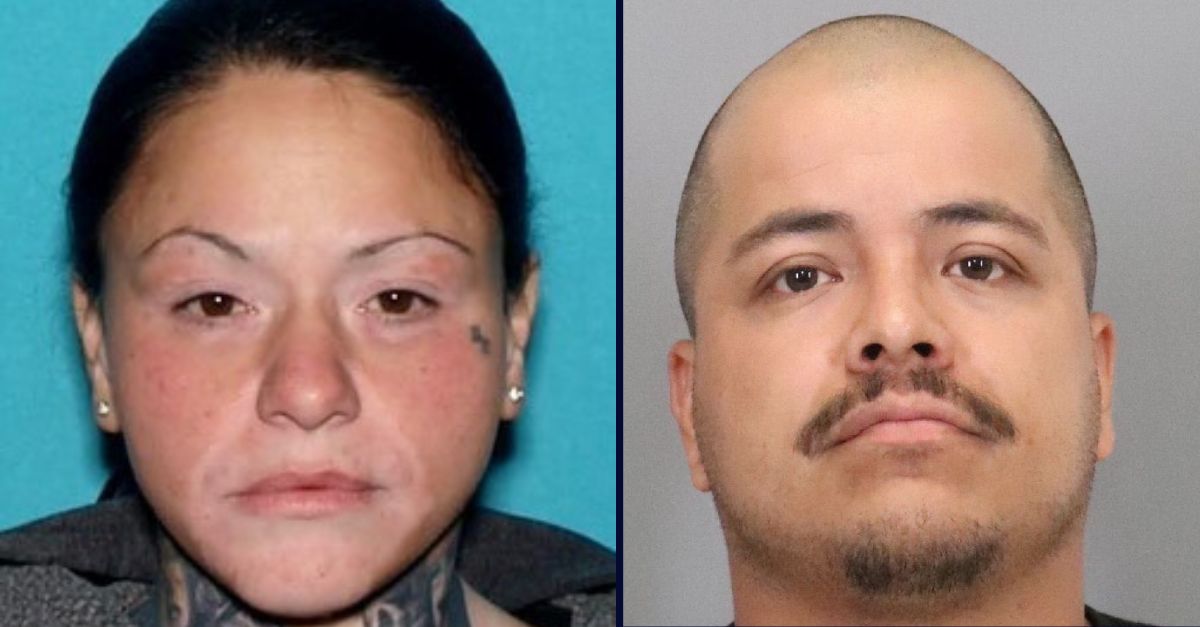 Ivan Escobedo is charged with murder and accused of killing his ex-girlfriend Alyssa Salazar in Santa Clara County, California. Her dismembered body was found burned and dismembered in barrels outside Escobedo's sister's trailer, authorities say. (Gilroy Police Department)
A 31-year-old California man is facing murder charges after he allegedly killed his ex-girlfriend, dismembered her and burned the body parts in barrels.
Ivan Alfaro Escobedo who also goes by Iban Alfaro Escovedo is accused of shooting his ex Alyssa Salazar, 33, to death, according to a statement of facts document written by Gilroy police Det. Jason Greathead, filed in Superior Court by the Santa Clara County District Attorney's Office and obtained Wednesday by Law&Crime.
Salazar's family reported the mother of two daughters missing on Aug. 10 after she hadn't been heard from since late July, according to the Gilroy Police Department.
The investigation led detectives to a property south of Gilroy in unincorporated Santa Clara County on Aug. 30. Detectives learned that Escobedo's sister lived in a trailer at the property. Escobedo was at his sister's home in late July when a witness told detectives he saw a fire burn for several days in barrels that were next to the trailer, Greathead wrote.
Between Aug. 30 and Sept. 1, investigators searched the property where they found human bones in the burn barrel, including pieces of ribs, a skull, and a hand. Detectives also found bloodstains in a bathtub. The remains and blood were identified as Salazar's.
Video footage from the Steinbeck Library in Salinas around 12:30 p.m. on July 26 shows Salazar getting inside Escobedo's 2007 Honda Accord and driving away. Salazar made a phone call from Escobedo's phone a few minutes later and that was the last time anyone heard from her, according to Greathead.
Witnesses told detectives they saw Salazar slumped down in her ex-boyfriend's car later that day. A witness also said Escobedo admitted to shooting Salazar in his car, cutting her body into pieces in the bathtub and burning the body in the barrels, the document said.
Investigators believe the motive for the murder is because Salazar reported to police on April 27, 2023, that Escobedo raped and physically assaulted her, Greathead wrote. Santa Clara County Superior Court records show felony family violence charges were filed on May 26.
In a GoFundMe page hoping to raise money for funeral expenses and an attorney, Salazar's sister Jessica Salazar alleges the Santa Clara District Attorney's Office "sat" on the rape case "for over 2 weeks."
"Had Alyssa's case been processed in a timely manner my sister would be alive today," she wrote.
A DA's office spokesman said the office's heart goes out to the Salazar family and that Escobedo's alleged crimes "will not go unpunished."
"The sexual assault case that led to it is a reminder of the challenges of domestic violence," spokesman Sean Webby said. "In that case, the victim discontinued her cooperation with investigators. We later charged it based on new evidence that arose after her homicide."
Greathead wrote in the statement of facts document that in July, Salazar's sister and grandmother reported they received calls from a male voice that sounded like Escobedo that threatened to kill her and her family if she reported the rape. The document doesn't say whether Escobedo knew that she had already reported the rape.
Either way, he tragically followed through with that threat, police said.
Escobedo wasn't arrested until Aug. 30 in his Honda Accord where investigators found red-brown stains in the front passenger door frame and a 9 mm handgun, Greathead wrote. The stains tested positive for blood and the DNA profile matched Salazar's. Escobedo was taken to the Santa Clara County Jail where he's been held without bail ever since.
Jessica Salazar said her family never thought Escobedo would follow through on his threats.
"Alyssa is a strong soul and refused to let this man intimidate her into taking her statement back," she wrote on the GoFundMe page.
Local Fox affiliate KTVU reported that Escobedo refused to go to court on Wednesday which prompted Jessica Salazar to call him a "coward."
"May God never have your daughters run into a man like you. You're a pig," she told the outlet.
"Alyssa will come to you every night in your dreams, and I hope you will see her every time you look at me and my sister. I hope you see her face," she said while sobbing.
Have a tip we should know? [email protected]