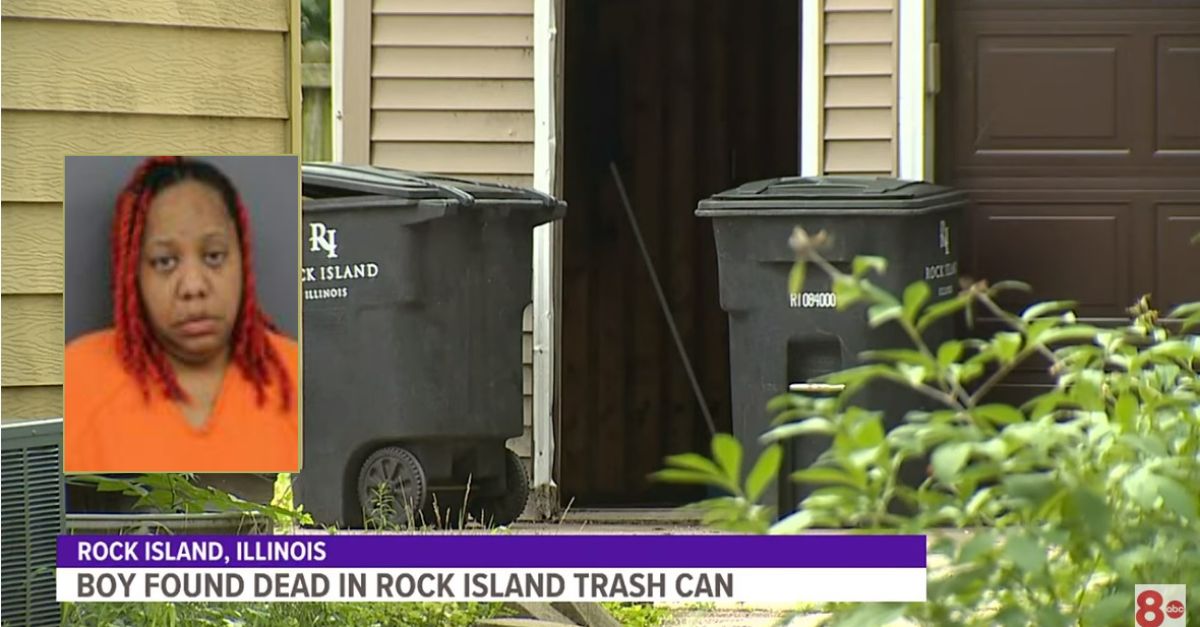 Background screengrab: Trash cans outside of Sushi Staples home (WQAD-8 News, YouTube).Inset: Booking photo of Sushi Staples (Rock Island Police Department).
Zion Staples, a 10-year-old boy found dead and stuffed in a trash can inside of his mother's Illinois garage, died from a gunshot wound, a county coroner has announced amid a pending investigation.
The statement from Rock Island County coroner Brian Gustafson was issued Friday and comes roughly three weeks after police arrested Zion's mother, Sushi Staples, and charged her with multiple felony counts including obstructing justice, failure to report the death of a child under 13 and concealment of death.
Police have not yet charged anyone with the boy's death though they did deem it "suspicious" in an initial autopsy report.
After going to the family's home following a welfare check requested by a neighbor this July, police opened a garbage can found inside Staples' garage. Officers arrested her upon finding the child's body inside it. Law enforcement later reported that he appeared to have been inside the cannister for at least eight months. Police believe the child died in December. Gustafson said in a phone call with Law&Crime on Monday that he agrees with the assessment that the boy likely died at some point that month.
Staples, 37, told police she had "no son at all" when she was arrested, ABC affiliate WQAD reported. She also reportedly said the boy's birth certificate was fake.
She remains in detention with bond set to $500,000. The case remains under investigation.
At least one welfare check to the home was requested after a neighbor grew alarmed at an allegedly bizarre remark Staples made about her son not being around for Christmas anymore, ABC affiliate  KWQC reported on Aug. 2.
Heather Tarczan, a spokeswoman for the Illinois Department of Children and Family Services, called Zion's' death a "profound tragedy" in an email to Law&Crime on Aug. 4.
"When DCFS receives concerns about a child's welfare that do not meet our statutory purview for an investigation, we refer the reporter of that case to local law enforcement," Tarczan said. "In this case, when an anonymous reporter called the DCFS hot line in July 2023 and requested a well-being check of a child, that caller was told what our capabilities as an agency are and was encouraged to report their concerns to local law enforcement. Out of genuine concern and based on what the caller reported, the DCFS hot line worker also made a call directly to law enforcement to ensure that a report was filed."
Staples' next court appearance in Illinois is slated for Tuesday.
Gustafson said in Illinois, when someone dies under potentially criminal circumstances, two investigations can take place, one by the police and one by the coroner's office. Once the coroner has finished examining the body and police have finished investigating the crime scene and both sides have completed their respective investigations, Gustafson said they will come together to "find the truth."
A final autopsy report has not been completed yet, he said. Neither has a toxicology report. It can take up to three months for such a report to be produced, he added.
It is not clear if Staples has yet retained an attorney or acquired a public defender.
Have a tip we should know? [email protected]