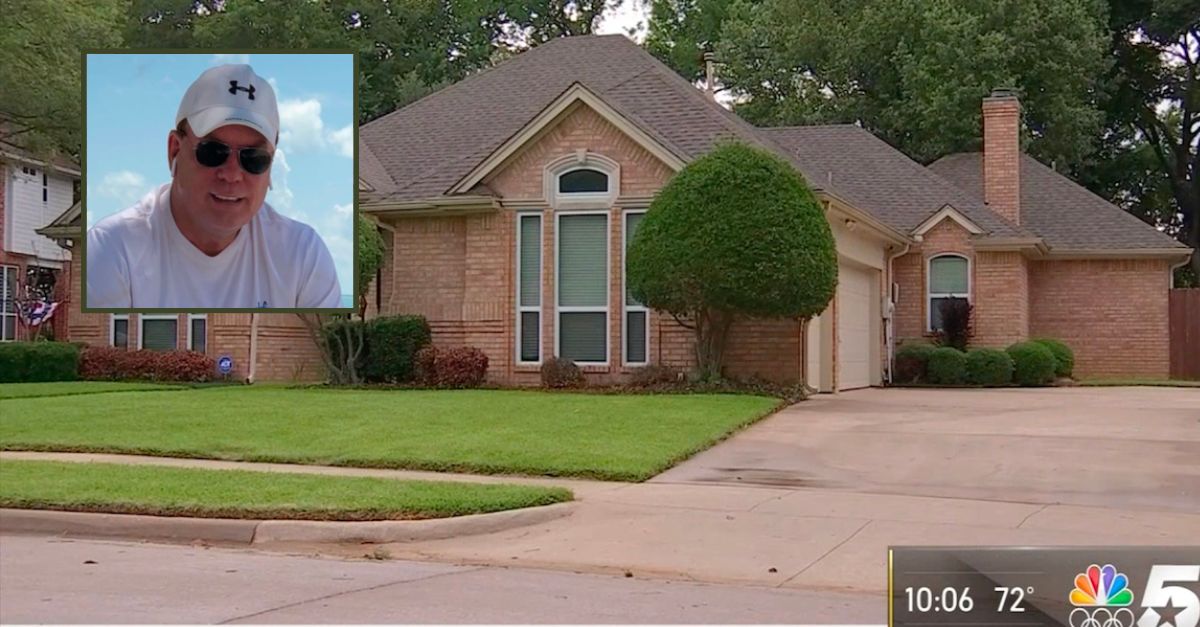 Court records say William Roy Stone, Jr. bought this home at 6812 Kennedy Drive in Colleyville, Texas with proceeds from alleged crimes (screengrab via KDFW). Inset: William Roy Stone, Jr. (via KDFW).
The former FBI agent who carried out a "secret probation" scam against an unsuspecting victim who ultimately lost hundreds of thousands of dollars has been convicted.
William Roy Stone, Jr., 64, was convicted on eight federal counts in connection with the scheme to convince a woman in Granbury, Texas, that she was on "secret probation" for drug crimes in federal court in Austin, and that in order to protect herself, she needed to pay Stone and his co-defendant, Joseph Eventino DeLeon, 64, to oversee her case.
According to an announcement from the Justice Department, Stone and DeLeon were convicted on Aug. 10 after 12 days of jury trial and only four hours of deliberation.
Stone, a retired FBI agent, was convicted of one count of conspiracy to commit wire fraud, five counts of wire fraud, one count of engaging in monetary transactions in property derived from unlawful activity, and one count of false impersonation of a federal officer, and he faces up to 158 years in prison.
DeLeon was convicted of conspiracy to commit wire fraud and faces up to 20 years behind bars.
Prosecutors said that Stone first convinced the woman, identified only as "C.T.," in November 2015 that she was under the jurisdiction of "Judge Anderson's court in Austin, Texas."
No such judge exists.
"He and Mr. DeLeon told the victim that the fictitious federal judge had appointed the two of them to administer the conditions of her six year 'secret probation,'" the DOJ's announcement says. "They required her to text them written reports of her daily activities, and to compensate them for their supervisory services, as well as any expenses they incurred."
According to the FBI, Stone at one point had told C.T. that he had incurred significant expenses traveling to Austin to discuss the victim's probation with the non-existent judge, "and intimidated her into reimbursing him for expenses associated with those trips."
He collected additional "restitution" money from the victim, which "he secretly deposited into his own bank account." Stone also convicted C.T. to hand over enough money to purchase a home and cars. Copies of the "multiple six figure checks" C.T. wrote Stone and DeLeon were admitted into evidence at trial.
"Over the course of eleven months, C.T. gave Mr. Stone more than $700,000 and Mr. DeLeon more than $50,000," the announcement says. In total, the scheme ran for about four years, from November 2015 to around August 2019.
Stone and DeLeon told C.T. that she was not allowed to share her "probation status" with anyone and that she risked "imprisonment and loss of her children if she did not comply with the terms of her probation."
At some point, C.T. began to question the situation, the DOJ says, and recorded phone calls between her and Stone, who insisted that his actions were "legit."
The transcript of some of those phone calls, per the DOJ:
C.T.: What I'm saying is, all of that stuff was to compensate you for all the stuff that you did for me, you know.

STONE: Okay, then. Okay. We don't need to discuss that anymore. It's over. It's done.

C.T.: Well, I'm just trying to let you know that I feel like that's a huge order. I mean, I feel like I could have got, like, the best attorney in, like, the world for $100,000.

STONE: Well, you know what, we can't change the past, now can we?

[. . .]

C.T.: I'm not stupid, Bill. I may have been, you know, blinded because I thought that somebody in your position wouldn't ever do what you did to me.

STONE: I never did anything.

C.T.: You took advantage of me based upon who you were in society.

C.T.: I even looked up Judge Anderson in Austin and the Anderson that pulls up… There's not one, Bill. There is not one. There is not a Judge Anderson in Austin.

STONE: Bye.
Stone and DeLeon went to great lengths to keep C.T. in line.
"In order to further convince her the probation was real, the defendants monitored her cell phone communications, conducted physical surveillance of her, stated they had discussed C.T.'s probation with a psychiatrist, enlisted another person to impersonate the U.S. Drug Enforcement Administration 'Intelligence Center' in a message inquiring about C.T., and even placed spoof calls between Mr. Stone, C.T., and the fictitious Judge Anderson," the DOJ announcement says.
The defendants also "urged her to distance herself from her family, claiming her family members wanted to take her inheritance away from her, and persuaded her to transfer her inherited assets out of a trust and into an account under her own name."
At one point, the DOJ says, the defendants allegedly told C.T. that "Judge Anderson" would drop her probation if "C.T. agreed to marry Mr. Stone."
"Mr. DeLeon even carried a weapon in C.T.'s home while purportedly providing 'protective services' for her," the announcement adds.
Stone was indicted in May 2021. DeLeon was indicted that December.
Aaron Keller contributed to this report.
Have a tip we should know? [email protected]