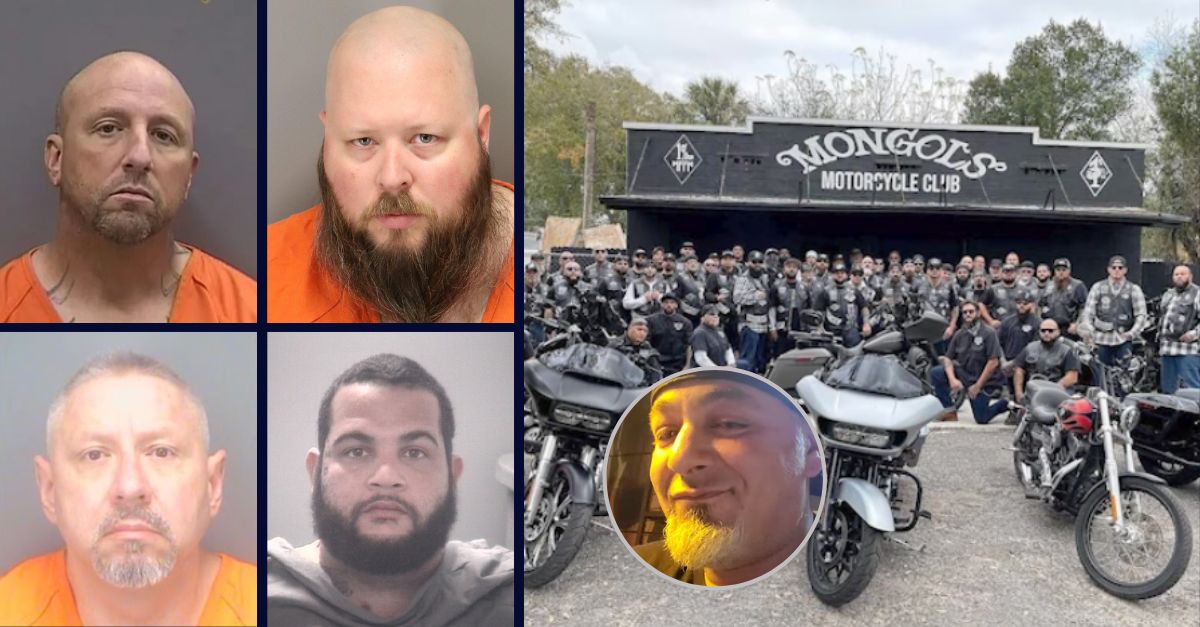 Reputed motorcycle gang members Vincent Romanino, top left; Dylan Pascale, top right; Paul Mogilevsky, bottom left; Joshualee Garcia, bottom right, and victim Dominick Paternoster, far right inset (Photos from Pinellas County (Fla.) Sheriff's Office; Garcia's mug shot from Pasco County, Fla.)
Two alleged members of the notorious Mongols motorcycle club in Florida have been arrested this week, bringing the total to four suspects in the execution shooting death of a fellow motorcycle club member who they thought was a "snitch" informing on the gang to local law enforcement.
Vincent Romanino, 42, and Joshualee Garcia, 33, were arrested on Tuesday in the shooting death of Dominick Paternoster, 46, the Pinellas County Sheriff's Office said in a news release. They each face a charge of being an accessory after the fact to first-degree felony murder. Romanino is being held at the Faulkenburg Road Jail. Garcia is being held at the Pasco County Jail.
Paternoster — a member of the Raiders, an affiliate feeder into the Mongols, of which the suspects are members — was killed in his Palm Harbor home near Tampa on April 27, 2022, authorities said.
"They shot them a whole bunch of times, about as dead as you can get," Pinellas County Sheriff Bob Gualtieri said in a news conference when he announced an indictment in August 2022 against an initial suspect.
Paul Mogilevsky, 48, was indicted on a first-degree murder charge on Aug. 26, 2022. A fourth suspect, Dylan Pascale, 36, also faces a first-degree murder charge, deputies said.
Roger Futerman, Mogilevsky's attorney, said in an email to Law&Crime that he expects the case to go to trial in 2024.
"The expected length of the trial will be three weeks," he said. "No offers have been made by Mr. Mogilevsky, and he has maintained his not guilty plea."
Attorneys for Pascale and Romanino did not immediately respond to emails seeking comment. It was unclear whether Garcia had an attorney who would speak on his behalf.
At the August 2022 news conference, Gualtieri hammered the suspects and their gang, calling it organized crime.
"They like to call themselves motorcycle clubs, but that's nonsense because they are not clubs," he said. "They're thugs, thugs who commit crimes and kill people who they think cross them.
"Members of these motorcycle gangs are not kids," the sheriff added. "Both Paternoster and Mogilevsky are in their mid-40s, as are many of their criminal associates that are involved in this gang activity."
The sheriff said Pascale provided a timeline of events on the evening of the murder during a recorded interview on April 29, 2022, allegedly telling detectives he and another person brought Paternoster home from Tampa and left him sleeping in his reclining chair. But officials said he lied about what transpired that night. Investigators found spent shell casings next to the victim containing Pascale's DNA, they said.
More than one gun was used, and more than one person shot and killed Paternoster, the sheriff said.
The sheriff said the Mongols are a national group based in California. He called it a criminal racketeering organization — organized crime "in its truest sense," he said. They ride motorcycles and sell drugs, traffic in guns and engage in human trafficking and prostitution, and they exist to "do bad things to others."
A symbol of these motorcycle gangs is their notorious motorcycle jacket with what the club calls colors. Members must undergo significant initiation rights to wear "the colors," the sheriff said.
He said the Mongols have a strong presence in Tampa Bay and are called "one-percenters."
"They're very, very different from everyday people who simply enjoy riding motorcycles on weekends and belong to true social motorcycle clubs," he said. "These people are not the people that you see out on a Sunday afternoon motorcycle ride. These criminal biker organizations are called one-percenters because they are one percent of the people who ride motorcycles and self-identify as a motorcycle club when they are really this gang of thugs who terrorize and commit crime."
Paternoster's ex-wife, who shared three kids with him, was shaken to the core when she saw the bullet holes in the chair "where his head would have been," she told Tampa's CBS affiliate WTSP, voice breaking.
She said he became a drug addict and got into the biker gang.
"He took a turn for the worst and turned violent, and he never was that way," she said. "It was kind of too late for him, I think."
Have a tip we should know? [email protected]