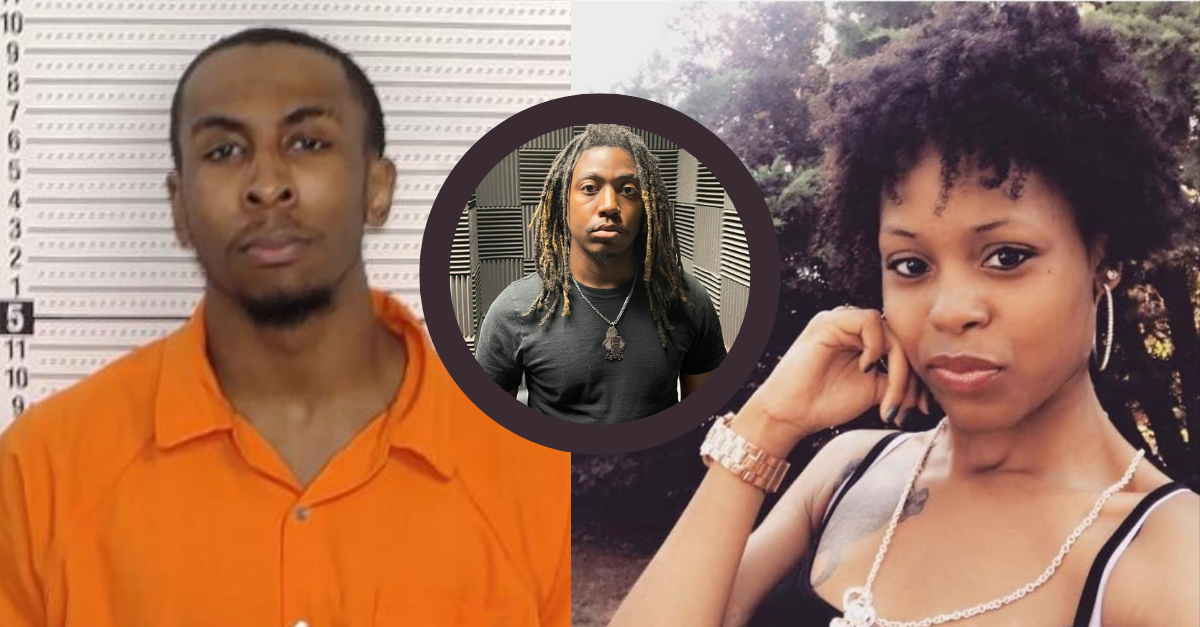 Donell Anderson (left) murdered Imani Roberson (right), said deputies in Rockdale County, Georgia. Cedarius Glaze played a "key role" in disposing of the body, according to authorities. (Images: Rockdale County Sheriff's Office)
Two of Imani Roberson's young children were reportedly present when their father, Donell Anderson, murdered her, a judge said in court Wednesday, citing a warrant.
"The 3-year-old audibly heard the incident and that they were also in the vehicle when their mother was being transported out of the county," Judge Phinia Aten, who did not set bond, said in court, according to Atlanta ABC affiliate WSB.
Authorities eventually found Roberson's burned out car in Fulton County, Georgia. Her two young children — the 3-year-old and a 1-month-old — turned up alive, but investigators later found their mother dead in the city of South Fulton, some 30 miles from her last known whereabouts.
Investigators arrested Anderson on Friday night. Rockdale County Sheriff Eric Levett promised another arrest during a press conference on Saturday. Deputies have carried it out, claiming that Anderson's brother, Cedarius Glaze, 28, played a "key role" in disposing the victim's body.
Glaze burned Roberson's vehicle, sheriff's Public Information Officer Darnesia Adams told Law&Crime.
Roberson went missing for weeks, having disappeared on July 16 from the city of Conyers in Rockdale County after dinner with her mother and four children. She went home with her 1-month-old and 3-year-old, but later her mother could not get in touch with her and found no one at her home.
Roberson's family now must contend with her death.
"We thank you for your continued prayers and support as we work to care for Imani's beautiful boys without a mother," her mother, Clarine Andujar-White, said in the press conference Saturday, distraught over what happened to her daughter.
"It's not the news that we wanted, but I'm happy that we can hold them accountable," Roberson's father Ronald Acklin said, as his voice cracked with sadness.
There is a GoFundMe campaign to support Roberson's children.
Acklin was livid in court on Wednesday.
"I want to put my hands on you so bad," he told Anderson, according to WSB.
Adams told Law&Crime that both defendants asked for attorneys.
Glaze faces one count each of tampering with evidence, concealment of a dead body, and arson.
Anderson is charged with malice murder, felony murder, aggravated assault, possession of a weapon in the commission of a crime, and a new charge of cruelty to children.
"You shouldn't have anything," the victim's sister, Patience, said about defendant Anderson, according to Fox 5 Atlanta on Tuesday. "You should lose everything. Because that was just out of nowhere for no reason. You're a sociopath to me, like you're insane."
"You lose and we win because you are never going to see the streets again," Acklin said, according to WSB. "I can guarantee that."
Have a tip we should know? [email protected]