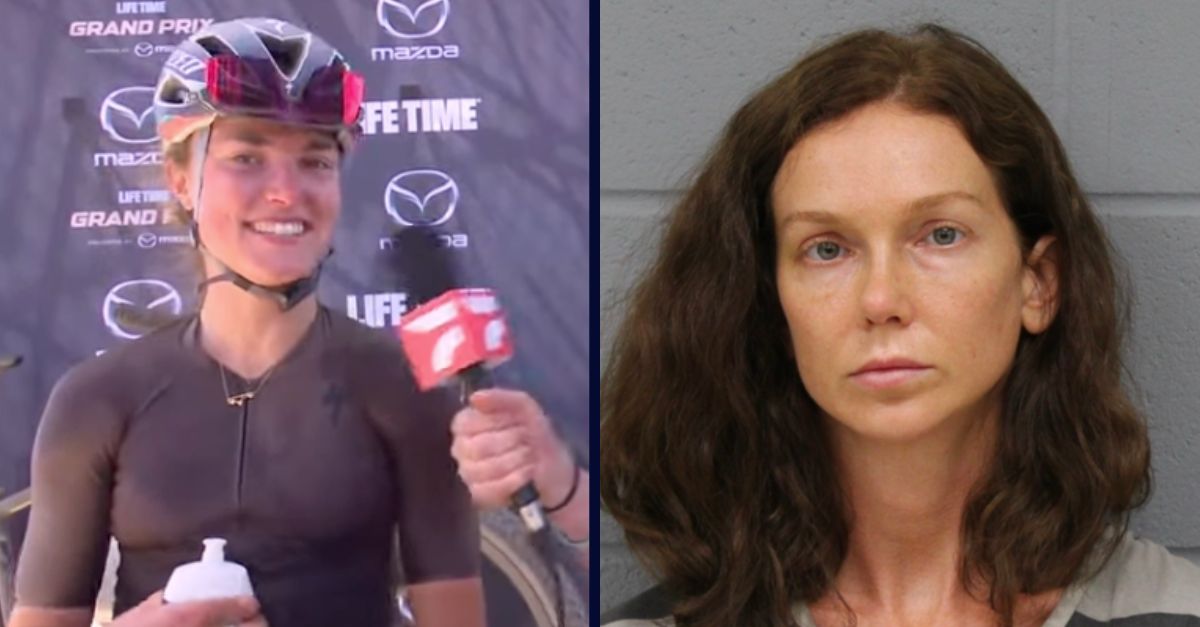 Left: Moriah "Mo" Wilson is interviewed after winning the Sea Otter Classic Fuego 80K XC Women's Race on April 9, 2022 (via YouTube screengrab/FloBikes). Right: Kaitlin Armstrong booking photo (via Austin (Tex.) Police Department).
During a contentious couple of hours on Wednesday morning, Texas prosecutors sparred with defense attorneys over what could — and could not — be said to the jury as the Kaitlin Armstrong murder trial kicked off.
Prosecutor Rickey Jones, of the Travis County District Attorney's Office, started the morning's proceedings with dramatic opening statements in which he detailed the final moments of the life of Moriah "Mo" Wilson, a rising star in the world of competitive bike racing. Armstrong is accused of fatally shooting Wilson, who she apparently perceived as a romantic rival, in May 2022 before fleeing the country for Costa Rica. She was apprehended and brought back to the U.S. the following month.
"On May 11, 2022, at 9:15 p.m., here in Austin, Texas, the last thing Mo did on this earth was scream in terror," Jones told the jury, which had been selected on Monday. "You will hear those screams. There is a surveillance camera with an audio portion to it. We will play that for you and you'll hear those screams. Those screams are followed by: Pow! Pow! Two gunshots. One to the front of the head and one to the side of the head that hits the index finger as it passes."
"You won't hear any more screams after that," Jones continued. "Silence."
Seconds later, Jones said, Armstrong "stood over Mo Wilson and put a third shot right into Mo Wilson's heart."
Jones said that the evidence would show that Armstrong, the girlfriend of professional bike racer Colin Strickland, shot and killed Wilson in the apartment of Wilson's friend Caitlin Cash, with whom she was staying while she was in Texas for a gravel race. Wilson and Strickland had been romantically involved during an "off" period of what Jones described as Strickland and Armstrong's "on-again, off-again" relationship, and according to Jones, they had remained friends afterward.
As Law&Crime previously reported, Wilson and Strickland had gotten dinner together the night of Wilson's death. Strickland had dropped Wilson off at Cash's apartment around 30 minutes before she was gunned down.
Key to the case is cellphone data that shows the locations of Armstrong and Strickland at and around the time of Wilson's violent death, according to Jones. The prosecutor said that Armstrong had repeatedly tracked Wilson through an app Wilson used to record and share her rides. Jones also said that text messages between Strickland and Wilson were accessible by a laptop and iPad that Strickland and Armstrong shared for business purposes — and that Armstrong had indeed accessed those messages.
Jones said that ballistics experts would match the ammunition used to kill Wilson to a gun owned by Armstrong, and previewed testimony about Armstrong absconding to Costa Rica — where she ultimately underwent face-changing cosmetic surgery — in the days after Wilson's death. He also mentioned her failed escape attempt in October, some 19 days before the start date of her trial.
Armstrong's attorney Geoffrey Puryear, meanwhile, almost immediately rubbished the state's position.
"Why are we here?" Puryear said multiple times at the start of his opening statement, during which he also told jurors that their opinion on the case outweighs whatever prosecutors and police allege.
Jones objected multiple times throughout Puryear's opening remarks, repeatedly noting that the defense lawyer was making arguments about the weight of the evidence, not laying out a "roadmap" of evidence, which is the purpose of an opening statement.
Puryear painted his client as someone for whom international travel was no big deal.
"You will hear that [Armstrong] is passionate about traveling and passionate about yoga," he told jurors. "She was totally comfortable traveling to far-off locations that intrigued her — at the drop of a hat."
Puryear hinted at a conspiracy theory targeting his client, telling jurors that "weird things were happening" to Armstrong in the days after the shooting, "things that would cause a normal person to fear for their safety." He implied that the lead detective on the case wasn't up to the task, and he minimized the value of DNA evidence. He also used air quotes when discussing ballistic "science," asserting that it's "not highly regarded by the general science community."
After Puryear finished his remarks, Judge Brenda Kennedy called for a recess and said the trial would resume after a 15-minute break. Cameras were only allowed in the courtroom for opening statements on Wednesday.
Have a tip we should know? [email protected]