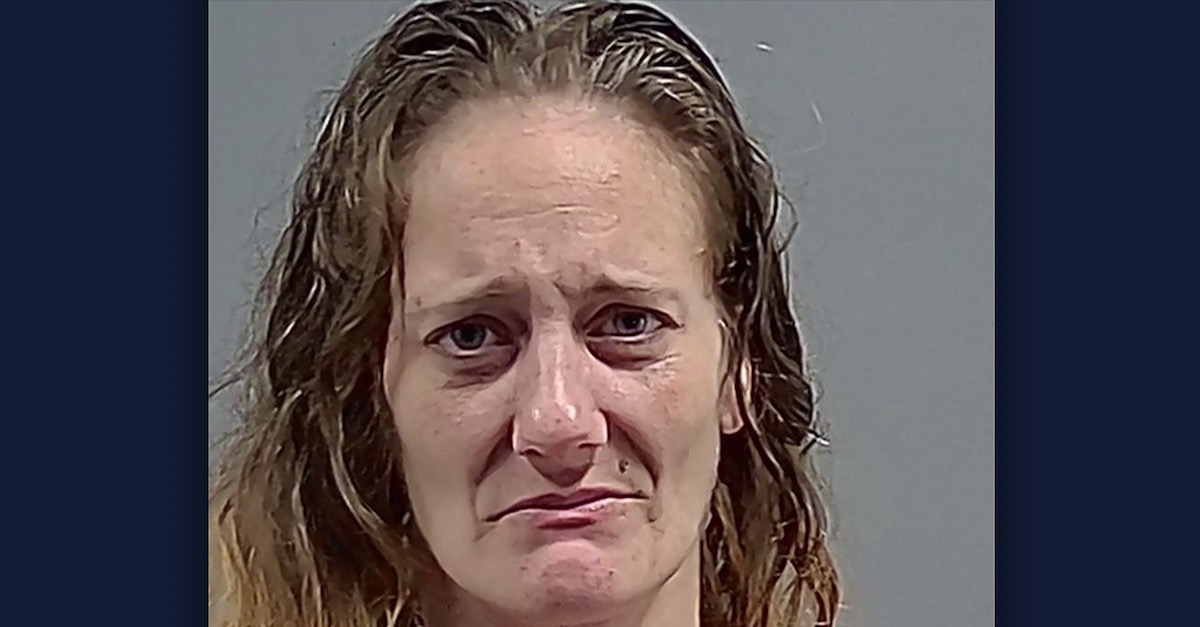 Kathleen Ann Taylor (Escambia County Sheriff's Office)
A 36-year-old woman in Florida will spend multiple years behind bars because she allowed her three dogs to attack and maul a 63-year-old man to death earlier this year. First Judicial Circuit Court Judge Coleman L. Robinson ordered Kathleen Ann Taylor to serve a sentence of 2 1/2 years in a state correctional facility in the gruesome death of Nathaniel Posey, court records reviewed by Law&Crime show.
Taylor last week pleaded no contest to one count of manslaughter — other than by motor vehicle, over the incident in which her dogs — pit bull mixes named "Zeus," "Little Man," and "Red" — killed Posey in front of his girlfriend.
According to a probable cause affidavit obtained by Law&Crime, deputies with the Escambia County Sheriff's Office responded to a call about an unresponsive adult male on a property in the 400 block of Norris Avenue at around 10 a.m. on Feb. 24.
Upon arriving at the scene, first responders located the victim — later identified as Posey — suffering from injuries to his head, torso, head and neck. Deputies wrote that they found him "with both ears detached, along with his nose and left eye detached." He was pronounced dead on the scene.
Police said that Posey lived on Taylor's property in a trailer that he rented from her.
In a news conference after Taylor's arrest in May, Escambia County Sheriff Chip Simmons said that she "failed to properly secure her home or her kennels, or any other enclosure designed to keep her dogs from roaming free." The sheriff also noted that despite Taylor having a history of problems with Escambia County Animal Control agents and being fined several times for allowing her animals to roam freely, she still failed to take any action to address the housing of her animals.
Regarding the three dogs that mauled Posey to death, authorities said they received several prior complaints from community members claiming that Taylor's dogs had chased them and posed a serious threat to the community.
"We have a lot of roaming calls. We call them nuisance calls, where the animals may have been chasing people and things like that," Escambia Animal Services Manager John Robinson said during the May news conference. "[Taylor] doesn't have the proper housing and obviously doesn't have the proper care for them."
One of Taylor's friends had told her that she had to get rid of the dogs after one of the animals recently bit the friend, the sheriff's office said.
Posey's girlfriend told investigators that she was returning from a convenience store when she found Posey lying on the ground in front of the trailer and all three dogs surrounding him. He was bleeding from multiple wounds. She screamed, causing the dogs to depart, and attempted to help Posey. She said Taylor and her kids then pulled up to the scene. After seeing Posey's condition and hearing the girlfriend saying her dogs were responsible, the girlfriend said Taylor "screamed" that the dogs did not belong to her, then got in her car and drove away.
As part of her sentence, Taylor will not be allowed to own any pets in the future.
Have a tip we should know? [email protected]