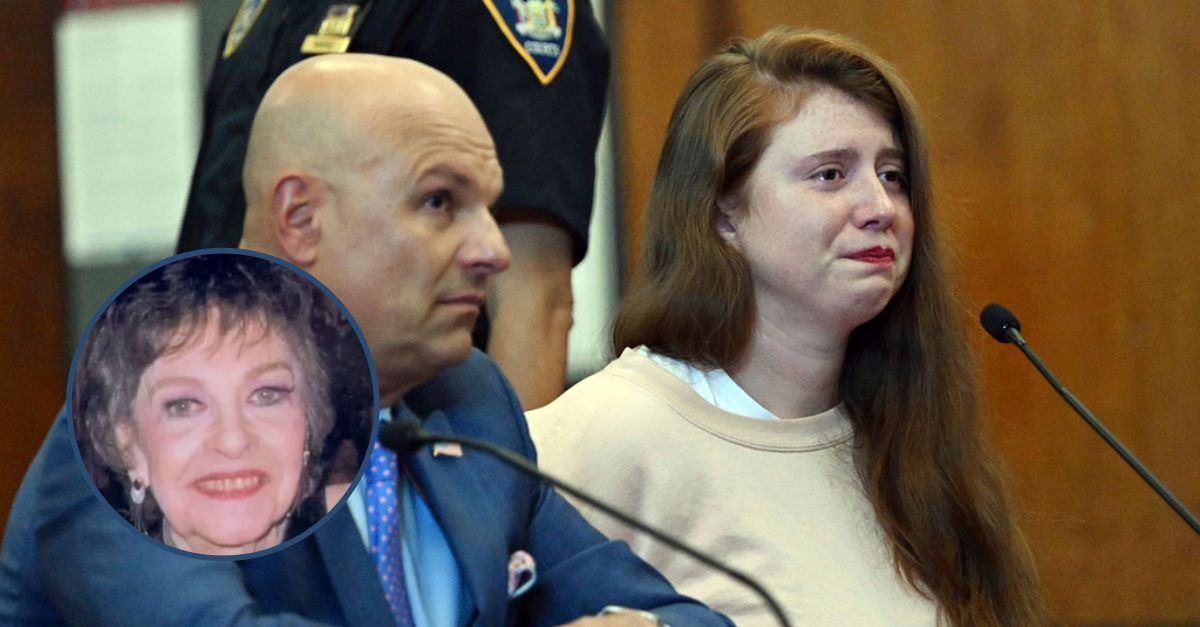 Lauren Pazienza appears in court with lawyer Arthur Aidala on Wednesday, Aug. 23, 2023, in New York. Panzienza, 28, who fatally shoved 87-year-old Broadway singing coach Barbara Gustern in Manhattan last year, pleaded guilty Wednesday to manslaughter in a plea deal requiring she serve eight years behind bars. (Courtroom photo from Curtis Means/Pool Photo via AP; Gustern screenshot from New York's CBS affiliate WCBS-TV)
A 28-year-old woman was sentenced on Friday to 8 ½ years in prison for shoving a beloved 87-year-old Broadway vocal coach, leaving her fatally wounded on a New York City street.
In a Manhattan courtroom on Friday, Justice Felicia Mennin added six months to Lauren Pazienza's originally planned sentence of eight years for the death of Barbara Gustern, saying, "I am really concerned about your apparent inability to take responsibility for your actions," Gothamist reported.
In court, one of the victim's grandsons, Maier Gustern said he now hates opera and New York, thanks to Pazienza, addressing her directly in court.
"I curse you, Lauren Pazienza," he said, Gothamist reported. "For the rest of your days, may you be miserable."
Pazienza responded, "If it was my grandmother, I would be broken, and my life would be shattered.
"I'm just so sorry. I wish I could take it back."
Pazienza pleaded guilty to one count of manslaughter in the first degree. Under the terms of the plea, Pazienza will be sentenced to eight years in state prison, followed by five years of post-release supervision. She was set to be sentenced on Sept. 29.
Manhattan District Attorney Alvin L. Bragg, Jr. called it a "senseless and unprovoked attack."
"Lauren Pazienza aggressively shoved Barbara Gustern to the ground and walked away as the beloved New Yorker lay there bleeding. Today's plea holds Pazienza accountable for her deadly actions," he said in a statement. "We continue to mourn the loss of Barbara Gustern, a talented musical theater performer and vocal coach who touched so many in New York City and beyond."
It all went down about 8:30 p.m. on March 10. Pazienza was walking from Chelsea Park when she crossed the street, shouted obscenities at Gustern, shoved her to the ground, and walked away, officials said.
Gustern was still lucid after the attack and reportedly told a friend: "I've never been hit so hard in my life."
Paramedics rushed Gustern to the hospital, where she became unconscious and died five days after being removed from life support, prosecutors said. She had a massive hemorrhage to the left side of her brain.
After the attack, Pazienza stayed in the area for about 20 minutes before taking the subway to her apartment in Queens with her fiance, prosecutors said. She didn't mention the assault until late that evening when she told her fiance she had pushed someone, prosecutors said.
After reading a news article about Gustern, she became "really scared and nervous" and told a cousin about the shove. She deleted her social media accounts, took down her wedding website, and fled to Long Island to stay with family, officials said.
She turned herself in and was arrested on March 22, nearly two weeks after the incident, after an anonymous tip led police to her parents' house.
Gustern was a legendary vocal coach who coached rock stars and Broadway singers. Clients reportedly included Debbie Harry, the lead singer of Blondie, the cast of the 2019 revival of Oklahoma.
One of her students, Morgan Jenness, told the New York Times she "would never have said anything nasty to anyone."
"The fact that someone ran across the street to push her because they had to take it out on somebody is sad," she said. "I doubt that she thought that she would kill her, but there are consequences. You can't just have temper tantrums because the world doesn't go your way."
Have a tip we should know? [email protected]