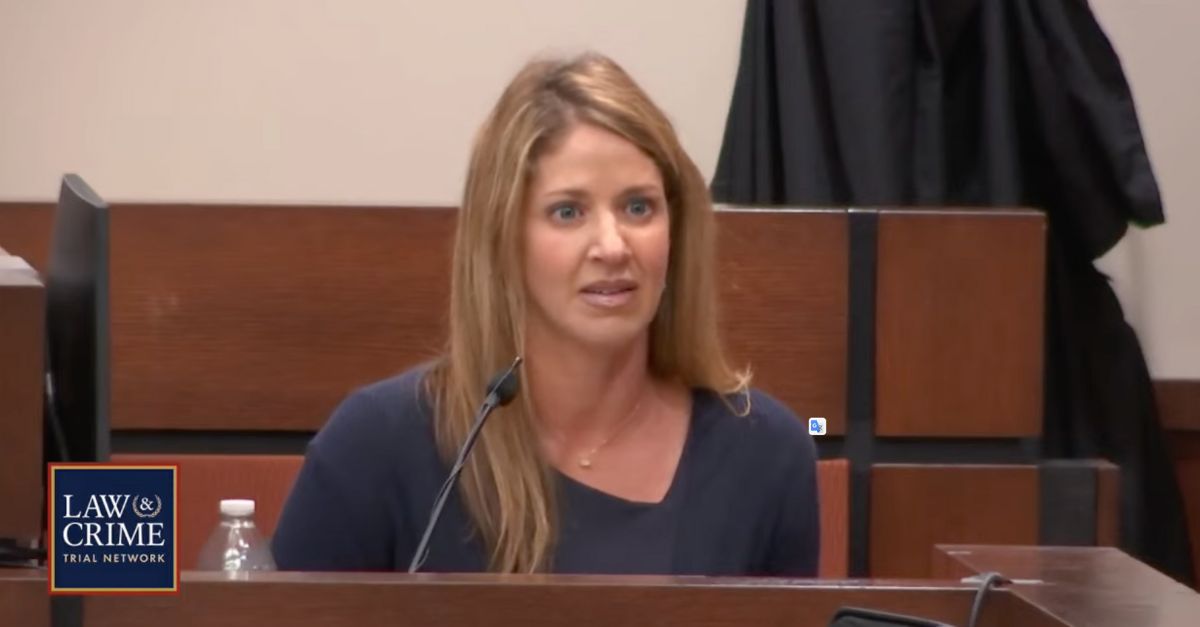 Wendi Adelson testifies on Thursday, Oct. 26, 2023, at the Leon County Courthouse in Tallahassee, Fla. (Law&Crime Network)
The long-awaited murder trial for a Florida dentist who allegedly conspired to have his ex-brother-in-law murdered for his sister's benefit continued on Thursday afternoon with oftentimes dramatic testimony from the victim's ex-wife – who took the stand after prosecutors granted her a limited form of immunity.
Charlie Adelson, 46, stands accused of plotting the fatal murder-for-hire shooting of 41-year-old Florida State University law professor Dan Markel on July 18, 2014. The state considers the defendant's sister, Wendi Adelson, 45, an un-indicted co-conspirator in that plot.
The final witness on the first day of the trial being overseen by 2nd Judicial Circuit Judge Stephen Everett was adamant about her innocence – and professed a complete lack of knowledge of the remunerated murder conspiracy – when repeatedly grilled by Chief Assistant State Attorney Georgia Cappleman.
"Were you involved in any way in a plot to kill your ex-husband?" Cappleman asked at one point during numerous tense exchanges with the witness. "Is that why you went to the crime scene?"
"I did not go to the crime scene on the day of the homicide," Wendi Adelson replied – noting that the street her husband lived on was taped off by the time she left her house the day in question.
Granted use immunity, meaning that nothing she says in open court can be used against her, Wendi Adelson repeatedly disputed the state's explicit claims and ever-present implications that Markel was killed for her benefit – and with her knowledge.
Despite the sometimes contentious divorce proceedings, the former couple had more or less moved on and accepted their new lives, Wendi Adelson said. A hoped-for effort to relocate from Tallahassee to Miami fell through after Markel raised an objection about moving their children so far away, but, the witness testified, she had no lingering resentment about that because she always knew the move was a long shot. The state suggests otherwise.
Markel had asked the court to enter an order preventing Donna Adelson, the mother of Charlie Adelson and Wendi Adelson, from having unsupervised contact with her grandchildren, and this motion was still pending at the time of the murder. His death solved the Adelsons' "problem," Cappleman said, emphasizing just how quickly Wendi Adelson moved the victim's sons to Miami.
"Just about 48 hours after the shooting, Wendi Adelson and the little boys relocated to Miami. Shortly thereafter, moved into a home within walking distance of the Adelson's Miami home," Cappleman said during opening arguments earlier on Thursday.
Early on during the witness' testimony, the state drew attention to one of Wendi Adelson's initial interviews with law enforcement, where she said that her parents were "very angry towards" Markel. And then later on in the same interview when Adelson said: "You know it's like my parents have more reason to dislike Danny than anyone else."
This line of questioning elicited a particularly notable back-and-forth between the state and the immunized witness.
"That's because he hurt you, right?" the prosecutor asked.
"I was saying that in the context of talking to law enforcement for hours and hours and trying to help them figure out who might be responsible," Wendi Adelson replied.
"Right, and who did you tell them might be responsible?" Cappleman pressed.
"Well, I told them many, many people – but are you asking about this particular moment right here?" the witness sought to clarify.
"You told them your family might be responsible," Cappleman answered.
"Or potentially someone to do with a former student or his current girlfriend," Wendi Adelson offered in response, defensively. "I mentioned lots of people that I thought could be responsible."
"And of the lots of people who could have been responsible, your family was one of them," Cappleman countered.
"Yep," Wendi Adelson said, all but exasperated.
"Because they might have done this thinking it would help you," Cappleman said before asking: "I mean, that's what happened, right?"
Wendi Adelson replied: "I'm sorry. I don't understand the question."
"Your family had your ex-husband killed to try and help you, didn't they?" the prosecutor said – making the implication bare.
"No, that's completely untrue," Wendi Adelson said.
During her time on the stand, the state frequently made reference to a joke that Charlie Adelson often made about how he considered hiring a hitman to kill Markel as a divorce present for his sister but got her a TV instead.
"That was the joke he made in poor taste, yes," Wendi Adelson said – later acknowledging that the joke was told numerous times and likely to numerous people.
Prosecutors, however, believe the joke was a thinly-veiled admission. Moreover, Cappleman, over and over again, tried to have Wendi Adelson say her brother mentioned a real effort to hire a hitman.
Around the time of the murder, Katherine Magbanua was Charlie Adelson's girlfriend. In her testimony, Wendi Adelson accepted this version of events – but with the caveat that his brother often went from woman to woman. She also testified that she only met Magbanua twice – and never once messaged or called her.
Magbanua was eventually found guilty of murder, conspiracy, and solicitation to commit murder in May 2022 at her retrial after her first trial in 2019 ended with a hung jury.
Detectives believe Charlie Adelson told Magbanua about the Markel custody battle and about his interest in hiring a hitman. Court documents allege Magbanua then recruited the father of her children, Sigfredo Garcia, to carry out the murder. Investigators believe Garcia then recruited another person to assist in Markel's murder — Luis Rivera.
It was only today that Wendi Adelson learned Magbanua was blackmailing her brother, the witness testified. And it was only today, she said, that she learned that her brother knew who had committed the killing.
Late in her testimony, the state asked the witness if the TV was code for the murder among her family. Wendi Adelson answered in the negative.
"Is part of the plot for you to have plausible deniability of this?" Cappleman pressed.
"Absolutely not," Wendi Adelson replied.
More questions passed back and forth. The state again brought up the original law enforcement interview where the witness offered her family as potential killers. The state again brought up the hitman-TV joke.
"Do you want the culpable parties held accountable for murdering the father of your children?" Cappleman asked as the state's time with the witness drew to a close.
"Absolutely, I'm grateful they're already in jail," Wendi Adelson said, the anger in her voice palpable.
Matt Naham and Vanessa Bein contributed to this report.
Have a tip we should know? [email protected]