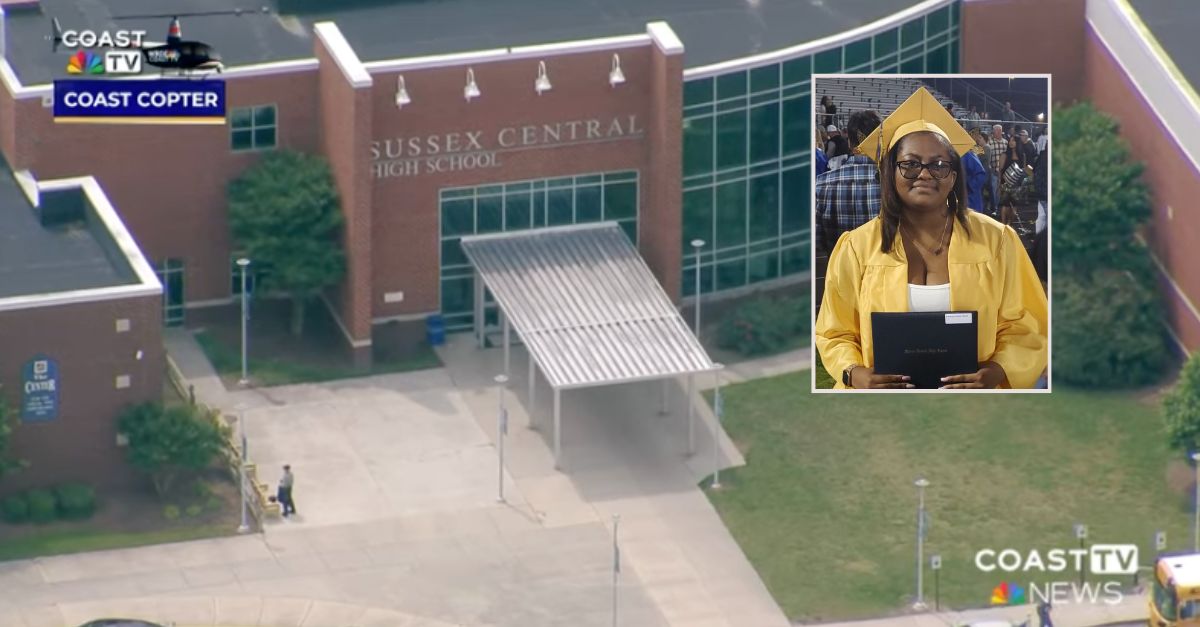 Sussex Central High School (via YouTube screengrab/WRDE). Inset: Aniya Harmon (via The Igwe Firm).
A recent high school graduate says that her former principal and other school administrators passed around a custom-made meme from a video that showed her clothes being pulled off and exposing her breast.
Aniya Harmon, 18, says that while walking on the campus of Sussex Central High School in Sussex County, Delaware, on May 17, she was literally pulled into a fight: after telling one of two arguing students to quiet down, a school employee "pulled [Harmon] forcefully by her jacket, bra strap and tank top strap blouse, which caused [Harmon's] clothes to come apart, exposing her entire right breast," according to a new lawsuit filed by Harmon.
The entire episode was captured on school surveillance cameras. The school's assistant principal, Matthew Jones, said that he would review the footage to determine what happened, and principal Bradley Layfield told Harmon that she should leave school for a few days.
According to the suit filed last week, Harmon's nightmare was just beginning.
"On May 19, 2023, upon Plaintiff's return to Sussex Central, Plaintiff learned that Mr. Jones created a meme of the above-described school surveillance video footage of the incident, replacing Plaintiff's face with that of iconic singer, Janet Jackson," the complaint says. "Mr. Jones then showed on his school issued laptop computer images of the meme to other vice principals, administrators, teachers and other recipients."
The meme apparently recalls Jackson's performance at the 2004 Super Bowl halftime show, in which co-performer Justin Timberlake ripped off part of the singer's top, revealing her breast. The backlash against Jackson was significantly more harsh than what Timberlake faced at the time.
Harmon alleges that Layfield showed other school staff members, including vice principals, administrators, teachers and others the surveillance video exposing her breast.
"Mr. Jones worked with Mr. Layfield and possibly others to create a meme image of the surveillance video that was in his possession, even though he was never given permission by Plaintiff to do so and shared the surveillance video with third parties," the lawsuit alleges. "Mr. Jones and Mr. Layfield's knowing, and intentional distribution of Plaintiff's personal and sensitive data was not carried out for any reasonable or legitimate purposes, but rather to create embarrassment and harm for Plaintiff."
Harmon has sued the high school, the Indian River School District, Layfield and Jones for an unspecified amount of damages, alleging invasion of privacy, conspiracy to invasion of privacy, and intentional and negligent infliction of emotional distress. Both Layfield and Jones have allegedly been placed on administrative leave.
"What happened to Aniya Harmon is outrageous and we will ensure that those responsible for violating her privacy are held accountable," attorney Emeke Igwe of The Igwe Firm said in a statement. "It is reprehensible to think that those we entrust to protect our students would share something so intimate, particularly in a joking manner."
The Indian River School District declined Law&Crime's request for comment, citing the pending litigation. Neither Layfield nor Jones responded to Law&Crime's request for comment.
Harmon's mom said that in the wake of the incident, Harmon didn't want to attend her own graduation.
"She didn't want to graduate, she didn't want to leave the house, she didn't want to go to work, she didn't want to do anything," Tosha White told local NBC affiliate WDRE.
Layfield's attorney told WRDE that the lawsuit "appears to be misdirected at my client and an exaggeration of alleged injuries, perhaps for financial reasons."
Harmon said that she only had brief contact with Layfield after she returned to school and that he told her he was glad she was "behaving."
"I hope they're disappointed in themselves, and I hope they regret it, and if they don't regret it, I don't know what else to tell them," she told the station.
Read Harmon's complaint, below.
Have a tip we should know? [email protected]