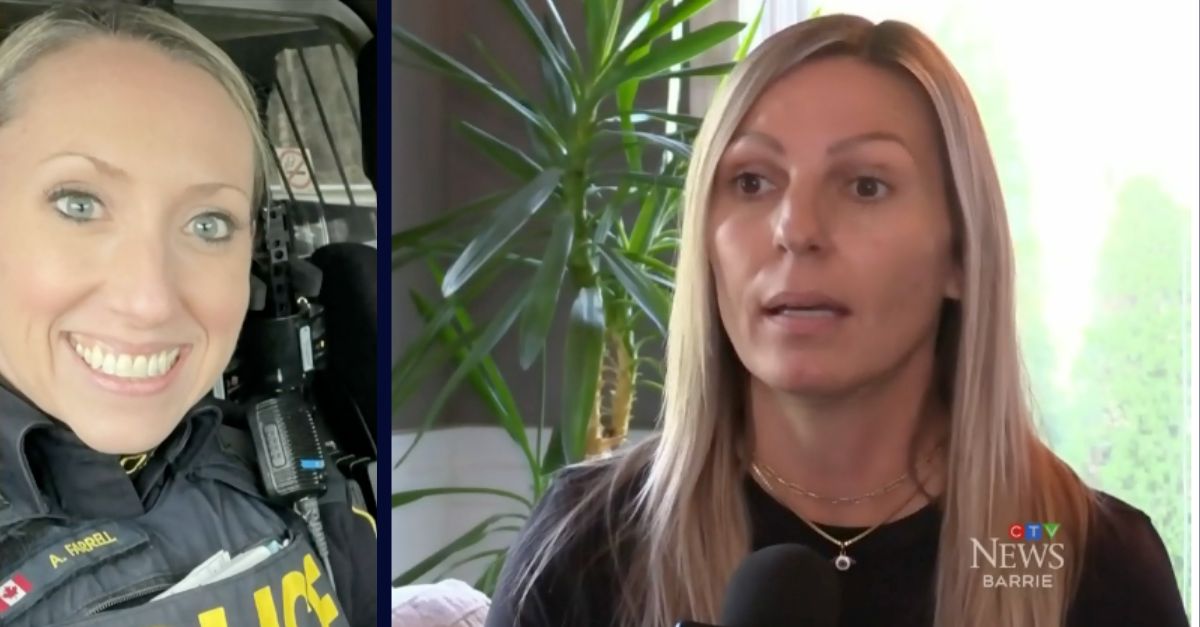 Left: Ontario Provincial Police Const. Amanda Farrell. Right: Chantelle Stamcos. (Images via screengrab/CTV News.)
A woman is speaking out after her boyfriend's ex — a cop — allegedly broke into their home while armed and in uniform and confronted the couple.
Chantelle Stamcos told Canadian television station CTV that Ontario Provincial Police Const. Amanda Farrell illegally entered the home Stamcos shares with her boyfriend, who is also Farrell's ex.
Stamcos said that she entered the home using a keypad on the door and confronted the couple, yelling at Stamcos in an intimidating way.
"It was 15 minutes of terror," Stamcos told the station. "It was very scary. She was in full uniform, hand on her weapon most of the time."
Stamcos said she and her boyfriend told Farrell to leave and said that if she didn't they would call the police.
"I am the police," Farrell reportedly replied.
According to Stamcos, the home invasion happened more than a year ago, and that Farrell was upset that Stamcos' boyfriend had moved on from his relationship with her. Stamcos said she has been living in fear ever since.
Farrell, meanwhile, has been charged with break-and-enter with intent to commit an indictable offense, two counts of assault, criminal harassment, mischief, and forcible confinement, CTV reported.
The accused woman said that her former boyfriend assaulted her months earlier when they were together, according to CTV. Charges were initially filed and later dropped.
In a statement emailed to Law&Crime, the Ontario Provincial Police declined to comment.
"We cannot comment on this matter as it deals with intimate partner violence," the statement said. "As this matter is now before the courts, it would also not be appropriate to comment."
The spokesperson did confirm that Farrell is still on the force.
"The individual you asked about is still a member of the OPP, presently on an unrelated leave of absence," the email said.
Stamcos, meanwhile, says she will continue to talk about her experience.
"I just feel like people should know," she told CTV. "I just feel like it's not right that someone like that can carry a weapon and have that authority and be a police officer. I don't think that's who the police would want to have representing them, and I think people should know that that happened."
Farrell is scheduled for a virtual court appearance on Friday, CTV reported.
More from Law&Crime: 'What this officer did is reprehensible': Chief berates one of his own officers arrested for sexually battering jaywalker
Have a tip we should know? [email protected]