[]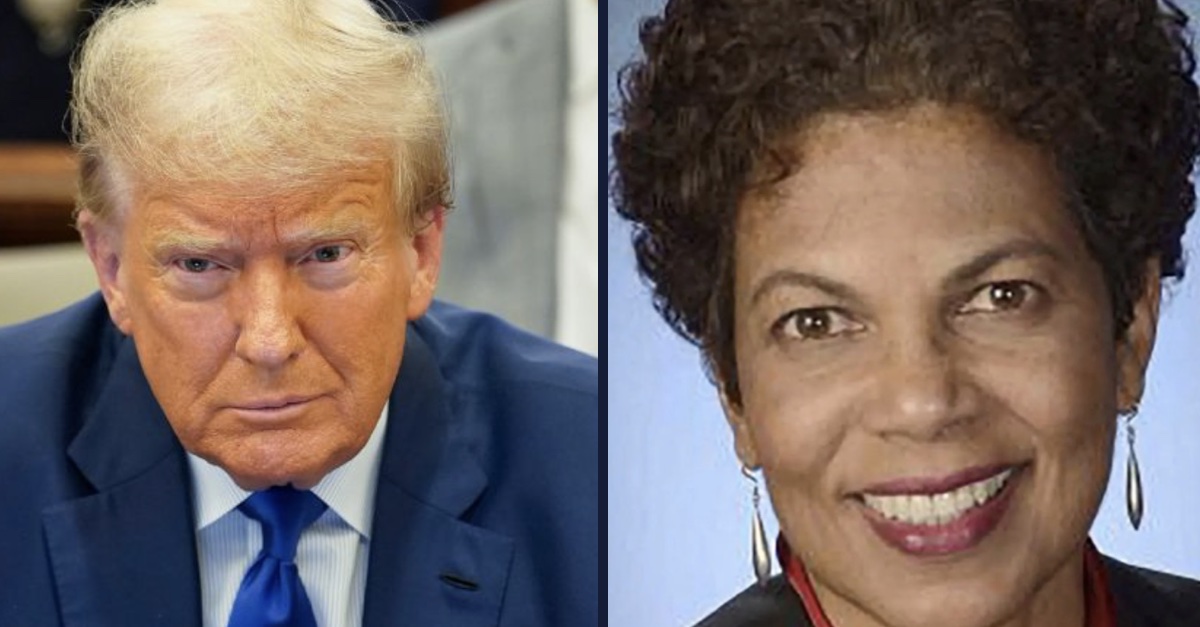 Donald Trump (AP Photo/Seth Wenig, POOL), Donald Trump, U.S. District Judge Tanya Chutkan (court photo)
Update: The judge quickly allowed Trump's lawyers until Nov. 22, the day before Thanksgiving, to file replies in support of his constitutional, statutory, and selective prosecution motions to dismiss. The judge also allowed the former president until Nov. 15 to file replies in support of his motion to strike "inflammatory allegations" from the Jan. 6 indictment and motion to stay proceedings pending the resolution of his "presidential immunity" claims.
—
In what might be seen as a microcosm of how delay tactics are going in Donald Trump's cases, the former president's lawyers on Sunday asked Jan. 6 U.S. District Judge Tanya Chutkan to push back deadlines for defense filings supporting various theories that special counsel Jack Smith's prosecution should be dismissed.
Defense attorney John Lauro requested extensions so that Trump "may better balance […] conflicting obligations," for instance appealing the trial judge's gag order of the former president at the U.S. Court of Appeals for the D.C. Circuit.
Recall: the judge issued the partial gag order and then temporarily stayed that order, only to reinstate it when — during the administrative stay — Trump posted on Truth Social on Oct. 24 about former chief of staff Mark Meadows and "Deranged Prosecutor" Jack Smith.
That Truth Social post, as the Barack Obama-appointed trial judge read it, "single[d] out a foreseeable witness for purposes of characterizing his potentially unfavorable testimony as a 'lie' 'mad[e] up' to secure immunity, and […] attack[ed] him as a 'weakling[] and coward[]' if he provide[d] that unfavorable testimony — an attack that could readily be interpreted as an attempt to influence or prevent the witness's participation in this case."
In other words, the judge issued an order and then briefly reversed herself, the defendant took advantage of the paused order by posting something that, in the judge's view, would have almost certainly violated the gag order if it was in effect at the time the post went online, the judge responded by reversing her reversal, and Trump's attorneys filed an emergency motion in the D.C. Circuit accusing Chutkan of violating 100 million Americans' rights to hear Trump's voice and violating the former president's First Amendment rights.
Here's where the latest request for extensions comes in. Trump's legal team is citing upcoming Nov. 20 oral arguments in the D.C. Circuit over the gag order as one reason, among several others, why the defense should get until Thanksgiving to file documents in the Jan. 6 case that support pending motions to dismiss the prosecution on three separate statutory, constitutional, and selective prosecution grounds.
The "Non-Immunity MTD" deadlines, "which address numerous significant and complex legal issues," as the filing put it, should be moved from Nov. 16 to Nov. 23 (Thanksgiving Day), Lauro said:
On November 6, 2023, the prosecution filed its responses to these motions, including, with leave of Court, an oversized, 64-page omnibus response (Doc. 139) to President Trump's Constitutional and statutory motions to dismiss. President Trump's replies are currently due Monday, November 13, 2023 (for the motions to stay and strike) and Thursday, November 16, 2023 (for the Non-Immunity MTDs). Simultaneously, President Trump has appealed this Court's order limiting President Trump's speech (Doc. 105). Following extensive briefing, the Court denied President Trump's motion to stay this order pending appeal (Doc. 124). Thereafter, President Trump sought an emergency stay in the D.C. Circuit. USCA Case. No. 23-3190, Doc. 2025149. The Circuit Court then entered an administrative stay, while ordering an expedited briefing schedule, requiring President Trump to file his opening brief on November 8, 2023, and his reply brief this coming Friday (November 17, 2023). (Id. at Doc. 2025399). Moreover, the Circuit Court scheduled oral argument for Monday, November 20, 2023.
But there's more. The Sunday filing asked for a two-day extension of a Monday deadline to file a motion in support of an attempt to strike "inflammatory allegations" from the Jan. 6 indictment and a motion in support of the argument that "all proceedings" in the Jan. 6 federal case should be paused until Trump's "presidential immunity" claims are resolved.
In essence, the latter is a request for a brief delay to argue in favor of an indefinite delay ahead of the currently scheduled March 4, 2024, trial.
"Accordingly, President Trump faces deadlines for six briefs on dispositive and other crucially important issues this coming week. At the same time, President Trump's legal team must prepare for oral argument in the D.C. Circuit on an unprecedented First Amendment issue," Lauro argued. "President Trump seeks the requested extensions so that he may better balance these conflicting obligations, while also continuing his trial preparation work, which cannot stop given the enormity of discovery and the potential March 4, 2024, trial date."
The defense asserted, however, that the requested extensions of the "Non-Immunity MTD" deadlines for motions in support, which would at most amount to 11 days, will neither impact other deadlines nor "cause any prejudice."
Even if these particular extension requests would not impact the pretrial schedule, requests like these are worth watching down the line because they could affect the trial date in the Mar-a-Lago case, and we already know that Trump's goal is to push that case past the 2024 election. U.S. District Judge Aileen Cannon last week declined to make a decision until March 1, 2024, on moving back the preliminary May 2024 trial date — and one of the reasons the Trump-appointed judge cited was the uncertainty posed by competing deadlines in D.C. and New York criminal cases.
"Although the Special Counsel is correct that the trajectory of these matters potentially remains in flux, the schedules as they currently stand overlap substantially with the deadlines in this case, presenting additional challenges to ensuring Defendant Trump has adequate time to prepare for trial and to assist in his defense," Judge Cannon wrote last week.
Special counsel Jack Smith began his opposition on Monday to Trump lawyers' Sunday request by saying "[t]he defendant seeks yet another extension," and without "good cause." He urged Judge Chutkan to "deny the defendant's latest attempt at delay."
Smith said that Trump's expedited D.C. Circuit appeal is not something afforded to most defendants, and the former president "should not be permitted to derail the pretrial schedule" on that basis — especially since Trump has three other lawyers "retained just for that" appellate "purpose."
To grant further delay of Trump's three-pronged challenge of the Jan. 6 prosecution into Thanksgiving, Smith added, would be to permit "risks preventing the completion of briefing" on constitutional and statutory issues — including double jeopardy — which should be "decided promptly and in conjunction with the defendant's presidential immunity claim."
In a footnote, Smith said that the distinct but related two-day extension request on the motion to strike issue is moot because the Trump team's reply is not actually due until Nov. 16, this Thursday.
Have a tip we should know? [email protected]