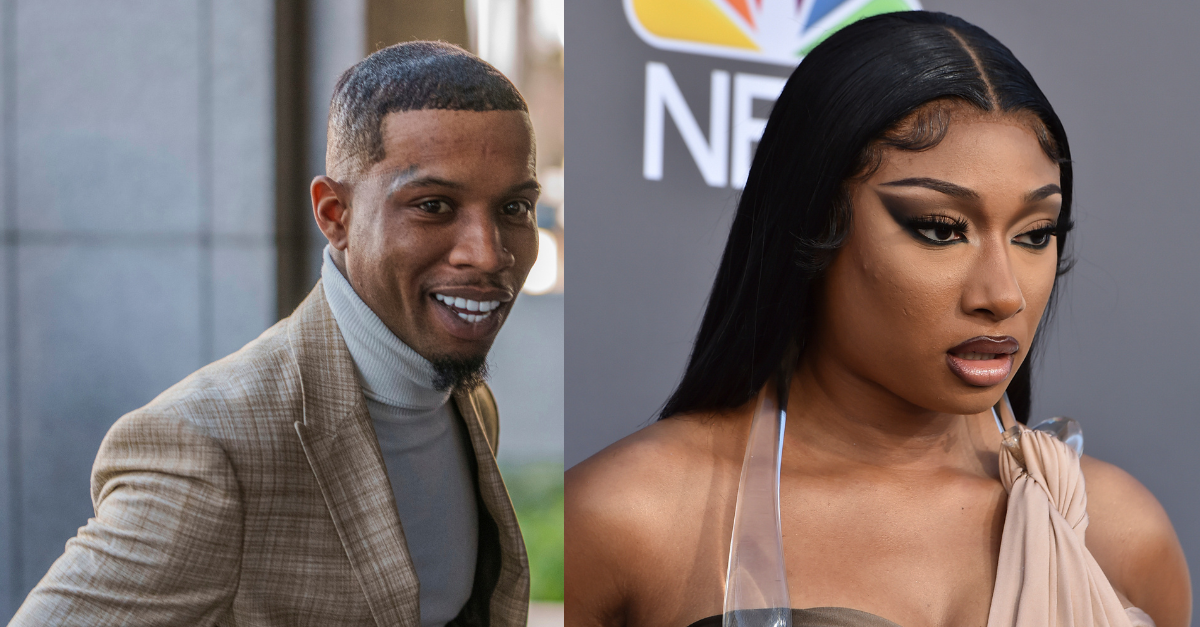 Jurors convicted Tory Lanez on Dec. 23, 2022, of shooting Megan Thee Stallion. (Image of Lanez: AP Photo/Damian Dovarganes, File; image of Megan: Jordan Strauss/Invision/AP, File)
Rapper Tory Lanez was sentenced on Monday to 10 years in prison for shooting fellow lyricist Megan Thee Stallion.
Jurors in December convicted him of assault with a firearm, possession of an unregistered firearm in a vehicle and negligent discharge of a firearm. They also determined he caused great bodily injury.
Megan suffered bullet fragments in her feet, requiring surgeons to take some out. Other pieces remained.
She didn't tell police she'd been shot until four days after the July 2020 altercation in Hollywood Hills, California. The rapper first insisted she'd merely stepped on glass before telling police Lanez fired rounds at her after yelling, "Dance, bitch!"
"Since I was viciously shot by the defendant, I have not experienced a single day of peace," Megan said in a statement read on her behalf Monday by Los Angeles County Deputy District Attorney Kathy Ta, according to The Associated Press. "Slowly but surely, I'm healing and coming back, but I will never be the same."
From Southern California-based reporter Meghann Cuniff:
"He lied to anyone that would listen and paid bloggers to disseminate false information about the case on social media. He released music videos and songs to damage my character and continue his crusade."

– Megan @TheeStallion's written statement at Tory Lanez's sentencing

— Meghann Cuniff (@meghanncuniff) August 8, 2023
Lanez's attorney, George Mgdesyan, maintained at trial that his client had been trying to take the gun away from Megan's enraged then-assistant, Kelsey Nicole Harris. He maintained that Harris had actually fired five rounds at her best friend because of the women's rival, romantic interest in Lanez and other men.
Defense witness Sean Kelly testified that the muzzle flashes initially originated from a woman.
Deputy District Attorney Alexander Bott argued Kelly's testimony, however, clearly incriminates Lanez, including the man's emphatic descriptions of Lanez "going crazy" and hurling "a torrent of abuse" at a woman who'd fallen to the ground after the muzzle flashes.
Both sides struggled over the credibility of Harris' testimony. The prosecutor used Megan's testimony to frame the argument that Harris had been "compromised" sometime between her interview with prosecutors and her witness stand appearance. Megan herself had been anxious about stepping forward with the truth about her injuries.
Key evidence for prosecutors included a recorded, apologetic phone call Lanez made from jail to Harris hours after the shooting as she waited for Megan at the hospital, text messages Harris sent Megan's bodyguard after the shooting that implicated Lanez and apologetic texts Lanez sent Megan after the shooting.
Have a tip we should know? [email protected]