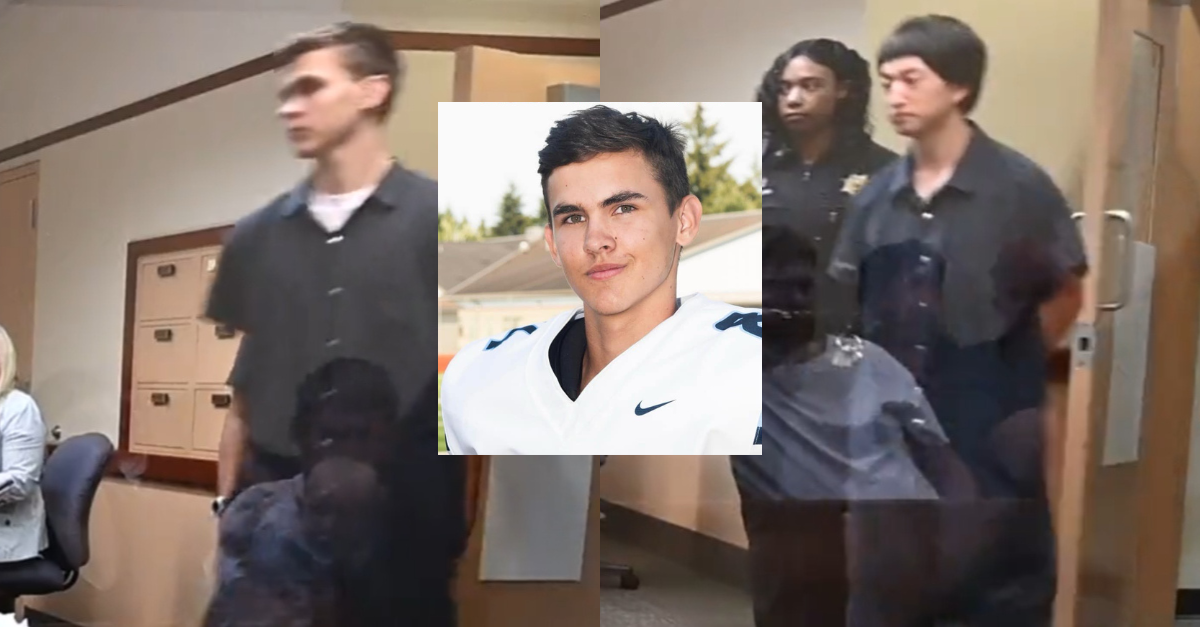 Gabriel Michael Davis (left and center) and Justin Jiwoon Yoon (right) pleaded guilty on Sept. 06, 2023 to murdering Daniel McCaw in a burglary. (Screenshots from court: The Tacoma News Tribune; football image of Davies: Thurston County Sheriff's Office)
Two teens were sentenced on Friday to 12 years in prison and 2 years and 9 months in community custody for robbing and killing a man in a case that caught national attention because of the surreal details involving one of the defendants, Gabriel Michael Davies.
His mother used to be in a relationship with the victim, Daniel McCaw, 51. Prosecutors in Pierce County, Washington, say that Davies and Justin Jiwoon Yoon, both then 16 and now 17, burglarized the man's home on Aug. 28, 2022.
Authorities said surveillance footage depicted the boys sneaking in through the dog door. Less than an hour later, McCaw left his detached garage and entered the residence, never to emerge. Davies and Yoon exited the home through the side door before running back and forth to the garage, carrying items.
And yet Davies initially landed on law enforcement radar not as a suspect but as a possible victim. Deputies in Thurston County said that the teenager, a football player at Olympia High School, was missing on Sept. 1, 2022, after he did not show up to practice.
His truck turned up near the city of Tenino by the 16100 block Tilley Road S — the keys remained in the ignition, there was blood inside the vehicle, the driver's side door was open, and a cellphone was found smashed on the ground, but investigators saw no sign of Davies. Deputies said his father, the vehicle's registered owner, told them that he was supposed to be going to football practice.
Authorities engaged in an exhaustive search for the teenager.
Investigators eventually found him the next day on Sept. 2, 2022, at the 13600 block of Tilley Road S.
Thurston County Sheriff John Sanza told reporters in a press conference that Davies had been walking alone. The teenager told authorities he was wandering around for the previous 24 hours, the lawman said.
Eventually, however, investigators tied Davies and Yoon to McCaw's death. They said the young football player staged his own disappearance. Davies and Yoon pleaded down from murder in the first degree to murder in the second degree.
Have a tip we should know? [email protected]