Taylor Denise Schabusiness, 25, was sentenced to life in prison without the possibility of parole by a judge in Brown County, Wisconsin, on Tuesday afternoon.
Brown County Circuit Judge Thomas Walsh said his decision was, in large part, based on the need to protect the public because the killer's particular crime was essentially "unpredictable."
"In a place where this kind of offense, kind of actions, kind of crime, is possible, with no advanced warning signs – absolutely anything is possible," the judge intoned. "The public needs protection."
Shad Thyrion, 25, was killed and dismembered in his mother's basement in February 2022. The state proved the 25-year-old defendant took advantage of him during rough sex and choked him to death with a chain before later having sex with his corpse, otherwise violating the dead man's body, and cutting it into several pieces.
On July 26, Schabusiness was convicted by jurors of intentional homicide in the first degree, mutilating a corpse, and sexual assault in the third degree. The next day, jurors denied her bid to plead insanity.
"The offense in this case can't be overstated," Walsh said. "You seem to run out of superlatives when describing what happened."
The defendant, for her part, was all but muted throughout the proceedings. When asked by the court if there was anything she wished to say before being sentenced, replied: "No, there isn't."
Walsh first offered a long and angry soliloquy about a statement made by Schabusiness' father in her presentencing report wherein he bemoaned the state of society and the social safety net. During that address, the judge took umbrage at the idea that "the system" is somehow responsible for what happened in the defendant's life.
"It almost seems like you could apply the phrase: 'She never had a chance,' to Miss Schabusiness," the judge said.
That said, the judge noted, people are responsible for where they go – even if they aren't responsible for where they came from.
Walsh next tore into the killer for her crime.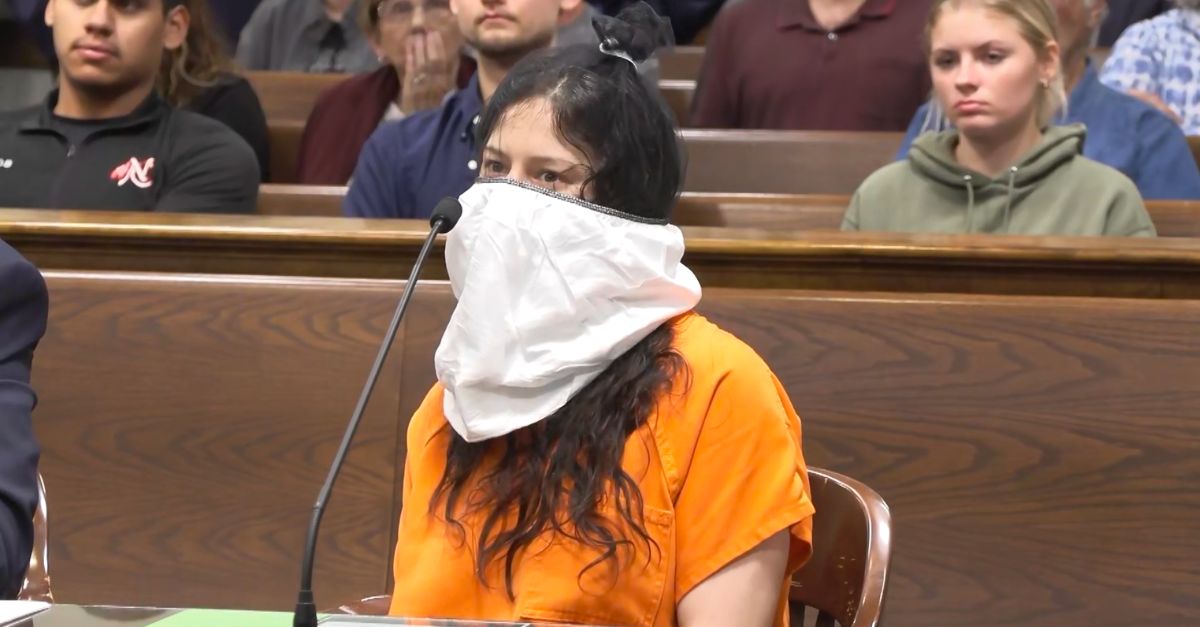 Taylor Schabusiness reacts to her sentencing in Brown County, Wisc. on Sept. 26, 2023. (Law&Crime Network)
"This crime offends human decency; it offends human dignity; and it offends the human community," the judge mused. "When life is taken from a person in the fashion that it was in this case – where the victim's remains are cut up and packaged in containers – it's difficult to identify a human nature in those activities. It really is. It's very troubling"
Walsh said the community itself was small and people often take care of one another, then again mentioned the broader human community.
"These actions are foreign to all of that community," Walsh went on. "And they shock the community beyond the ability to adequately express in words. That's the gravity of the offense. That is the gravity of this offense. There aren't superlatives for it. There aren't really words for it. You can get a sense of it. You can get a sense of it and a feel for it."
The state and the victims speak 
The state asked for life without the possibility of parole.
Brown County Assistant District Attorney Caleb Saunders cited the defendant's "callous brutality" during a lengthy speech to the court – obliquely referencing how Schabusiness murdered a longtime friend who trusted her during rough sex, and then dismembered him for hours, even as she continued to sexually desecrate his body.
More Law&Crime coverage: 'I was sucking and cutting at the same time': Taylor Schabusiness and the sexual dismemberment of her longtime lover and 'buddy' – in her own words
Those actions after Shad Thyrion's death, the prosecutor said, also desecrated how the victim would forever be remembered.
Prior to that, two members of the victim's family, in impact statements, offered competing visions of Schabusiness' future.
"To make other people suffer because you were suffering is pretty s–––––," the victim's uncle said – using a scatological form of profanity. He then stuck to the theme by altering her chosen last name. "So that name, 'S—business,' fits you well."
"I'm not a praying man," the uncle continued. "But after Judge Walsh here sentences youse today, I will pray that you meet the same fate as your idol-istic Jeffrey Dahmer. So, have a good life S—business."
As the uncle sat down, the gallery erupted in applause.
Michael Thyrion, Shad Thyrion's father spoke next. He struck a more somber and a decidedly more conciliatory tone.
"Taylor, I just want to say that I forgive you for what you done to my son," he said – addressing the killer directly. "Yeah. You made a bad choice and now you're going to have to live with it."
Michael Thyrion, sadness palpable in his voice, said he missed his son but wanted his son's killer to have a second chance.
"I'm gonna ask the judge if she can see the streets again sometime," the father went on. "It may not but soon but I believe everybody makes bad choices – and maybe not to this scale – but I think there's a lot of hope for you. I think you can make use of your time and be a better person and do great things yet. It does no good for me to hate you. I know you got a heart. I know you got a mind. And I wish you no harm. And I hope things go well for you. That's all I got to say."
As the father finished, applause came again – much more muted.
Defense efforts
The since-condemned woman's defense attorney Christopher T. Froelich called numerous witnesses in a bid for an eventual chance at probation – what Badger State law calls "extended supervision."
Three family members gave variations of the same story.
A young girl lost her mother at an early age, then she lost additional family members, then other life events took a toll, and after she turned to drugs, something major – but not irreparable – changed within her.
"Drugs mess people up," her father, Arturo Coronado, said. "She's not the monster she's being made out to be, that's for sure."
Schabusiness' father, who is currently incarcerated himself, relayed stories about her playing soccer and volleyball when she was young – but admitted she didn't follow through on such activities. Coronado said the loss of her mother was exceedingly difficult for her.
"She was young," he said. "She lost her mother. It's hard to explain. Things aren't the same."
Schabusiness' father bemoaned the moment she turned to drugs and said the man who brought her into that world also abused her.
Asked a question about whether she had strong support networks in Texas and Illinois – two states she lived in before moving to Wisconsin – Coronado was adamant, almost beaming with a wounded pride.
"Everybody loves Taylor," he said.
Her grandmother, Esther Coronado, gave the court a sad recollection of the convicted murderess' life as well.
"Through her short life she has gone through a lot," she told the court – beginning with the death of her mother at the age of 12.
When her father remarried, the grandmother said: "She felt misplaced."
Esther Coronado cared for Schabusiness when she was young, she told the court, and the two stayed in touch for years even as Schabusiness bounced around multiple states across the country.
"She used to call me and then for a while, she wasn't calling me anymore," the grandmother said. "Then she went on her own and was doing well. And then all of a sudden, everything started falling apart for her."
Valerie Armor, Schabusiness' second cousin, also appeared in court to testify on her behalf.
"We were very close as children," Armor said.
The killer's second cousin said she was well-adjusted as a child – and told the court how the two would sometimes discuss Schabusiness' mother's death when they were both children.
"I would be available for her for the rest of her life if she needed anything," Armor said. "I lived in a different state but I would always be available for her."
And then, the deaths kept piling up.
Schabusiness next lost one of her grandmothers, then a cousin, and then her brother died in a motorcycle accident.
"Our whole family has experienced a lot of loss," Armor said, "And Taylor has experienced a great amount of loss."
Each family member said Schabusiness deserved at least a chance to be paroled later in life – after getting mental health and drug treatment – so that she could see her son in the outside world. Each family member also admitted she deserved to be punished.
"She committed a crime," her grandmother acknowledged. "I know they want her to pay for it but she should have the opportunity to come back to society one time and be with her son."
"She is not a lost cause," Armor said in response to a series of questions from the defense. "She's not a monster."
The court disagreed.
Have a tip we should know? [email protected]