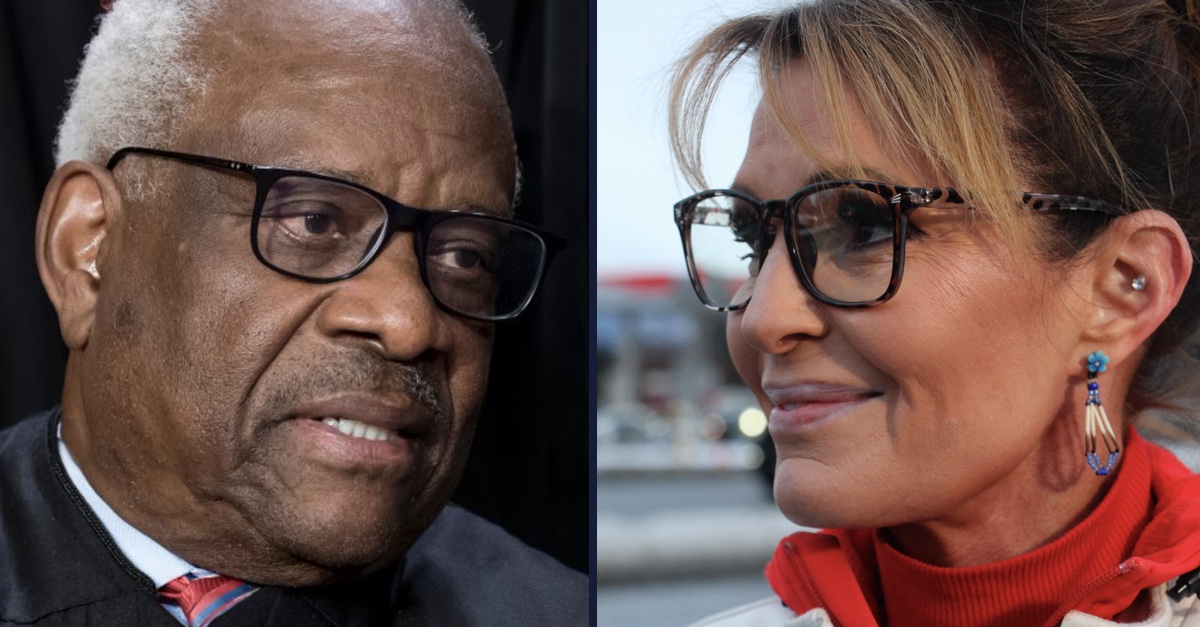 Left: Associate Justice Clarence Thomas (AP Photo/J. Scott Applewhite); Former Alaska Gov. Sarah Palin (R) pictured on Nov. 8, 2022, in Anchorage, Alaska. (AP Photo/Mark Thiessen)
Attorneys for Sarah Palin (R) appeared Monday in the U.S. Court of Appeals for the Second Circuit to argue she should get another chance at suing the New York Times for libel over the newspaper's 2017 editorial which falsely linked the former Alaska governor to a 2011 Arizona mass shooting that severely wounded Democratic Rep. Gabby Giffords and left a federal judge and five more victims dead.
It's a case that could be of particular interest to Justice Clarence Thomas, who as recently as October called for the U.S. Supreme Court to "reconsider" the landmark New York Times Co. v. Sullivan defamation precedent of 1964 to potentially upend the "actual malice" standard if the "appropriate" case came along.
Though Justice Thomas declined to grant certiorari in former West Virginia coal executive Don Blankenship's defamation case against the media, the conservative justice wrote that through Times v. Sullivan the Supreme Court "usurped control over libel law and imposed its own elevated standard," decreeing that the Constitution "required 'a federal rule that prohibits a public official from recovering damages for a defamatory falsehood relating to his official conduct unless he proves that the statement was made with 'actual malice'—that is, with knowledge that it was false or with reckless disregard of whether it was false or not.'"
"The Court did not base this 'actual malice' rule in the original meaning of the First Amendment," Thomas added.
The once-revived Palin case, which Law&Crime covered on numerous occasions, was dismissed for the second time by Senior U.S. District Judge Jed Rakoff in early 2022.
A jury controversy quickly emerged, as it was revealed that while deliberations were ongoing "several" jurors heard through push notifications that Judge Rakoff had already decided to toss the case, having found that there was "one essential element that plaintiff [Palin] has not carried its burden with—the portion of actual malice relating to belief in falsity or reckless disregard in falsity."
The judge ruled that no reasonable jury could find that then-New York Times opinion editor James Bennet acted with actual malice in 2017 when he linked a "cross hairs" map "circulated" by Palin's political action committee, SarahPAC, to the 2011 mass murder carried out by Jared Lee Loughner [emphases ours]:
In 2011, when Jared Lee Loughner opened fire in a supermarket parking lot, grievously wounding Representative Gabby Giffords and killing six people, including a 9-year-old girl, the link to political incitement was clear. Before the shooting, Sarah Palin's political action committee circulated a map of targeted electoral districts that put Ms. Giffords and 19 other Democrats under stylized cross hairs.
The original version editorial was corrected under 14 hours after publication, but Palin asserted the damage was done, and the case continues on to this day.
After Rakoff said Palin "wholly failed" to prove her case, the U.S. Court of Appeals for the Second Circuit denied her bid for a new trial in June 2022. But the appellate court still took up the appeal, and Palin submitted her brief in September 2022.
In that brief, Palin asked whether the trial judge "erred by requiring Appellant to prove actual malice as to falsity and defamatory meaning based on the First Amendment and under N.Y. Civil Rights L. § 76-a(2)," whether Rakoff "erred by granting judgment as a matter of under Rule 50 based on actual malice and announcing its decision during jury deliberations," and whether the judge "erred by conducting a legally insufficient voir dire, excluding crucial evidence of actual malice contrary to controlling law and this Court's decision in Palin v. New York Times Co. […] and/or erroneously instructing the jury on the issue of actual malice."
Palin's attorneys argued that the internet had rendered Times v. Sullivan "obsolete," and they cited a 2014 Justice Thomas concurrence denying certiorari in a defamation action against Bill Cosby. In the concurrence, Thomas referred to Times v. Sullivan and the case law that followed as "policy-driven decisions masquerading as constitutional law."
"Nearly half a century ago," Palin's brief said, "long-before the Internet and social media took hold of American society, the actual malice rule was judicially created in response to government officials using defamation lawsuits against members of the press to try to stifle the voices of Civil Rights leaders. It was a 'policy-driven' means of protecting 'breathing space' for speech critical of the government. McKee v. Cosby, 139 S.Ct. 675, 676 (2019) (Thomas, C., concurring)."
Even if the actual malice rule "has a valid textual basis in the First Amendment," the brief continued, it is "obsolete in the modern speech landscape" and "should not be applied in substantially dissimilar circumstances to those present in New York Times v. Sullivan."
The New York Times' Dec. 2022 brief responded that Palin's "times have changed" argument did not change the fact that she is precisely the type of public figure to whom Times v. Sullivan "and its progeny apply" [emphases as they appear in the brief]:
Palin also argues that the actual malice rule should not be applied in circumstances "substantially dissimilar" from those that existed at the time Sullivan was decided. Palin Br. at 33. Notably, however, Palin does not dispute that she is a public figure, nor does she argue that a specific aspect of this case requires application of a different fault standard. Instead, she focuses on the broader climate of speech, contending generally that "[t]he protection of reputation has taken on additional gravity since the development of the Internet" because "there are virtually no limits on everyone's equal opportunity to participate" in public discussion. Even assuming, arguendo, that there were any merit to Palin's theory that 'times have changed,' they have not changed as relevant to the application of Sullivan to this case. As a former governor, candidate for vice president, and potential candidate for president who regularly seeks to influence politics and matters of public concern, Palin is the paradigmatic public figure to whom the holdings in Sullivan and its progeny apply.
During Monday oral arguments, Palin attorney Shane Vogt reportedly asked the Second Circuit to revive the case again, asserting their position that the "actual malice" rule "should be applied in the first place."
"We think the times have changed so significantly since that rule was created by an unelected branch of our government sixty years ago that it has no place in the modern speech landscape," Vogt reportedly said, repeating the essence of the aforementioned lines in Palin's appellate brief.
Senior U.S. Circuit Judge John Walker, a George H.W. Bush appointee, reportedly asked "Why isn't that a question for the Supreme Court to decide?"
"We have a precedent that we have to deal with," Walker added.
Perhaps that's where all this is headed — and if this case ultimately does end up on the Supreme Court's doorstep one day, you can bet that Justice Thomas will at least warm to Palin's arguments about upending Times v. Sullivan, even if (as in the rejected Don Blankenship case) the justice doesn't view Palin's case as the ideal vehicle to reach that end.
Have a tip we should know? [email protected]