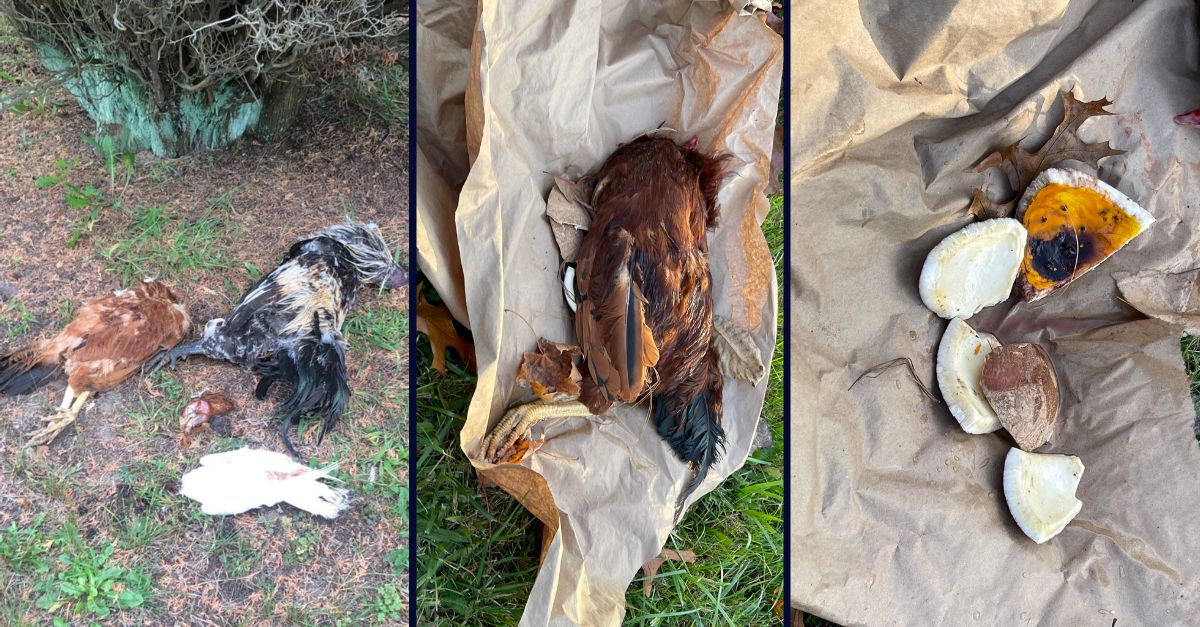 The Suffolk County, New York SPCA is offering a $2,000 reward for any information leading to the arrest of the person or people responsible for chopping the heads of chickens, a dove and a black rooster at two Long Island cemeteries. Anyone with information can call the Suffolk County SPCA at 631-382-7722. (Image: Suffolk County SPCA)
New York authorities are looking for the person or people responsible for chopping the heads off of chickens, a dove and rooster and dumping them off at cemeteries as part of a "ritualistic sacrifice."
The Suffolk County Society for the Prevention of Cruelty to Animals wrote in a Facebook post Saturday that it is investigating a series of incidents where parts of animals were discovered at Long Island cemeteries. The latest incident occurred at Union Cemetery in Middle Island when a man walking his dog on Wednesday found a bag containing a beheaded chicken and chunks of coconut wrapped in a bag. SPCA detectives investigated further and also found a variety of fruits, vegetables, candle remains and the skeletal remains of a goat head.
"These findings are indicative of animal sacrifice which involves the killing and offering of an animal as part of a religious ritual," the Facebook post said.
A similar "grisly" discovery was made at the same cemetery on Oct. 17. This time the remains of a decapitated chicken, black rooster and white dove were placed in a circular pattern in what SPCA detectives described as a "ritualistic sacrifice." Then in August two beheaded chickens were found in front of a cemetery in Coram.
The Suffolk SPCA is offering a $2,000 reward for information leading to an arrest. A person could face a year in jail and a $1,000 fine per offense for misdemeanor animal abuse. Chief Roy Gross told ABC affiliate WABC that the people responsible are torturing animals.
"What they do is use a knife — in many cases a dull knife, and I have heard of situations where they want to cause extreme harm to these animals, more pain and suffering to these animals before they are killed. It's barbaric," he told the outlet.
Anyone with information can call the Suffolk County SPCA at 631-382-7722.
Have a tip we should know? [email protected]