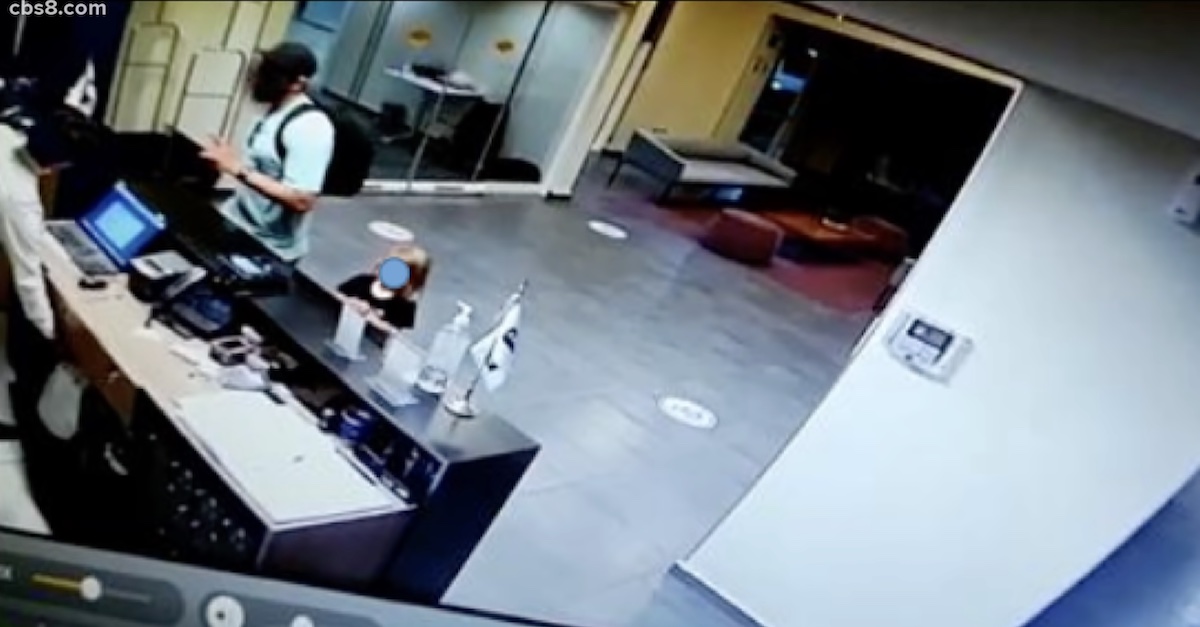 Image via CBS 8 screengrab of surveillance photo released by Mexican government
Matthew Taylor Coleman, accused of killing his 2-year-old son and 10-month-old daughter with a spearfishing gun because he believed they had "serpent DNA" and executing them would "save the world" has been deemed incompetent to stand trial, according to a judge in California.
According to the federal case docket, U.S. District Judge Cathy Ann Bencivengo issued an order Wednesday "finding defendant not competent to stand trial and committing defendant for treatment." The finding pauses Coleman's criminal case. Bencivengo set a status hearing for Dec. 1 and a competency hearing for March 8, 2024.
Coleman admitted to the tragic slayings, saying he was "enlightened by QAnon." Prosecutors said Coleman drove from his home in Santa Barbara, California to a ranch in Mexico in August 2021, where after two days, he killed his young children by stabbing them each with the speargun. Then went back to his motel. The children's lifeless bodies were found by a local ranch worker who reported the grisly find to authorities.
When he detailed the heinous killings to the FBI, Coleman said he knew what he was doing was wrong but it was "the only course of action to save the world."
Abby Coleman, Matthew's wife, told the FBI she was concerned for her children's safety. Court records show she was in touch with her husband the morning he killed their kids and had urged him to take good care of them. Worried about them, she would later report them missing before his arrest at the border. Authorities stopped Coleman as he tried to cross back into the U.S.
According to court records, Matthew Coleman was deeply entrenched in bizarre QAnon conspiracy theories and believed his wife was a "shapeshifter."
Bencivengo, a Barack Obama appointee, set a hearing in March 2024 to reevaluate the 42-year-old's competency, according to the docket.
Have a tip we should know? [email protected]