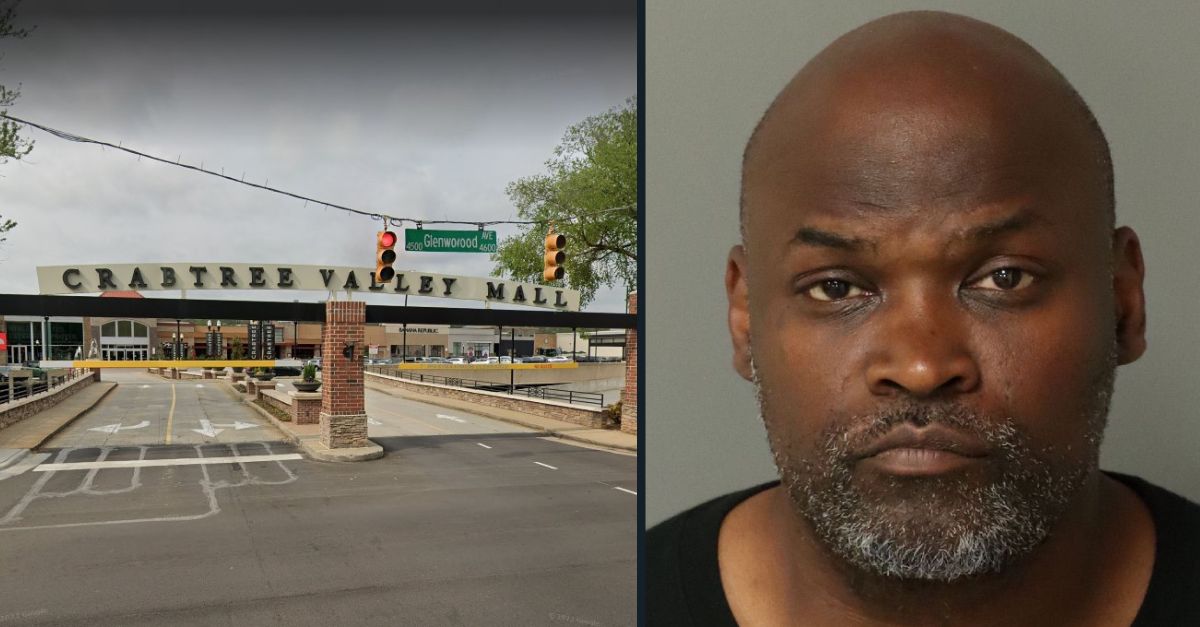 Christopher Joyner, 41, is accused of kidnapping a woman outside Crabtree Valley Mall in Raleigh, N.C., and took her to another location where he tried to rape her. (Mugshot from Raleigh Police Department; mall photo via Google Maps)
Police in North Carolina over the weekend released a 911 call from a terrified woman who said she had just been kidnapped from a Raleigh mall and taken to another location where a man tried to rape her.
After escaping, the woman ran to a nearby construction site where a worker let her use his phone to call 911. Officers responded to the incident, which occurred shortly before 3 p.m. on Aug. 9.
"I was kidnapped at the Raleigh mall and he brought me out here. He said he was going to kill me and he tried to rape me," she told dispatchers, her voice cracking while holding back tears.
She went on to say she was at the Crabtree Valley Mall in the Belk store parking lot when a man who said he had a gun forced her inside her car. He took her about 5 miles away to the 100 block of Turner Street. After the attempted rape, he left and told her "to wait in the car for an hour and he wouldn't kill me," she told dispatchers.
"I don't even know what time it is but I laid there a long, long time," she said, according to the call reviewed by Law&Crime.
The suspect stole her watch and pocketbook, she told dispatchers.
She said she didn't know the man and was too scared to give a description to the dispatcher because she feared the suspect may kill her.
"Please help me," she said.
The dispatcher told her officers were on the way.
"You're gonna be safe, OK?" the dispatcher reassured her.
On Saturday, police announced the arrest of Christopher Joyner, 41, on charges of kidnapping, attempted rape, robbery with a dangerous weapon and assault by strangulation. NBC affiliate WRAL reported that court records said the woman had marks on her neck from being choked.
Court documents said the "defendant placed his hands around the victim's neck and choked her to keep her quiet after she started screaming," the TV station reported.
Joyner is being held in jail on a $750,000 bond, court records show.
According to the North Carolina Department of Adult Correction, Joyner, who has nicknames such as "Masta Killer" and "Vicious," has been in and out of prison and was most recently released in 2022 on an armed robbery charge.
Have a tip we should know? [email protected]