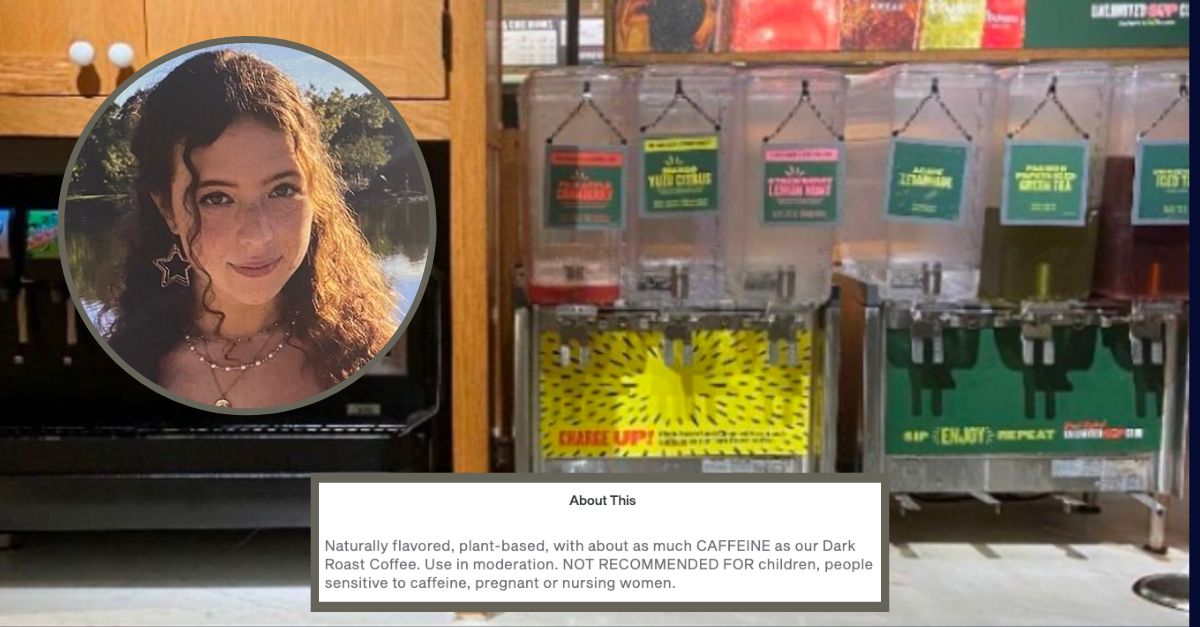 Panera Bread's "Charged Lemonade" dispenser shown alongside other fountain beverages (image via court documents). Inset top: Sarah Katz (photo provided by family). Inset bottom: A warning about the "Charged Lemonade" drinks at Panera Bread (via Panera Bread website).
Days after Panera Bread was sued over its "Charged Lemonade" drinks, the nationwide fast-casual chain has issued warnings accompanying the heavily caffeinated beverages.
As Law&Crime previously reported, Sarah Katz, 21, died hours after drinking Panera's "Charged Lemonade" on Sept. 10, 2022. According to a lawsuit filed by her parents last week, Katz was a member of Panera's "Unlimited Sip Club," which allowed her to partake in complimentary refills of certain beverages, including the "Charged Lemonade." That line of "unreasonably dangerous" drinks, the lawsuit says, contains excessive amounts of sugar and caffeine and lacked proper warning labels that would have prevented their daughter from ingesting it.
As of Tuesday, the Panera Bread website included a warning in a section titled "About This" alongside the four "Charged Lemonade" flavored drinks.
"Naturally flavored, plant-based, with about as much CAFFEINE as our Dark Roast Coffee," the warning said (all-caps emphasis in original). "Use in moderation. NOT RECOMMENDED FOR children, people sensitive to caffeine, pregnant or nursing women."
Katz was diagnosed with Long QT Type 1 Syndrome (LQT1) at age 5, which can cause life-threatening arrhythmias that disrupt the heart's normal electrical activity, particularly after intense exercise. According to the complaint, filed by Sara Katz's parents Jill and Michael Katz in the Philadelphia Court of Common Pleas, the condition is typically manageable and responsive to medication in most cases.
Katz experienced cardiac arrest while she was with friends at a restaurant in her apartment building, after having consumed the "Charged Lemonade" earlier in the day. She was taken to a nearby hospital, where she died after having another cardiac arrest.
In addition to caffeine levels, the lawsuit also took issue with the sugar content of Panera's product: 124 grams in a large, which "exceed[s] the combined contents of both a 12-fluid-ounce Red Bull (27 grams of sugar) and 16-fluid-ounce Monster Energy Drink (54 grams of sugar)" and "is equivalent to … 29.75 teaspoons of sugar."
The Katzes said their daughter regularly saw a doctor about her condition and followed all medical advice related to her condition, which included abstaining from energy drinks and highly caffeinated beverages. However, they said Katz did drink electrolyte drinks, such as Gatorade, and was medically permitted to have "reasonable amounts of caffeine."
They said Katz was aware of the Panera brand, and knew it to be "a healthier and 'clean' fast food chain restaurant for adults and children alike."
The complaint says the beverage is listed on Panera's menu next to dark roast coffee, without any mention of the fact that it contains guarana, a plant extract that contains caffeine and other stimulants, or "exorbitant amounts of sugar." Rather, it said, "Panera Charged Lemonade is advertised as 'Plant-based and Clean with as much caffeine as our Dark Roast coffee' in small print."
However, said the complaint, a large size "Charged Lemonade" contains 390 milligrams of caffeine — more than the combined caffeine content of 12 fluid ounces of Red Bull and 16 fluid ounces of Monster Energy Drink, and more than a large dark roast coffee.
Panera Bread did not immediately respond to Law&Crime's request for comment.
Elura Nanos contributed to this report.
Have a tip we should know? [email protected]