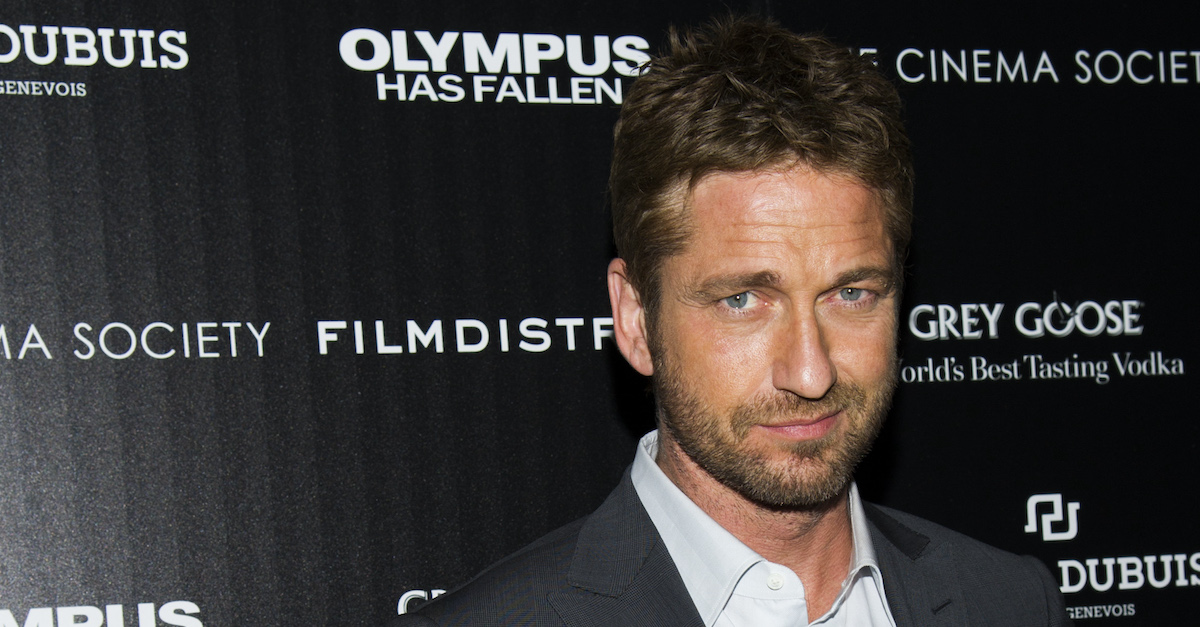 Gerard Butler attends a screening of FilmDistrict's "Olympus Has Fallen" hosted by the Cinema Society with Roger Dubuis and Grey Goose on Monday, March 11, 2013 in New York. (Photo by Charles Sykes/Invision/AP)
Star actor Gerard Butler's lawsuit over millions of dollars in profits that he claimed he was entitled to from his work in the film Olympus Has Fallen is coming to an end, a notice of settlement filed Tuesday in Los Angeles Superior Court indicates.
According to the notice obtained by Law&Crime, the parties have checked of a box to say that the entire case has been settled and will be dismissed — on the condition of the "satisfactory completion of specified terms."
The request for a settlement in the case against Nu Image and Millennium Media, the filing said, would be filed no later than Jan. 5, which is three days before the case was set to go to trial.
The terms of the settlement have not been revealed, but when the case began in 2021 Gerard Butler, his production company G-Base Entertainment, and Comrie Inc. alleged that the actor who played Mike Banning in Olympus Has Fallen, London Has Fallen, and Angel Has Fallen, was entitled to in excess of $10,000,000 for his efforts in the first of the three action flicks.
"In 2012, representatives of Nu Image and Millennium approached Butler and his representatives to see if Butler would be interested in starring in and producing Olympus," the suit said. "Butler and his production company, G-BASE, were interested and the parties began to negotiate a deal."
More Law&Crime coverage: Actor Cuba Gooding Jr.'s civil rape trial reaches sudden conclusion before it even began
Butler claimed that an agreement in principle was reached for compensation up front and for "three forms of contingent compensation," depending on the success of the film.
"Despite Olympus' tremendous success, it now appears that Producers never intended to pay Butler his share of the grosses and profits," the lawsuit continued. "Instead, Producers embarked on a scheme designed to grossly misrepresent the finances of the Film to Butler, so that Butler would believe that no such payments were due."
Claiming that the alleged "scheme to hide the profits from Olympus [was] far greater than initially thought," Butler insisted he would not tolerate "misrepresentations and other wrongful conduct."
"Butler worked with Defendants to create a highly successful movie franchise. He demands his fair share," the lawsuit summarized the actor's position.
Now, it seems, a substantial agreement is in place to resolve the years-long dispute.
Have a tip we should know? [email protected]