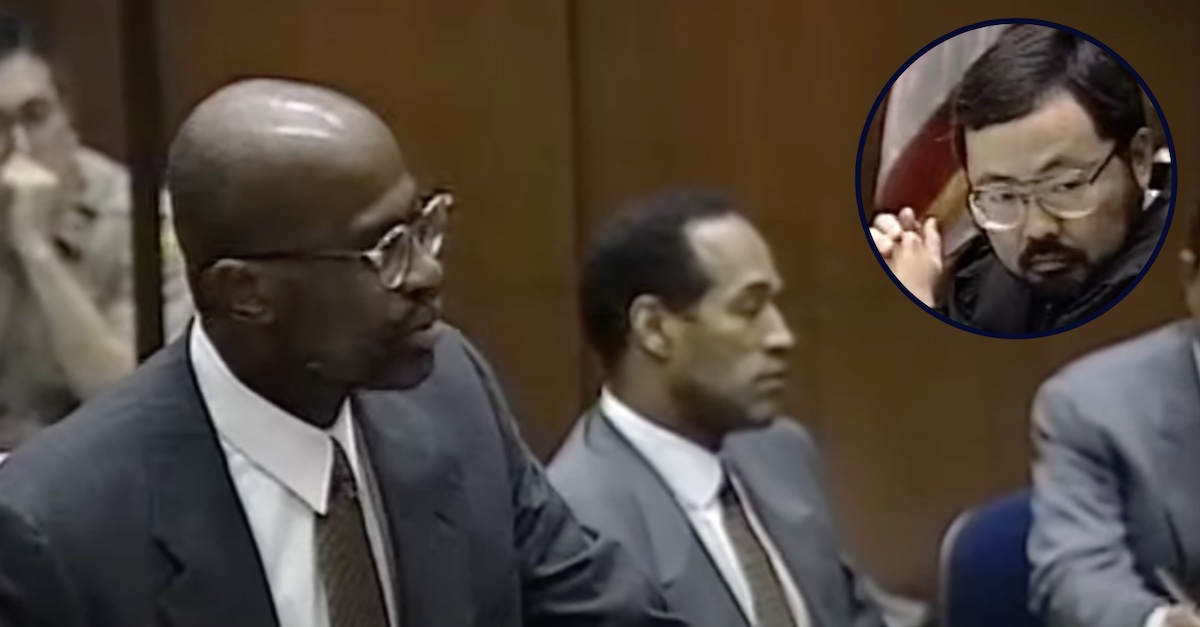 Then-deputy DA Christopher Darden (left), O.J. Simpson (center), Judge Lance Ito (right) on Feb. 23, 1995 at Simpson's murder trial (YouTube/OJ Trial Uncut screengrabs)
An O.J. Simpson murder trial prosecutor memorably cited for contempt by the judge in the case after tempers flared during a sidebar over defense attorney Johnnie Cochran's cross-examination of a police detective is now receiving that since-retired judge's support for his own judicial campaign in Los Angeles County.
Christopher Darden, who once represented rapper Nipsey Hussle's killer and Ed Buck, among others, is running for a Los Angeles Superior Court judgeship. His campaign website now shows that he has been endorsed by former LA County Superior Court Judge Lance Ito, who retired in 2015 — 20 years after he and Darden faced off in court and apologized to one another, during the "trial of the century" that ended with O.J. Simpson's acquittal in the 1994 murders of his ex-wife Nicole Brown Simpson and her friend Ron Goldman.
The announcement of Ito's endorsement was made Monday, local CW affiliate KTLA reported.
Darden, a veteran deputy district attorney who went on to teach law and worked for decades as a defense lawyer, once got himself into hot water with the very jurist who is now endorsing his qualifications to be a judge.
Trial footage from Feb. 23, 1995, shows that Ito cited Darden for civil contempt over the sidebar comments, leading to a back-and-forth that was later dramatized.
According to the Los Angeles Times' account of what was said during the sidebar, Darden bristled that "Dream Team" lawyer Cochran, of "If it doesn't fit, you must acquit" fame, commented that the prosecutors didn't know what they were doing in court.
"Is he the only lawyer that knows how to try a case?" Darden angrily asked.
After Ito warned Darden he was going to be held in contempt, Darden answered. "I should be held in contempt."
After Darden was warned again, he reiterated his view that Cochran's "cross-examination [was] out of order."
When audio came back, Ito sternly revealed that he had cited Darden for contempt.
"Mr. Darden, let me give you a piece of advice. Take about three deep breaths, as I'm going to do, and then contemplate what you're going to say next," Ito began. "I've cited you. Do you have any response?"
"I would like counsel, your honor," Darden said.
"You can have counsel. You have counsel," Ito answered, as Darden's fellow prosecutor Marcia Clark stepped to the podium to explain her colleague's outburst.
Ito, saying that Darden "chose to ignore" the court's warnings, noted that he wasn't interested in Clark's context surrounding the "impetus" behind the sidebar remarks.
"I'm interested in a contempt proceeding," Ito confirmed, before wondering why the prosecution pondered an order to show cause rather than simply saying, "'Gee, I'm sorry, I lost my head there. I apologize to the court. I apologize to counsel.'"
After a break, Ito clarified that he cited Darden for civil contempt and that was ready to handle the matter then and there.
"It has to be adjudicated immediately, unless you want to make it a criminal contempt and have a jury trial," Ito explained. "Would love to see the voir dire in that case."
"Me too," Clark said, laughing. "Can we use the same jury, your honor?"
"Ms. Clark, you know all levity aside, I've offered you three opportunities to end this right now. This is very simple," the judge said.
Another sidebar ensued, allowing Darden to review a transcript of what he said earlier.
When that was done, Ito got back on the bench and gave Darden an opportunity to speak.
"It appears that the court is correct that perhaps my comments may have been or are somewhat inappropriate. I apologize to the court, I meant no disrespect," Darden said, asking Ito if he could hear his concerns about the defense's conduct at a later time. "I apologize."
Ito accepted the apology and offered one of his own, noting that the two had known each other for "a number of years."
"Mr. Darden, I accept your apology. I apologize to you for my reaction as well. You and I have known each other for a number of years and I know that your response was out of character," Ito said. "And I'll note it as such."
Now, more than 28 years later, that show of goodwill appears to have paid off for Darden, even though that wasn't the last of the then-prosecutor's criticism of Ito — going so far as to say "[t]here was no judge" at O.J. Simpson's trial.
Have a tip we should know? [email protected]