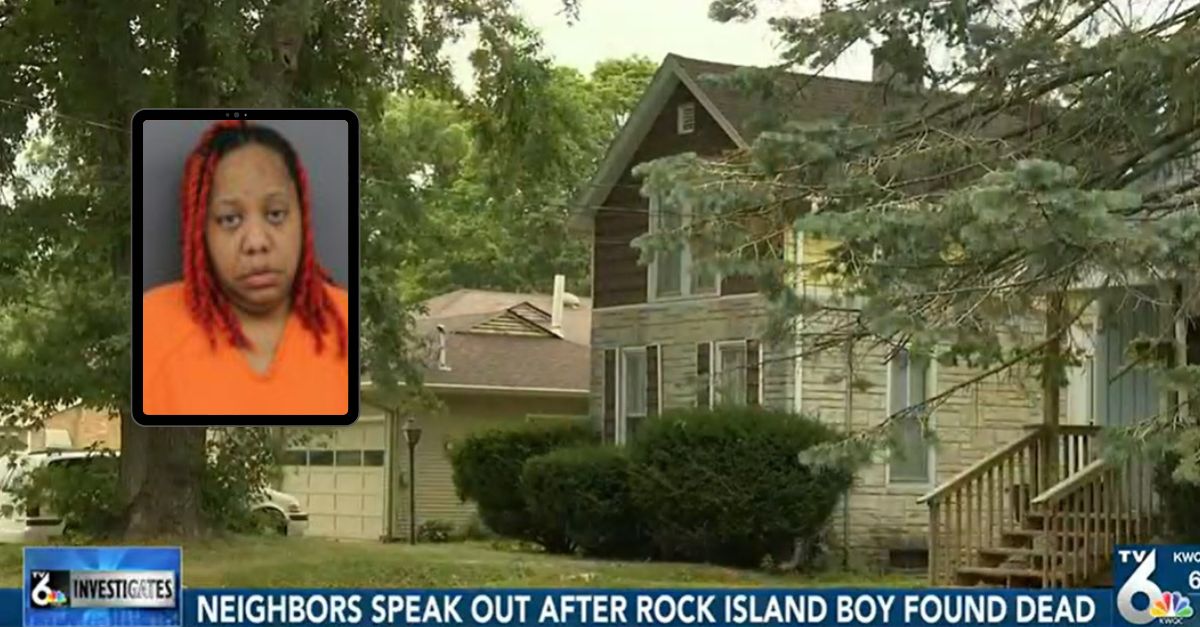 Sushi Staples (inset) appears in a booking photo from the Rock Island Police Department; Background screengrab of crime scene courtesy of NBC6 KWQC
A woman who police say left her dead 10-year-old son in a garbage can for the better part of a year inside the garage of her Illinois home has now been charged with multiple felonies including a charge for concealing the boy's body.
Sushi Staples of Rock Island, Illinois, 37, was arrested on July 26. The body of her son, Zion Staples, was found by police that same day. Police located the deceased boy after receiving a tip from a neighbor who said Staples made several strange remarks about the child to her, ultimately cementing her suspicions that something was off in the home, ABC6 KWQC reported.
Staples reportedly told the neighbor that "Christmases would never be the same" just a few days after the start of the new year, and in short order, the neighbor contacted the Illinois Department of Children and Family Services, or DCFS, requesting a welfare check. Though a number of calls to the department were made, the neighbor said, it was not until July 25 that someone finally showed up to the Staples home. Illinois DCFS did not immediately return a request for comment on Thursday.
Police have not released details from the child's autopsy report but have deemed it suspicious, even though no one, including the boy's mother, has been charged with causing his death. Staples was charged last week with obstructing justice, failure to report the death of a child under 13 and concealment of death. Bail was set at $500,000 and her next court appearance is slated for Aug. 15. According to police records, Staples will be represented by a public defender.
The horrors of what happened to Zion Staples appeared to mystify one neighbor. The woman, who did not identify herself in an Aug. 2 interview with ABC6 News, recalled how she once had a dead raccoon in her yard that was put in a garbage bag and then can on her property.
"And I couldn't even stand the smell waiting for garbage day. I can't imagine, that with the wind direction, that nobody would smell that," she said.
Neighbors Andre and Danielle Builta, who also spoke to the ABC6, said there was never any indication that something so macabre had happened in the Staples home. Everything, the couple said, seemed "really normal."
Have a tip we should know? [email protected]