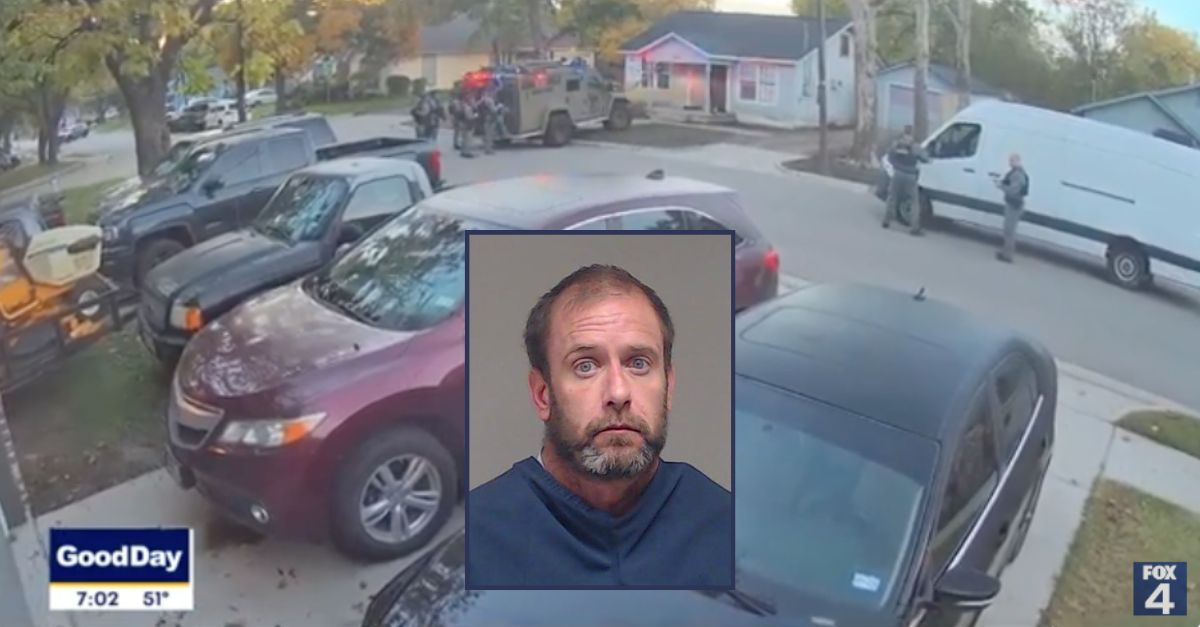 Law enforcement investigates the home of Chad Stevens in McKinney, Texas (via YouTube screengrab/KDFW). Inset: Chad Stevens (via Collin County (Tex). Jail).
A Texas man is behind bars after the remains of a missing woman were discovered in his home.
Chad Stevens, 42, was arrested Sunday and charged with tampering with evidence after investigators found the remains of Heather Louise Schwab inside Stevens' home on Sunday, McKinney Police announced on X, the social media network formerly known as Twitter.
Police were reportedly acting on a tip, having received "information that a body may be located" in what turned out to be Stevens' house.
Court records show Stevens is charged with tampering with evidence with intent to impair a human corpse. Jail records also list an unrelated charge of assault causing bodily injury to a family member.
Schwab had previously been reported missing but it wasn't clear when, local Fox affiliate KDFW reported. One neighbor described Schwab as Stevens' girlfriend, but police didn't confirm that, according to KDFW.
Neighbors said that Stevens was a bit odd and mostly kept to himself.
"Having plastic on his windows, not acknowledging too many people, that's what it was," Tony Miller, who lives near Stevens' house, told KDFW. "Being safe out here with your kids, that's a big thing. Being parents who have to be aware what your surroundings are and with people like that you have to be suspicious."
Neighbors were alerted that something in the house wasn't right when law enforcement descended on the otherwise quiet neighborhood early Sunday morning.
"I woke up this morning, and all I heard was helicopters and police telling someone on Pearson Ave. to come outside with their hands up," said Carolina Murillo, whose family was woken up by the presence of police on their street, Dallas NBC affiliate KXAS reported. "I was freaking out because, like, this is supposedly supposed to be like a quiet neighborhood, you know?"
Murillo told KXAS that law enforcement blocked off the roads to reach Stevens' house and stood outside Stevens' home for hours, ordering him to come outside.
Murillo described Stevens as "awkward" and said he was always outside his home.
"He was like up at all times. Like anytime I was going out leaving the house or coming in, like he was always outside. Just walking around doing stuff around the yard," she said.
Editor's note: This story has been updated to clarify the charge Stevens is currently facing.
Have a tip we should know? [email protected]