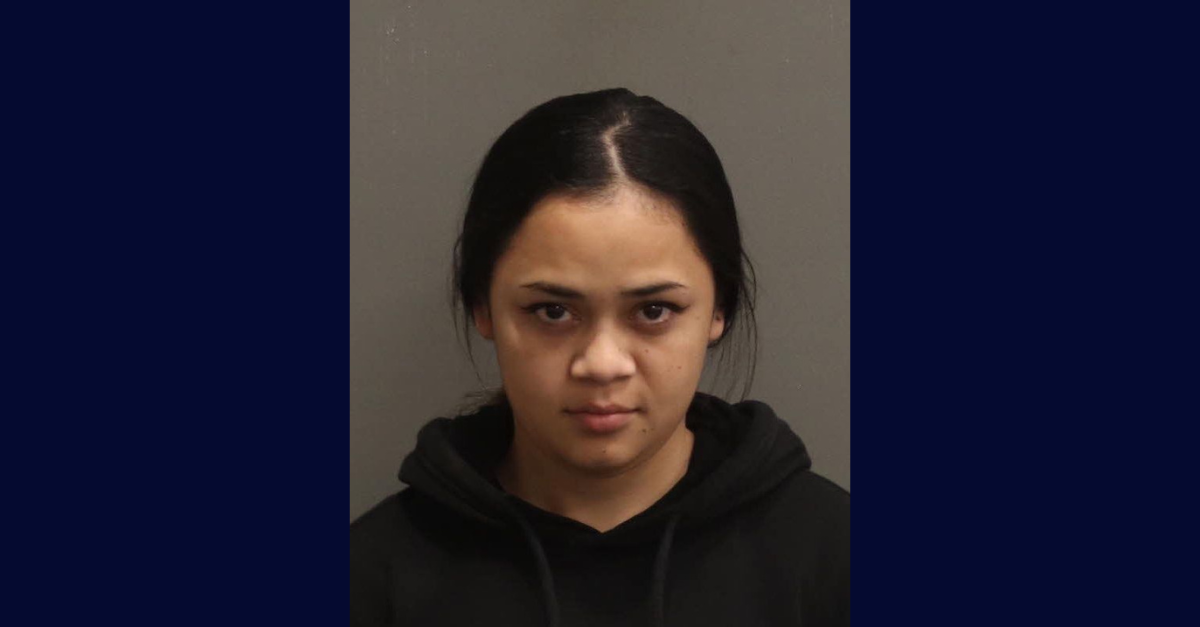 Arleth Bonilla lured Israel Teniente out to her apartment complex for someone else to murder him, police said. (Mug shot: Metropolitan Nashville Police Department)
A Tennessee woman allegedly lured a 17-year-old out to her apartment complex, where someone else fatally shot him, according to cops in Nashville.
Arleth Bonilla, 18, is charged with facilitating criminal homicide in the death of Israel Teniente, 17, who was killed on Aug. 8 in the breezeway of building "E" at Falcon View Apartments on E. Palestine Avenue, police said. He died at Skyline Hospital.
No one was arrested besides Bonilla, though cops said they were taking a look at her alleged boyfriend.
Teniente's family thought he was missing. When they soon got in touch with cops, they said Teniente had received a message from an unknown woman, "possibly his girlfriend Arleth (unknown last name)." In a news release, cops only identified Bonilla as an acquaintance of Teniente.
Teniente's father said that she lived at the apartment complex where the alleged murder occurred.
"Over the phone the family's representative stated that the father had already been receiving 'messages' that his son was dead," police wrote. "The victim's father received information from a friend of the victim who told him that the victim was going to see a girl at the apartment and that another unknown boy shot and killed the victim."
According to cops, the family had Teniente's phone records pulled and it showed he had received three calls from 7:34 p.m. to 7:47 p.m., all from the same phone number, just before the shooting.
"In an interview with the family, the uncle of the victim stated that prior to making the missing person's report, he called the number, and a female answered," police wrote. "He asked where the victim was, and she responded: 'maybe he was the one killed!' This was the first connection the family had to the homicide."
Police asked the family if they knew to whom the boy had been speaking.
"The father stated that the victim had previously shown the female's picture and said her name was 'Arleth,'" officers wrote.
Authorities later confirmed the number that called Teniente shortly before his death belonged to Bonilla, according to documents.
Police received a Crime Stoppers tip on Aug. 10 that told them Teniente went to the apartment complex to see a woman who had the Instagram handle "@arleth.bonilla_18." Police found images on that account including a set of Roman numerals matching the Facebook account of "Arleth.Bonilla.1890."
Shown one of the pictures, Teniente's father and an uncle identified this as "Arleth."
A second uncle, who also identified the picture as "Arleth," said he had previously heard his nephew speaking to a woman over the phone, and that she had asked the teen to pick her up. Teniente asked for her location.
"He left the house and did not return home," police wrote. "Your affiant asked the uncle if he believed that the victim was speaking to Arleth at that time. He stated that, based on prior history, he did believe it was Arleth that the victim was speaking to."
Police formally identified Bonilla through Hunters Lane High School. A staffer told cops she had not attended classes since Aug. 8 — which was the day of the homicide.
It turned out that Bonilla was dating a juvenile, identified in documents as E.S. This boy was a person of interest in the July 19 murder of Luis Arita-Vasquez, authorities said. Arita-Vasquez was shot in the head, his body was left near a picnic table outside an apartment building on Berkley Drive, according to police.
Others at Bonilla's school confirmed she and E.S. were dating. Officers claimed to also verify this through cellphone evidence.
"Statements in the Instagram messages suggest that E.S. was involved, possibly responsible for the planning of the murder of [Teniente]," police wrote. "In the Instagram messages E.S. tells another party that his girl is going to 'write to him and park somewhere.' The conversation continues after the incident where the other person states his concern that there isn't any news articles yet about the murder. E.S. states, 'chill fam, my girlfriend is still watching.'"
From cops, regarding Arita-Vasquez's death:
Anyone with information on this fatal shooting is asked to call Crime Stoppers at 615-742-7463. Callers can remain anonymous and qualify for a cash reward of up to $5,000 in homicide cases.
Have a tip we should know? [email protected]