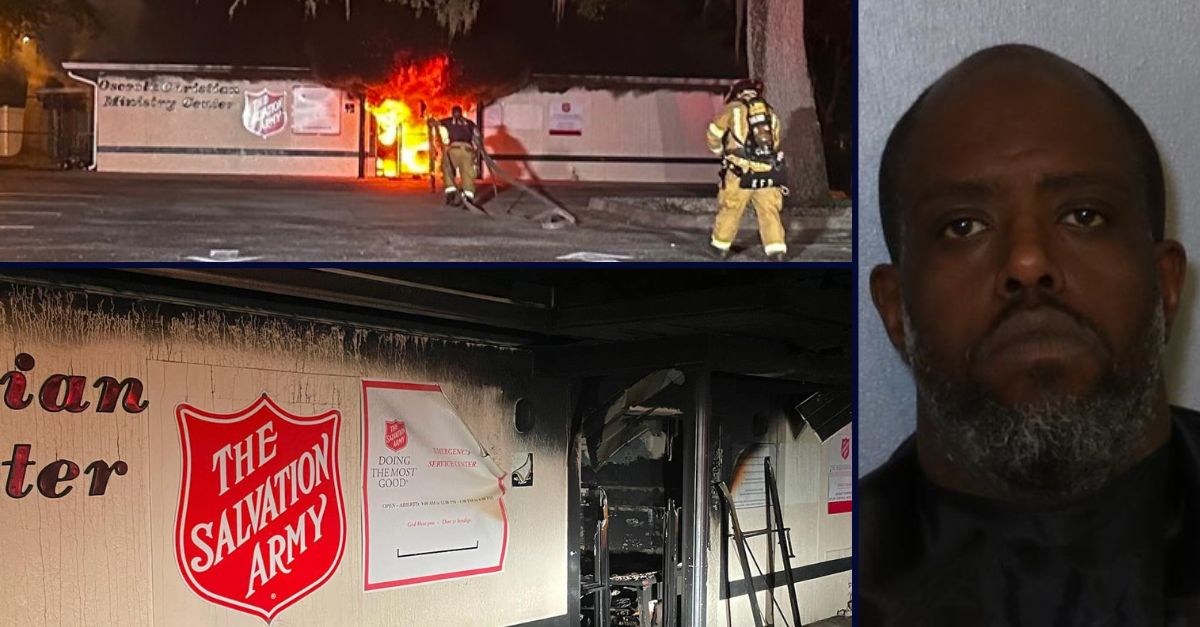 Cordearo Mable, right, allegedly set The Salvation Army of Osceola County building on fire because he was upset about the services he received over the last few months. (Top: Kissimmee police, bottom: The Salvation Army of Osceola County; Right: Osceola County Jail)
Despite receiving services from The Salvation Army in Florida for the last few months, a man allegedly set the charity's building on fire as it was gearing up for its busiest time of year.
Kissimmee police and fire crews were called around 7 p.m. Monday to the Salvation Army facility. When they got there, heavy smoke and flames were coming from the building. Witnesses told officers the fire could have been the result of arson. An officer approached a man, later identified as Cordearo Mable, 37, standing nearby.
According to a probable cause arrest affidavit reviewed by Law&Crime, Mable told the officer a family member was going to pick him up, and he wanted to drop off his belongings because "I'm most likely going to jail" and "you're going to have to process me in a second." When the cop asked him why, he allegedly said, "I did it."
The officer asked him to be more specific, and he allegedly said, "That sh– is burning right now."
He allegedly told police that over the last few months, he felt like he's been mistreated by one of the few places homeless people could go in Kissimmee to feel like humans, the affidavit said. An employee there said she had to kick out Mable on Monday morning because his "services were complete." Mable became upset and said he didn't care if he called the police.
The employee called the police to report him, and if he returned, he would be arrested. He became more enraged and said staff would "all burn up" and "I'm setting the Salvation Army on fire," according to the affidavit. After officers showed up, he allegedly said, "Arrest me now, or you are going to have to do it later because I will get my revenge."
Mable allegedly later told officers after he left, he found a rock near the train tracks and stole a bottle of lighter fluid. He returned to the building around 7 p.m., smashed a window with the rock and broke in, police said.
Mable allegedly said he poured the lighter fluid throughout the hallways and side offices. He then ignited the lighter fluid with a lighter and "began pouring more fluid on the way out so the flames would get bigger," cops wrote in the affidavit. A witness who had met Mable earlier in the day at the facility and started talking to him because he "seemed nice" reportedly saw him light the fire, followed by an explosion. He then gave her a "mean look" before walking away. She called 911.
Police took Mable to the Osceola County Jail on charges of arson and burglary to an unoccupied structure.
The Salvation Army of Osceola County, which typically houses homeless people and gives them daily services such as hot meals, laundry and showers, needs help weeks before the holiday season.
The organization said it's unclear when the building could be operational again. The Red Kettles used to collect donations at Christmas, along with the kitchen, pantry and new industrial washer and dryer, were damaged in the fire, said Ken Chapman, area commander for the charity.
"This is a devastating loss for the people of Kissimmee and Osceola County who rely on The Salvation Army for daily assistance," he said in a press release.
Despite all that has transpired, Chapman said he's not sending ill will toward Mable.
"We will not disparage the individual who committed this heinous act. We are a resilient Army, and we will continue to march on," he said in a statement.
Monetary donations can be made here or by texting OSCEOLA to 24365.
Have a tip we should know? [email protected]