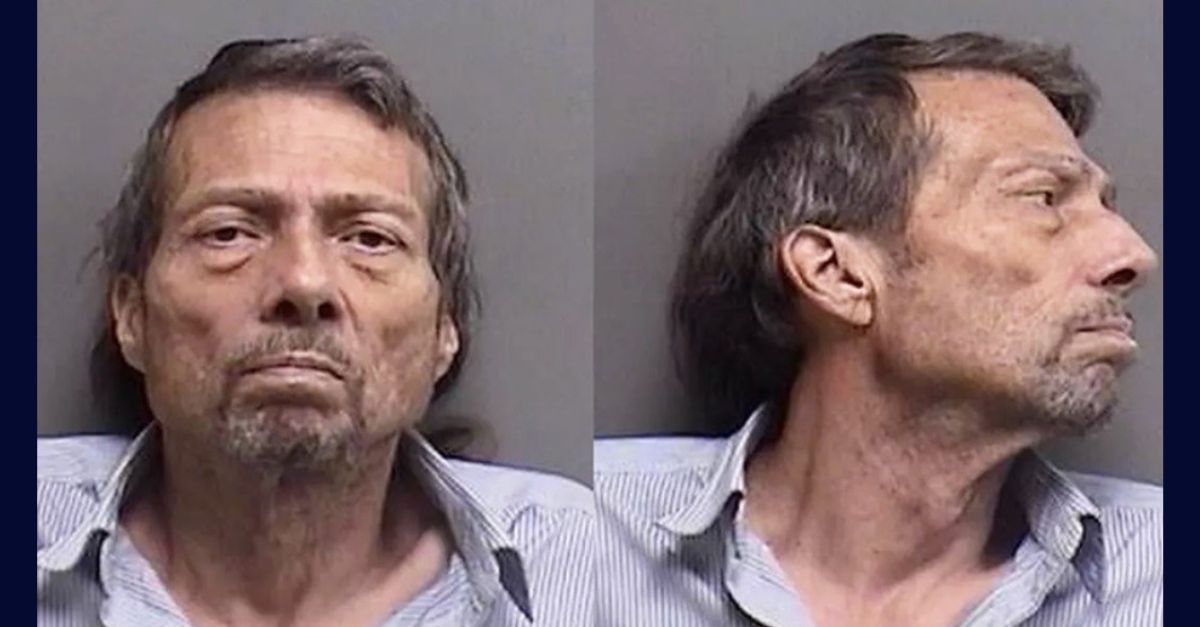 Chris Hamburg booking photo Yellowstone Sheriff's Office.
An Idaho man who abused his girlfriend's young daughter for decades and ultimately impregnated her twice — once when she was just 11 years old and again when she was 13 — has been sentenced to 20 years behind bars.
Court records obtained by Law&Crime show Chris Hamburg, 63, was sentenced last week for transporting a child across state lines with intent to sexually abuse. First indicted in 2022, Hamburg struck a plea deal with prosecutors this July to avoid facing four identical additional charges involving the same victim in a second superseding indictment issued months after his arrest. In the end, he instead pleaded to two counts of transporting a minor.
The horrors and sexual torment Hamburg inflicted began in the 1990s when he started dating the victim's mother in Washington state.
According to prosecutors, Hamburg moved in with the adult woman and started abusing her daughter, who was just 8 or 9 years old at the time, almost immediately. The abuse was steady until the child became pregnant at 11 years old and gave birth to a son.
That's when Hamburg moved the family from Washington to Idaho in order to "avoid child protective services," the U.S. Attorney's Office said in a statement last week.
Though the location had changed, the abuse didn't stop. Hamburg repeatedly raped his girlfriend's minor daughter. He impregnated her again at 13 years old and she gave birth to a second son.
When Hamburg was sentenced by Senior U.S. District Judge B. Lynn Winmill this week, the victim appeared in court to deliver an impact statement, prosecutors said.
"You stole every bit of peace and contentment, from my childhood…from my entire life.  My struggles continue, daily," the woman said.
Prosecutors said Hamburg moved the victim and her family multiple times between Washington, Idaho and Utah. The abuse continued well into the victim's adulthood and it was not until 2021 that she reported Hamburg to the FBI.
An investigation was opened and a warrant was eventually issued for Hamburg's DNA. A paternity test confirmed he fathered the two boys she gave birth to when she was just a child herself.
"What he did to the victim is inhuman. The strength the victim showed in reporting this abuse shows the amazing resiliency of the human spirit," U.S. Attorney Josh Hurwitt said in a video statement following the sentence on Nov. 1.
In an in-depth interview from September 2022 with the Spokesman-Review, the now-40-year-old victim, who was not identified to protect her identity, said it was Hamburg's choice to move the family across state lines so many times that it anchored the federal grand jury indictment against him.
She also recalled how Hamburg would "disappear" when it came time for her to give birth, leaving just her and her mother to the task.
When the child would be born, then Hamburg would show up again.
The victim said her mother was unaware of what was happening.
"Lots of female relatives had kids at 13, 14, 15," she told the Spokesman-Review.
It would be years later, she said, that she would finally tell her mother that Hamburg had fathered her children.
Controlling her every move, the victim said Hamburg told her if anyone were to ask her at school who fathered her first baby, she was to lie and say it was a Washington state classmate who had killed himself. When she gave birth to her second son, the victim said Hamburg told her to lie again. She was not to tell people the newborn had a sibling at home either, she said.
The victim said Hamburg barred her from talking or socializing with people outside of the homes she shared with him, her mother and her children.
"We weren't allowed to talk to neighbors. We weren't allowed to go to the park," she said in the Spokesman-Review interview last year. "We weren't allowed to go shopping. We were, literally, held captive in the house."
As the years passed and the victim's son turned 14, he asked for a computer.
This triggered a sequence of events that would change Hamburg's life forever. And hers.
While her son used the computer to watch videos on YouTube, she told the Spokesman-Review that she started commenting online about her circumstances at home.
Building a series of online relationships to air out her troubles was only one part of what helped lead to Hamburg's eventual arrest. She met her future husband online, she said, and it was he who helped her reconnect with family members who vanished from her life because of Hamburg.
At some point, Hamburg had vanished from the victim's life too, but she had retained online friendships with others and continued to discuss her issues openly.
The victim said it was an online confidante who, by sheer coincidence, opened the door to Hamburg's arrest for her abuse.
The online friend had been a victim of Hamburg's road rage and had alerted the woman to it. As it turned out, according to the Spokesman-Review, Hamburg's road rage victim was also the daughter of a U.S. attorney.
Urged to file charges by her online friend, the victim needed DNA to prove the paternity of her children before pursuing Hamburg in court. The victim's son agreed and within weeks, the crimes were reported and the FBI tracked Hamburg down at a motel in Montana.
At his sentencing last week, Judge Winmill remarked: "I would have a hard time coming up with a case that is more horrific than this one."
Hamburg must register as a sex offender. In addition to the 20-year sentence, the judge also imposed a sentence of three years of supervised release.
Hamburg would be in his 80s by the time he is freed.
Though the crimes he committed are more than 20 years old, legislation passed in 2003 known as The PROTECT Act removed the statute of limitations for crimes involving the abduction, physical or sexual abuse of a child in virtually all cases. Before this legislation was passed, the statute of limitations expired when the minor victim turned 25.
"Our detectives spent a year and a half seeking justice for the victim in this horrific crime and we feel it's important to commend her for her bravery in coming forward and for her participation in this process. It is a difficult but worthy endeavor," Boise Police Lieutenant Terry Weir said in a statement last week. "We remind all victims that it's never too late to report crimes of this nature. Boise Police officers and our Special Victim's Unit work closely with victim support services at Faces of Hope Victim Center and we are ready and available to do whatever we can to bring some sense of justice to those who have been victimized."
Have a tip we should know? [email protected]