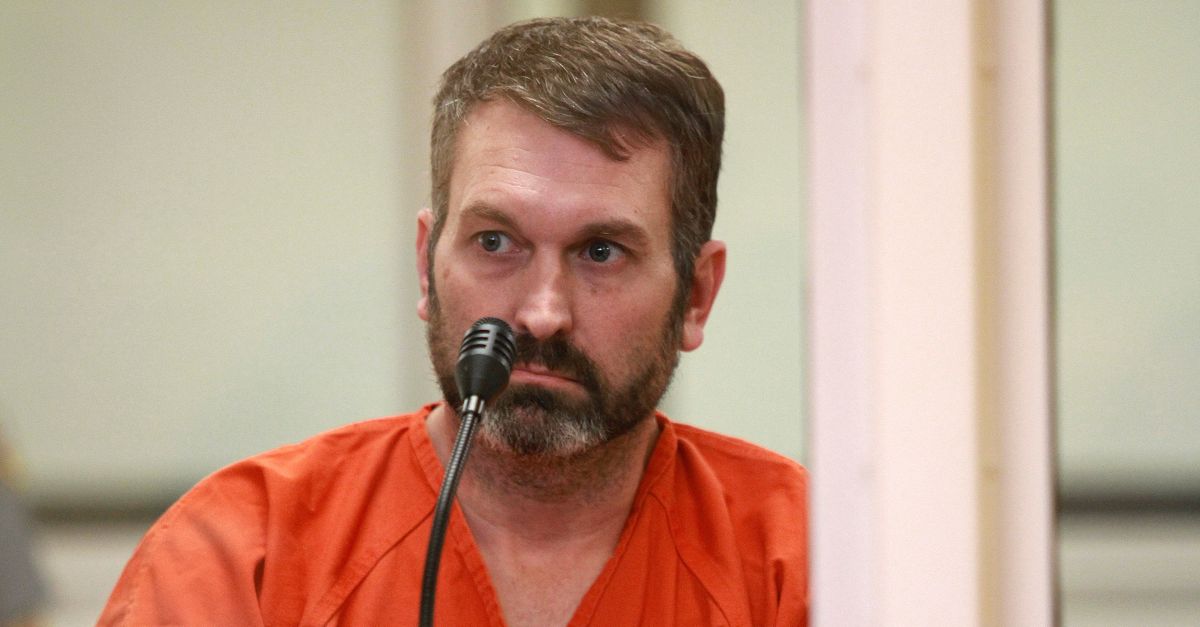 Anthony Pisano, a suspect in a triple homicide at a precious metals and coin shop, appears at his arraignment at the Anchorage jail on Wednesday, Sept. 13, 2017, in Anchorage, Alaska. Pisano was convicted on three counts of first-degree murder on Monday, Nov. 6, 2023. (AP Photo/Dan Joling)
It took six years, two trials and 1,000 pieces of evidence, but a jury on Monday convicted an Alaska man of murdering three people at a precious metals business in a robbery gone wrong.
Anthony Pisano, 49, faces 99 years for each of the counts of first-degree murder. Sentencing is set for May 23, 2024. Prosecutors said Pisano killed his friend, co-owner Steven Cook, 31, and employees Daniel McCreadie, 31, and Kenneth Hartman, 48, at the Bullion Brothers store in Anchorage on Sept. 12, 2017. Pisano also was convicted of assaulting his friend and co-owner Michael DuPree, then 26, who survived and became the prosecution's star witness. Anchorage police officers were called to the business around 10 that day for a shooting. They found the three victims in the store suffering from gunshot wounds.
Officers received a tip that Pisano was about five miles away. He called them while they were en route, and cops arrested him. Anchorage District Attorney Brittany Dunlop said during closing arguments in a video posted by local NBC affiliate KTUU that the motive for the murders was robbery. Dunlop said Pisano was $90,000 in credit card debt, so he turned the store's surveillance cameras off so he could rob the store. That's when he shot Cook to death.
McCreadie and Hartman were in another part of the building and came running when they heard the gunshots. Pisano shot them, too.
"Both Kenneth Hartman and Daniel McCreadie were killed because they were witnesses," Dunlop said. "They were killed out of acts of desperation by the defendant."
Defense attorney Kevin Fitzgerald said Pisano admitted to shooting Hartman and McCreadie but did so in self-defense. Fitzgerald said the prosecution's robbery theory didn't make sense because Pisano could have stolen from the store "with impunity" as he and Cook were pals. He shot Hartman and McCreadie because he thought they were armed. Fitzgerald said DuPree shot Cook over a business dispute.
But Dupree was never charged, and Dunlop said the self-defense theory didn't make sense because Hartman was shot in the back of the head, execution-style, reported Alaska Public Media.
"In truth, there is only one murderer, ladies and gentlemen, and it is Mr. Pisano," she told jurors.
The trial lasted nearly three months and had only 11 jurors because of the length of the trial, the district attorney's office said. Jurors could not come to a unanimous verdict during the first trial, which happened during the height of the COVID-19 pandemic. A judge declared a mistrial, leading to the second trial that started in August. The guilty verdict could not come quickly enough for the families of the victims.
"I was thrilled," Hartman's wife, Jane Hartman, told KTUU. "We've been waiting six years for this. It's been a long time coming. My husband was amazing. He was an amazing Seahawks fan. He was a good guy, dad, grandpa, good friend."
All three victims were devoted fathers and longtime residents of Alaska. Cook was born in the Land of the Midnight Sun. McCreadie and Hartman moved there in the early 1990s, according to their obituaries.
Have a tip we should know? [email protected]