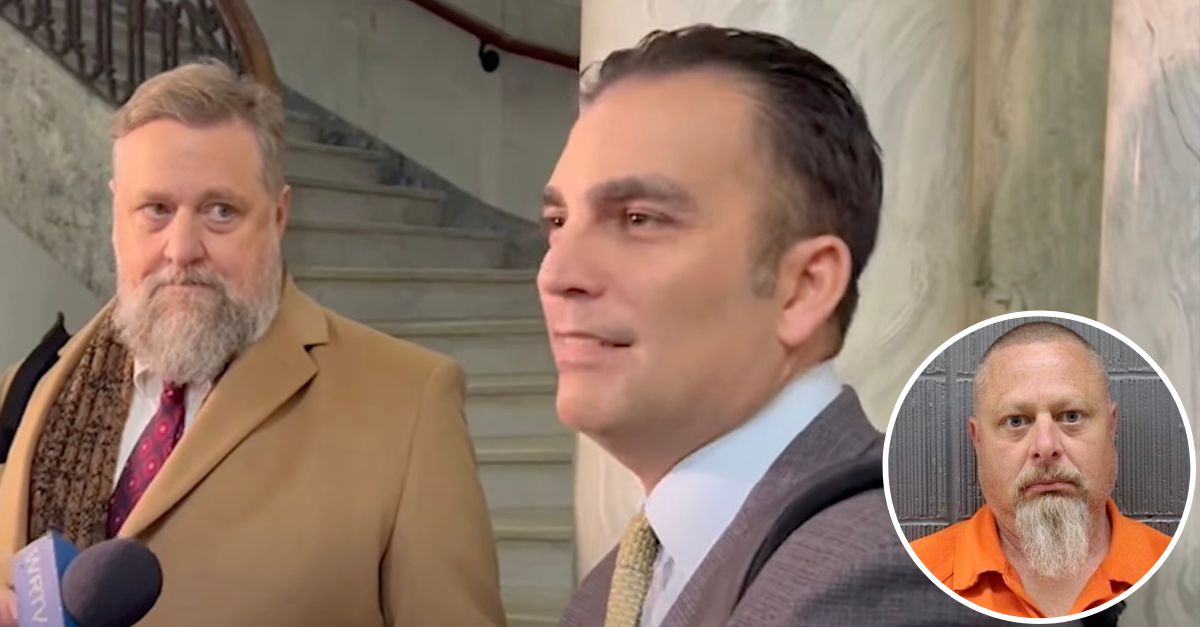 Andrew Baldwin, Brad Rozzi, and Richard Allen (YouTube: WTHR screenshot, Westville Correctional Facility)
The two defense attorneys for Richard Allen have withdrawn their representation of the 50-year-old man accused of killing 14-year-old Liberty German and 13-year-old Abigail Williams, making it just the latest in a series of bizarre twists surrounding the high-profile Delphi murders case.
The Thursday afternoon withdrawals of Andrew Baldwin and Brad Rozzi came only hours after a motion was submitted to Special Judge Fran C. Gull on behalf of Baldwin arguing that he should not be thrown off the case over the sealed crime scene photos that were leaked from his office.
The motion, submitted by longtime Indiana defense attorney David Hennessy, asserted that the evidence was only leaked because Baldwin "trusted a friend to respect his office space" and "was betrayed." It further argued that disqualifying him from the case would "greatly prejudice" Allen's constitutional right to counsel and a timely trial.
It is unclear what happened between 10:07 a.m., when the motion was submitted, and 2 p.m. when Judge Gull announced the cancellation of what was to be the first broadcasted hearing in the case.
"We've had an unexpected turn of events, ladies and gentlemen," Gull said after thanking prosecutors and court attendees for their patience. "Earlier this afternoon, the defense attorneys have withdrawn their representation of Mr. Allen."
Gull said that Baldwin made an oral motion to withdraw, which she subsequently granted, while Rozzi will be submitting a written motion to withdraw "in the next couple of days." Prior to withdrawing, the defense attorneys confirmed that Allen's financial situation has remained "static," meaning he is still entitled to court-appointed counsel. Gull said she would be reaching out to public defenders imminently.
"As Mr. Allen is now without counsel, I have ordered him transported back to the department of correction," Gull said.
Moving forward, Gull said the parties would keep an already-scheduled Oct. 31 hearing, at which point she hopes to have new attorneys appointed for Allen. However, she indicated it was highly unlikely the parties would be able to keep the trial scheduled for January 2024.
"Obviously I don't believe counsel will be prepared within the next couple of months to try a case of this magnitude in January," Gull said.
The judge also said that "in the best interest of Mr. Allen," Baldwin and Rozzi have agreed to "cooperate with successor counsel," something she noted they are "not required to do."
The withdrawal comes about a month after Baldwin and Rozzi filed a controversial 136-page legal memo claiming that law enforcement investigating the case had withheld exculpatory evidence, lied about the investigation while under oath, and ignored evidence that the victims may have been "ritualistically sacrificed by a white nationalist "Odinism" cult.
Prosecutors last month categorized the defense attorneys' claims as "unfounded accusations supported by absolutely no proof."
Allen is facing two counts of murder in the 2017 slayings of Williams and German, whose bodies were discovered in a wooded area just off of the Delphi Historic Trails system.
Williams and German vanished while walking the Monon High Bridge Trail near Delphi, Indiana, on Feb. 13, 2017. The trail traverses an abandoned stretch of what was once the Monon Railroad and crosses an old trestle over a small river or creek. The girls were found dead the next day in an area near the trestle and their deaths were determined to be homicides.
Have a tip we should know? [email protected]