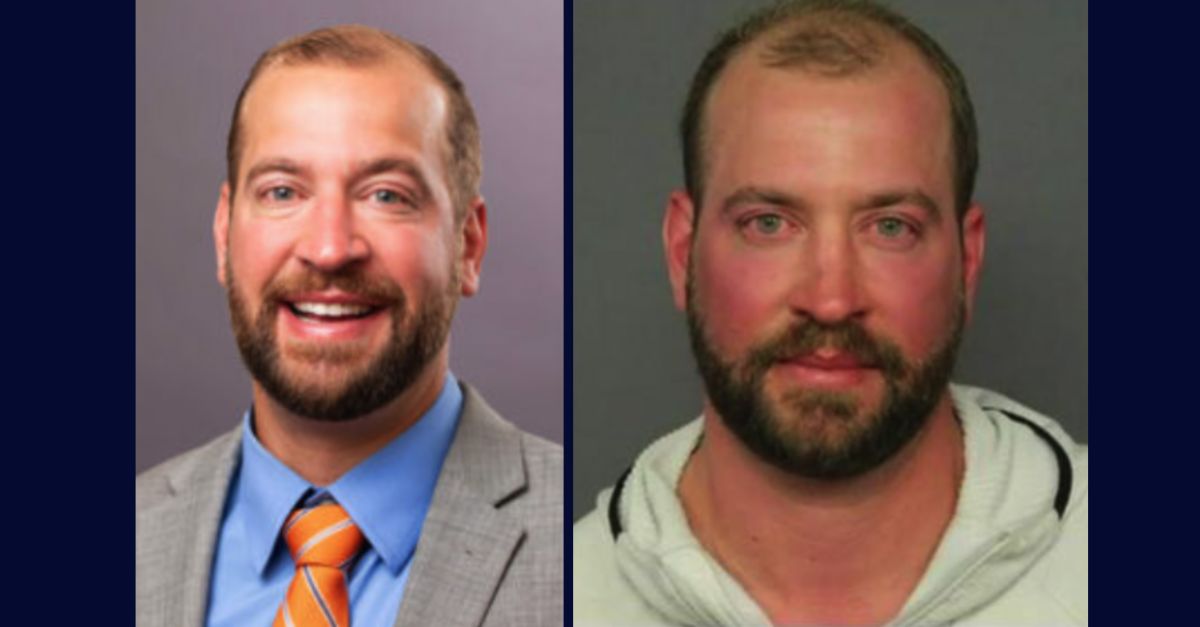 Left: Stephen Matthews (via Colorado Heart & Vascular). Right: Mug shot of Stephen Matthews (via Denver Police Department)
The attorney for victims of a Denver cardiologist accused of meeting women on dating apps, then drugging and raping them, says there could be upwards of 60 victims involved in a civil case against the doctor.
Dr. Stephen Matthews, 36, faces 51 felony counts in criminal court in connection with 13 victims. He has entered a not guilty plea.
Prosecutors say that as early as 2019, Matthews would meet with women he met on dating apps and slip something into their drink. The victims would often black out or become disoriented, which led to them being unable to remember most of their encounters with Matthews. Some of the victims say Matthews sexually assaulted them.
Police arrested Matthews in March 2023, charging him in connection with one victim. But soon after, he was arrested again as more women came forward.
Matthews is being held on a $5 million bond, with his criminal trial expected to get underway in March 2024.
The Colorado Medical Board suspended Matthews' medical license as the case makes its way through the courts. Matthews had worked at Colorado Heart and Vascular.
Stephen J. Burg is representing dozens of alleged victims of Matthews in a civil case. He spoke with Jesse Weber for Law&Crime's Sidebar podcast. Burg says that unfortunately, the stories his clients tell him about Matthews are all very similar.
"He would build trust and then get them to have a drink, usually close to his home, and drug them in that drink," Burg alleges. "They would be very, very impaired and not know what was going on. And he would sexually assault them."
"He was very savvy and able to build trust. He'd say 'Let's meet in a public place,' and talk about his dog and then oftentimes use that as an excuse to head back to his house or apartment," Burg told Weber.
Burg says the women who didn't know what had happened to them heard stories from other victims and things started to click into place for them.
"They wanted to put this all behind them, but now they want to make sure and stand up and provide some change so that this doesn't happen again," says Burg. "You know, quite frankly, every time a story is run about this, there are more and more survivors coming forward saying, 'Oh, my gosh, I'm hearing about this for the first time and I want to do my part to make sure this doesn't happen [anymore].'"
"Some of these survivors are going to have to talk about some of the most personal things in their life in a public setting," the lawyer added. "I am continually inspired by the strength of these survivors to come forward, to take action, to try to make this a better world for others."
Burg told Weber he is representing multiple women in a civil lawsuit. He plans to name Match Group as one of the defendants.
"Match Group owns about 80% of the online dating market share and they own a number of specific apps, including Hinge and Tinder. And so, you know, one of the one of the failures of Match Group was, when when Matthews was reported as a rapist, he continued to be on their website for multiple years afterwards."
Burg says the report was made by a victim after an assault but before criminal charges were filed. The victim was told Matthews would be removed from the app but Burg says that didn't happen.
"What's been reported is horrible and has no place on our platforms or anywhere," Match Group said in a statement. "At Match Group, we are committed to help keep our community safe and we continuously work to improve our systems to help prevent bad actors from accessing our platform. Our teams use a combination of automated tools and human moderation to help remove bad actors proactively. We have fully cooperated with law enforcement and will continue to provide any information to them that would be helpful for their investigation."
Burg believes there may be more victims who have not yet come forward but may want to. His law firm encourages anyone who believes they have been assaulted by Stephen Matthews to call them at 303-792-5595.
Have a tip we should know? [email protected]