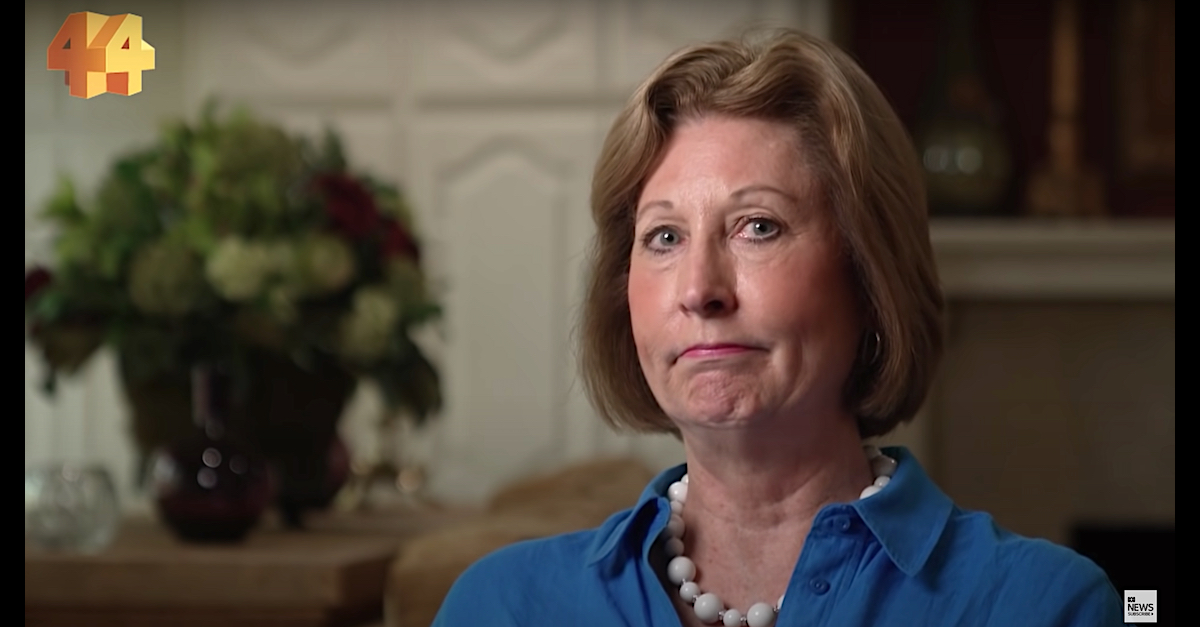 Sidney Powell appears in an August 2021 interview with the Australian Broadcasting Corporation.
Sidney Powell, a conservative lawyer behind the never successful post-2020 election "Kraken" litigation to overturn the outcome who went on to face a RICO indictment in Georgia alongside former President Donald Trump and 17 other defendants, pleaded guilty Thursday to six misdemeanor charges as part of a plea deal.
As part of Powell's plea to six counts of conspiracy to commit intentional interference with election administration, she will have to serve 12 months of probation on each count — set to run consecutively. That adds up to six years of probation, which would essentially deter Powell from meddling in a similar way in either the 2024 or 2028 elections. Powell was put on notice that violating her probation would lead that probation to be revoked for the balance of time remaining.
According to the terms of the plea agreement, Powell must testify truthfully at all trials of the RICO co-defendants, she cannot communicate with co-defendants, witnesses or media until all cases are closed, and she must provide a recorded proffer (which was done Wednesday night), according to the prosecution. The attorney will also have to pay a $6,000 fine, $2,700 in restitution, and write an apology letter to the citizens of Georgia.
Seated at the defendant's table next to her lawyer Brian Rafferty, Powell swore in open court to tell the truth. When Fulton County prosecutor Daysha Young asked her age, Powell replied "Oh gosh," eliciting courtroom laughter.
"68, despite my astonishingly youthful countenance," Powell said.
More Law&Crime coverage: The long arm of the law finally comes for members of Trump's 'elite strike force' legal team in Georgia — what to know about the charges
The move from Powell came one day before jury selection was set to begin in her trial with attorney co-defendant Ken Chesebro and two days after the trial judge, Fulton County Superior Court Judge Scott McAfee, rejected all of her attempts to challenge the form and substance of the RICO indictment.
Powell was dealt a serious blow on Tuesday when the judge ruled that each criminal count she challenged was "facially sound as alleged" and denied all of her bids to dismiss the grand jury indictment secured by Fulton County District Attorney Fani Willis (D).
Powell unsuccessfully asserted that the "only way the Georgia RICO statute can survive constitutional scrutiny is if the Court reads into it an element of criminal financial gain for the individual and enterprise, and the economic or physical threat or injury." The judge separately rejected her First Amendment-based bid to dismiss the case.
"Georgia precedent bars the consideration of an as-applied challenge here where the factual record, to the extent any yet exists, is incomplete and vigorously disputed. There have been no formal evidentiary hearings tested by cross-examination, and nothing is stipulated," the judge wrote Wednesday. "While the indictment goes further than the average case by describing a number of overt acts pertaining to both Defendants, the Court has not located nor been provided with any authority that a charging document alone can substitute for a traditional evidentiary record. Thus, the caselaw and the circumstances of this case as it currently stands require a denial of the Defendants' request to consider an as-applied First Amendment challenge."
Watch Sidney Powell plead guilty in open court below:
Have a tip we should know? [email protected]