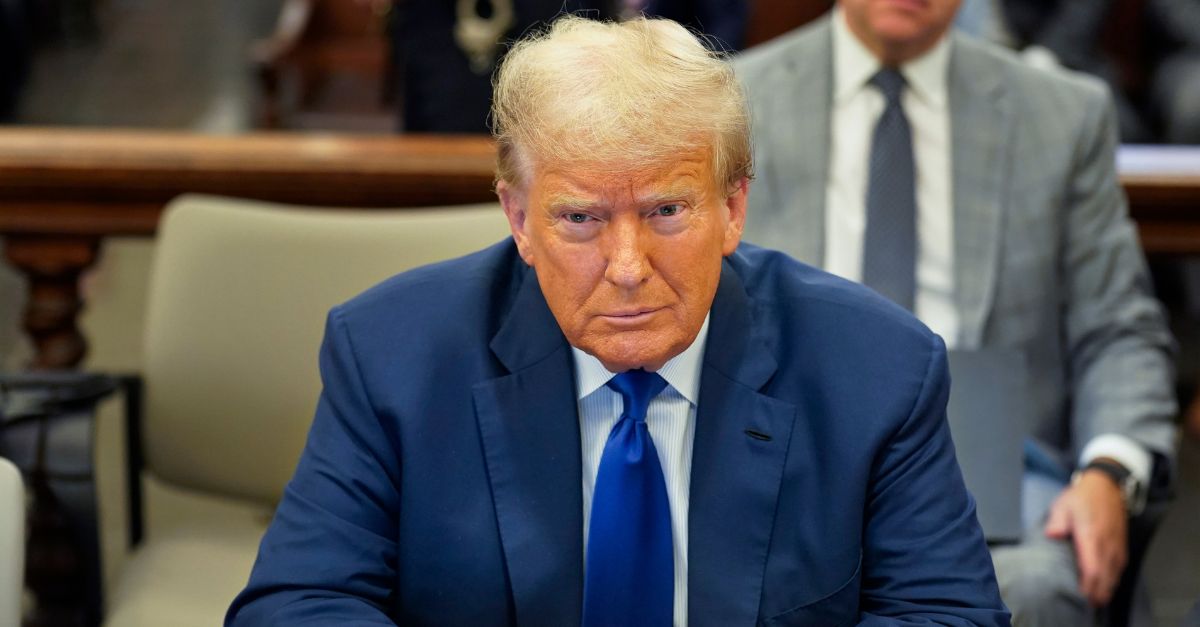 Former President Donald Trump, waits for the continuation of his civil business fraud trial at New York Supreme Court, Wednesday, Oct. 25, 2023, in New York. (AP Photo/Seth Wenig, POOL)
The ACLU will not be allowed to weigh in on the matter of a federal judge's gag order on Donald Trump, despite having already prepared a brief in favor of the former president.
In an arguably surprising twist, the stalwart civil rights organization — which notes that it had filed 400 legal actions against the Trump administration — had asked U.S. District Judge Tanya Chutkan for permission to argue that her gag order in the criminal case against the former president for allegedly trying to subvert the results of the 2020 election is unconstitutional.
On Tuesday, Chutkan denied that request.
"Leave to file denied," the federal docket reads. "Although courts have in rare instances exercised their discretion to permit third-party submissions in criminal cases, neither the Federal Rules of Criminal Procedure nor the Local Criminal Rules contemplate the filing of amicus curiae briefs. At this time, the court does not find it necessary to depart from the ordinary procedural course by permitting this filing."
In her gag order issued earlier, Chutkan barred Trump from "making any public statements, or directing others to make any public statements, that target (1) the Special Counsel prosecuting this case or his staff; (2) defense counsel or their staff; (3) any of this court's staff or other supporting personnel; or (4) any reasonably foreseeable witness or the substance of their testimony."
The ACLU says this order is both "overbroad and underexplained," according to the would-be brief. Chutkan's use of the word "target" is "unconstitutionally vague" and needs additional clarification, the organization argues.
"Former President, and now Defendant, Donald Trump has said many things," the ACLU's brief says. "Much that he has said has been patently false and has caused great harm to countless individuals, as well as to the Republic itself. Some of his words and actions have led him to this criminal indictment, which alleges grave wrongdoing in contempt of the peaceful transition of power. But Trump retains a First Amendment right to speak, and the rest of us retain a right to hear what he has to say."
In a press release, the ACLU said that it didn't want the gag order to be lifted completely, just that it be narrowed "to prevent infringing upon the First Amendment right to free speech."
Representatives from the ACLU declined to comment on Chutkan's ruling.
Read the ACLU's proposed brief here.
Have a tip we should know? [email protected]