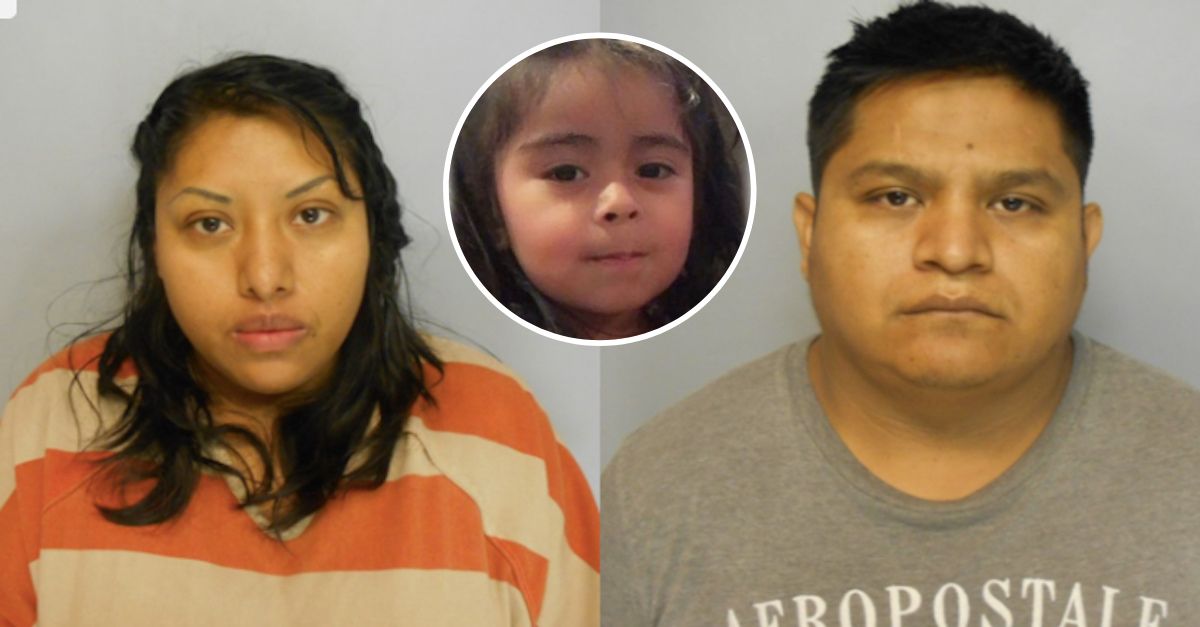 Nancy and Juan Peterson (Hall County Sheriff's Office) Valeria Jordan Garfias (Obituary.com)
A 33-year-old man in Georgia and his 34-year-old wife will both be spending years behind bars for brutally beating their friends' 2-year-old daughter to death while they were babysitting two years ago. Hall County Superior Court Judge Jason J. Deal on Monday ordered Juan Martinez and Nancy Martinez to serve sentences of 29 and eight years, respectively, for the brutal 2021 slaying of young Valeria Jordan Garfias, authorities confirmed to Law&Crime.
According to officials, Juan Martinez became enraged after Valeria defecated on a chair and struck her multiple times, ultimately killing her. Nancy Martinez, who was not home at the time of the fatal beating, did not call 911 when she got back and knowingly helped her husband lie about the circumstances of the child's death.
"This was a difficult case involving the murder of a baby not their own," Lee Darragh, district attorney for the Northeastern Judicial Circuit, wrote in an email to Law&Crime. "One or both of Nancy and Juan Martinez were directly responsible for the murder of this child, but the evidence available led to a resolution of pleas to lesser charges. We are grateful for Judge Deal's careful consideration in his sentences, and are pleased with their having to be accountable."
According to court documents, Juan Martinez entered an Alford plea to a lesser charge of second-degree murder in Valeria's death, which carries a maximum penalty of 30 years in prison. An Alford plea involves a defendant not explicitly admitting guilt, but conceding that the state has enough evidence to convict them at trial. For conviction and sentencing purposes, it is the equivalent of pleading guilty.
In addition to reducing the original charge of felony murder, prosecutors also agreed to drop counts of first and second-degree child cruelty.
Nancy Martinez, who was initially charged with the same three felony crimes as her husband, pleaded guilty to one count of second-degree child cruelty, which carries a maximum possible sentence of 10 years in prison. She and her husband were both credited with just over two years of time served since they were arrested in October 2021.
According to a report from The Gainesville Times, about 25 people attended the sentencing hearing to support the couple, several of whom addressed the court on their behalf. The witnesses reportedly all reiterated that prior to the violent outburst, the couple treated Valeria like their own child and she treated them like a second set of parents.
But that didn't sway Judge Deal, who emphasized how the couple didn't seek any medical attention for Valeria and repeatedly lied about what happened to the toddler.
"In this case, I'm faced with the facts that a child less than 3 years old was beat to death while she was in the care of the two defendants. And when the defendants were confronted with that fact, Mrs. Martinez chose Mr. Martinez over this child. And Mr. Martinez chose to be less than truthful, which they both had a right to do," he reportedly said. "But they claimed that this was their child, that they loved this child, that this child called them mother and father. Yet when she died, they chose to lie."
Assistant District Attorney Jennifer Bagwell said that Nancy Martinez had known Valeria's mother since they were children, calling the child's murder "a horrific betrayal," per the Gainesville Times. Bagwell also recounted Juan Martinez's admission to investigators about striking Valeria.
"At the very end of this interview, he tells the investigators that he was angry because Valeria wet her diaper and poop came out on the chair at the table, and that she was supposed to let them know when she had to go potty," Bagwell reportedly told the court on Monday. "(He said) that he got mad and just hit her on the head."
As previously reported by Law&Crime, Hall County Fire Services at about 1:50 p.m. on Oct. 10, 2021, responded to a call at the couple's residence located at the 2000 block of Bennet Circle. Emergency medical personnel attempted life-saving procedures and the toddler was rushed to Northeast Georgia Medical Center. The medical team then had her flown to the Children's Healthcare of Atlanta Hospital where she was later pronounced dead from her injuries.
Officials at the children's hospital contacted HSCO detectives "because of the nature of the victim's injuries," which indicated that they were non-accidental. A subsequent autopsy revealed that Valeria's death was a homicide caused by "traumatic brain injury and other internal injuries to the child's body."
Have a tip we should know? [email protected]