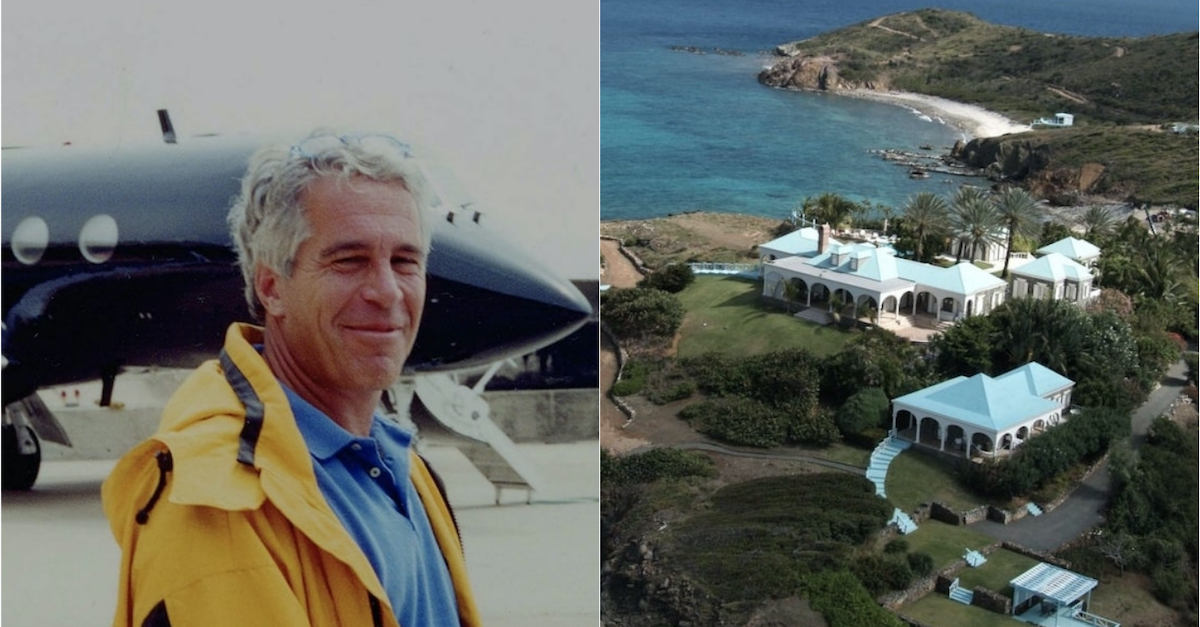 Jeffrey Epstein and his Virgin Islands home (Photos via DOJ)
The Attorney General of the U.S. Virgin Islands said Tuesday that a settlement was reached with JPMorgan Chase to the tune of $75 million to resolve a lawsuit accusing the bank of "turn[ing] a blind eye" to and enabling Jeffrey Epstein's sex trafficking crimes.
In December 2022, former U.S. Virgin Islands Attorney General Denise George filed suit against the big bank, claiming it
"knowingly facilitated, sustained, and concealed the human trafficking network operated by Jeffrey Epstein."
By February, the bank's lawyers fired back by calling the suit "legally meritless."
"USVI's lawsuit is a masterclass in deflection that seeks to hold JPMC responsible for not sleuthing out Epstein's crimes over a decade ago," a memo from the bank said at the time. "Yet USVI had access at the time to the same information, allegations, and rumors about Epstein on which it alleges JPMC should have acted. Indeed, as a law-enforcement agency, USVI had access to much more, along with the investigative advantage of physical proximity to Epstein's crimes."
Then came June, when JPMorgan Chase reached a $290 million settlement in a distinct but similar New York lawsuit. That settlement did not include an admission of wrongdoing.
Similarly, current U.S. Virgin Islands Attorney General Ariel M. Smith's Tuesday statement on the settlement made no mention of an admission of wrongdoing.
"As part of the settlement, JPMorgan has agreed to implement and maintain meaningful anti-trafficking measures, which will help prevent human trafficking in the future," Smith said. "This settlement is an historic victory for survivors and for state enforcement, and it should sound the alarm on Wall Street about banks' responsibilities under the law to detect and prevent human trafficking."
The attorney general said that the purpose of the lawsuit was to "make it substantially harder for traffickers to finance their crimes in the future, and we are confident this settlement will help achieve that goal."
"We are proud to have stood alongside the survivors throughout this litigation, and this settlement reflects our continued commitment to them," Smith continued. "With this constructive resolution of this groundbreaking litigation, we look forward to helping our community move forward and to building a new relationship with JPMorgan."
As part of the settlement, $10 million of the monies will be used to create a mental health services fund for Jeffrey Epstein survivors, the attorney general said. A "large portion" of remaining funds will go to local charities that support human trafficking and domestic violence victims, Smith added.
CNBC reported that $55 million total will go towards the foregoing and $20 million will cover the U.S. Virgin Islands' legal bills.
According to the attorney general's office, JPMorgan has agreed to create corporate policies and protocols surrounding the identification and prevention of human trafficking, even a "transaction monitoring program to detect potential crimes" and "annual reviews of its anti-money laundering program."
JPMorgan has committed to do the following, according to Smith:
Inform law enforcement when customers are identified as involved in human trafficking;
Terminate customers' accounts if JPMC has credible information that the account is engaged in or facilitating human trafficking;
Ensure accounts are not opened in the private bank without satisfactory due diligence;
Identify and escalate clients associated with forced or child labor, human trafficking or slavery and not to provide banking, lending, or other services to clients where there is credible information of forced or child labor, human trafficking or slavery;
Facilitate appropriate escalation and remediation of issues in the event JPMC identifies any violation of human trafficking laws by a JPMC supplier through firmwide operational risk practices; and
Conduct annual employee training on policies and procedures to identify, report, and address evidence of human trafficking by JPMC customers.
Have a tip we should know? [email protected]