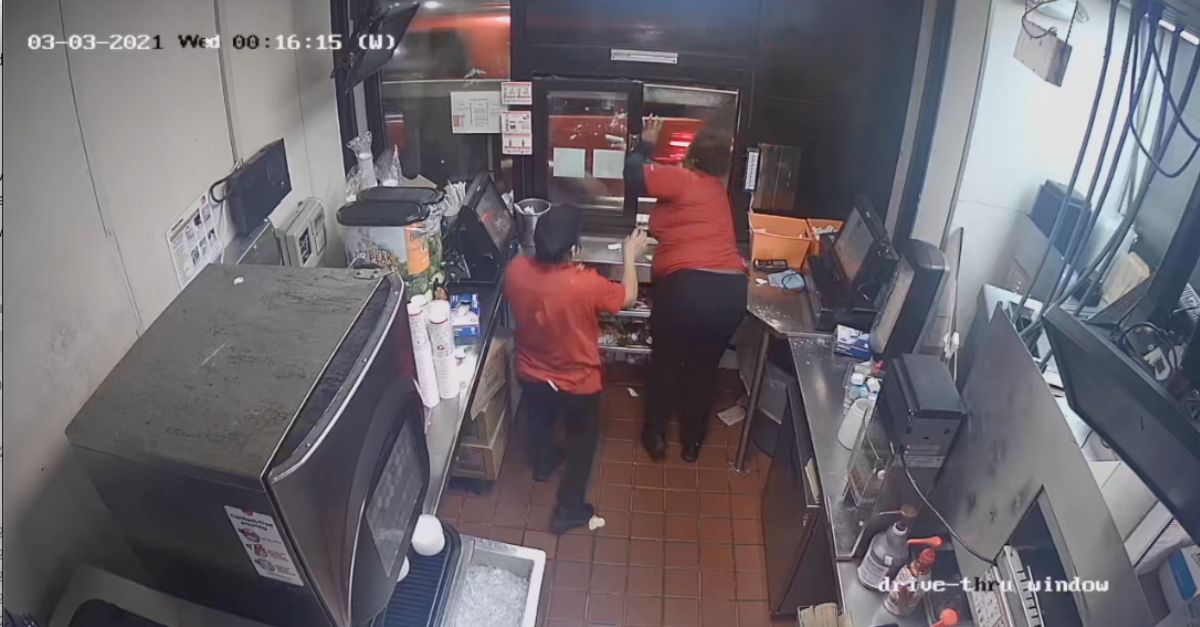 Alonniea Ford, right, is allegedly seen shooting at a car through the window of a Jack in the Box restaurant on March 3, 2021 (via Randall Kallinen, Kallinen Law).
A family who says a fast food worker opened fire at them after a fight over curly fries says the restaurant chain is responsible for the violence and needs to change its hiring practices.
Anthony Ramos, a Florida resident, was temporarily in Texas in March 2021 doing post-Hurricane Harvey recovery work. On March 3, after picking up his wife, Jeraldin Ospina, and her 6-year-old daughter from the airport, the three of them went to a Houston Jack in the Box at around 11:30 p.m.
According to a lawsuit, the family didn't quite get what they paid for.
After ordering a combo meal, Ramos and Ospina realized that the curly fries that were supposed to come with the order weren't in the bag. They told drive-thru worker Alonniea Ford that the fries were missing.
"Defendant Alonniea Fantasia Ford refused to fulfill the order that plaintiffs had paid for already," the complaint says. Although Ramos and Ospina asked to speak with the manager, the issue wasn't resolved — and, in fact, it escalated.
"Defendant Alonniea Fantasia Ford began cursing at plaintiffs and yelling at them to 'get the f— outta here!!'," the complaint says. "Plaintiffs started arguing with defendant Alonniea Fantasia Ford. At some point during the argument, defendant Alonniea Fantasia Ford threw ketchup, ice, and other items at plaintiffs inside their car."
According to the lawsuit — and video footage released by the family's attorney Randall Kallinen, Ford "then pulled out a gun." Ramos and Ospina quickly drove away as Ford "then shot at plaintiffs' car."
The video also shows that at some point during the confrontation, food was thrown from Ramos and Ospina's car at the drive-thru window, and Ford herself appeared to have been struck with some sort of food item.
The complaint notes that Ospina's daughter, identified in the complaint as "AH," was in the back seat of the car at the time and that Ospina herself was pregnant. The family was so shaken by the incident that Ramos quit his job in Houston and returned to Florida.
Ford was charged with aggravated assault with a deadly weapon. Texas judicial records show that Ford pleaded guilty to a single charge of deadly conduct, a misdemeanor. Ford was given a year of deferred adjudication and her case was then dismissed in June.
The complaint, which names both Ford and Jack in the Box as defendants, seeks an unspecified amount of damages. It alleges negligence on the part of Jack in the Box, saying that the restaurant chain should have "conducted background checks and proper investigations of its employees so that they only employ individuals that can provide a safe environment to customers." The complaint also says that the restaurant doesn't have sufficient codes of conduct and employee manuals that "prohibit the carrying and bringing weapons to its restaurants so that they do not represent any danger to the patrons."
"Jack In The Box needs to do a background check on their prospective employees and a manager needs to intervene if an employee escalates an argument with a customer," Kallinen said in a statement emailed to Law&Crime.
"While we cannot comment on ongoing litigation, we are aware of the situation involving an employee of one of our independent franchisees and remain focused on providing a safe environment for customers and restaurant workers," a Jack in the Box spokesperson said in an emailed statement in response to Law&Crime's request for comment.
Read the complaint, via Kallinen Law, below.
Have a tip we should know? [email protected]