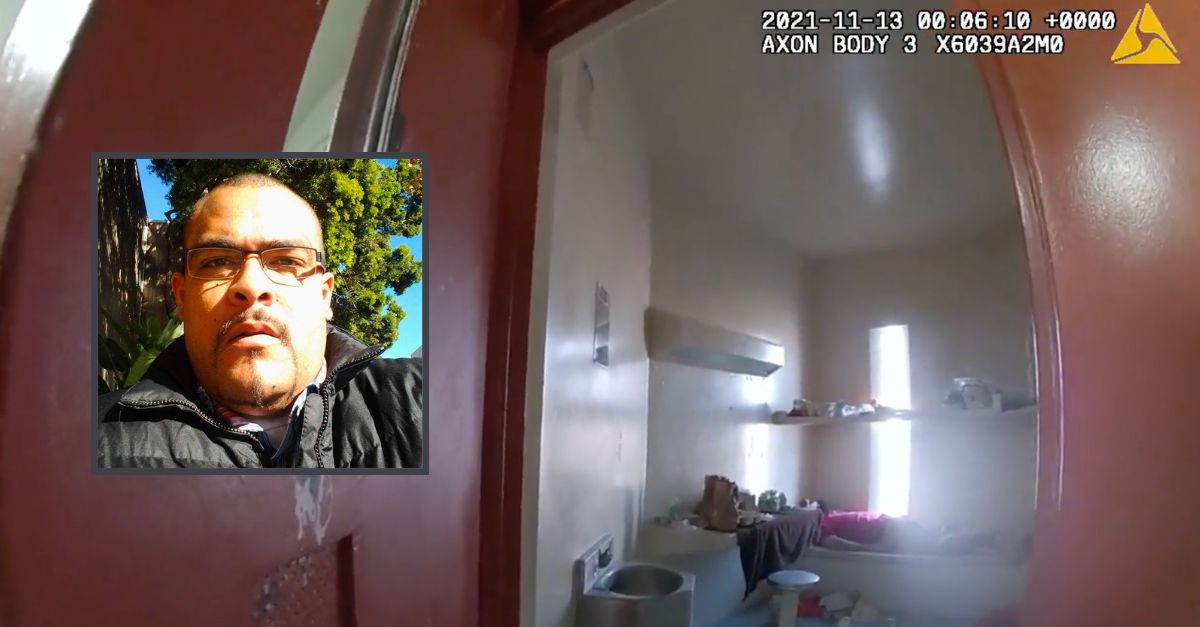 Maurice Monk, inset, died in custody in a California jail, and his family has filed a wrongful death lawsuit. (Images from body camera video from the jail via the lawyers for the family)
An inmate who died on his bunk in a pool of his own urine and feces in a California jail, after the man's family says jailers and nurses ignored his medical distress, may have been dead for at least 72 hours before his body was discovered, prosecutors said.
Maurice Monk, 45, was found dead in his Santa Rita Jail cell on Nov. 15, 2021. His family filed a wrongful death lawsuit alleging jailers ignored him, threw in his medications, and left his food in his cell "like he was an animal in a pen at the zoo." They recently won a $7 million settlement.
Alameda County District Attorney Pamela Price announced this week her office would be investigating Monk's death with the Alameda County Sheriff's Office.
"Mr. Monk, I am told, had a mental illness – a diagnosis. He had medical issues. We all know that mental illness is not a crime, and it should not be a death sentence in Alameda County," Price said.
In a statement, Sheriff's Lt. Tya Modeste said, "The Alameda County Sheriff's Office has and will continue to cooperate with the Alameda County District Attorney's Office on in-custody death investigations as outlined in the Memorandum of Understanding that has been in place for several years."
In a statement to Law&Crime, Adante Pointer, the attorney for Monk's family, said, "An unprecedented display of callousness deserves an unprecedented settlement. My firm will continue to do the work so that it becomes financially unfeasible for our government and its contractors who are feasting on our tax dollars yet providing subpar medical services to continue to do business as usual."
Monk suffered a "slow, torturous death" at the hands of several Alameda County Sheriff's deputies and medical staff while he was held for 34 days at the beleaguered Santa Rita Jail east of San Francisco, his family's lawyers said in the lawsuit. It all started on Oct. 11, 2021. Monk, a part-time security guard, was arrested for not wearing a mask on a public bus and arguing with the driver. He was jailed after missing a court date because his lawyers said he couldn't afford the $2,500 cash bail that would have kept him out of custody.
"The jail's neglect stole Maurice from us," said Monk's sister, Elvira Monk, in a statement through the lawyers when the lawsuit was announced. "If not for their utter neglect, my brother would still be here today to go to his son's upcoming high school graduation, hug his daughter and play with his nieces and nephews."
Maurice Monk languished in jail, ultimately dying from "hypertensive cardiovascular disease." The lawsuit said jail staff were so callous and indifferent to his mental and physical health that he rapidly deteriorated in their care. One inmate who helped distribute meals in the jail even asked the deputies, "Are we just waiting for him to kick the bucket?"
When jailers finally lifted him off his cot, the logo from his jail-issued T-shirt had transferred onto the sheet, and he had bedsores from being in the same position for so long, court documents said.
"For three days, jail and medical staff claimed to see his toe move or his chest rise, so that was enough," court documents said. "Until finally, a group of deputies and medical staff entered his cell after three days of not moving, eating or drinking, and discovered that Maurice Monk was stiff and not breathing."
"They literally did nothing more than stare at him and throw food and medications into his cell like he was an animal in a pen at the zoo," Pointer said in a statement then. "Despite the obvious crisis, not a single guard or nurse thought enough about Mr. Monk to call for help."
The suit alleged that county contractor Wellpath provided subpar medical services. A civil lawsuit against Wellpath is still pending. Wellpath did not immediately respond to Law&Crime's request for comment.
An internal affairs investigation into the death revealed jail and medical staff had forged the wellness check timelines and medication compliance logs required for the unit in which Monk was housed, the lawsuit said.
"A deputy even told investigators it was normal for deputies to miss several wellness checks and fill them in later to suggest deputies had conducted them," the lawsuit said. "Wellpath medical staff and deputies observed, quipped and joked about Monk's spiraling health over the final days of his life."
The federal government is monitoring the Santa Rita Jail, where 68 inmates have died since 2014 — including 11 since Monk, the lawsuit said.
Have a tip we should know? [email protected]