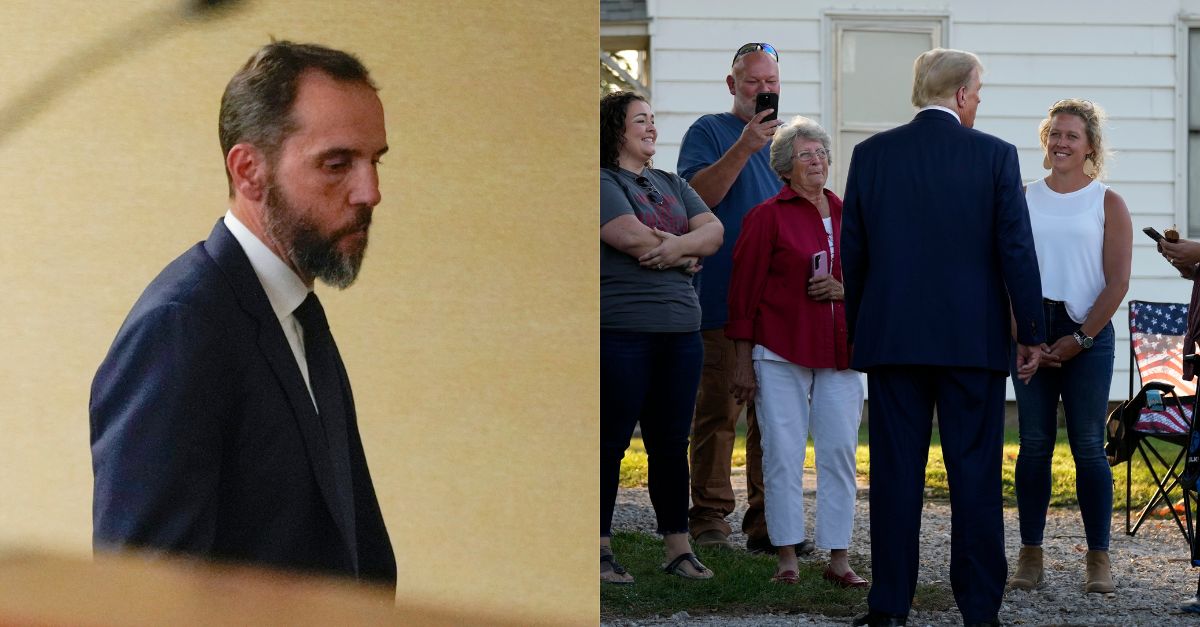 Left: Special counsel Jack Smith arrives to speak about an indictment of former President Donald Trump, Tuesday, Aug. 1, 2023, at a Department of Justice office in Washington. (AP Photo/Jacquelyn Martin)/ Right: Former President Donald Trump is on the campaign trail for 2024 and speaks with farmers during a visit to the Vande Voort family farm on Sunday, Oct. 1, 2023, in Leighton, Iowa. (AP Photo/Charlie Neibergall).
Donald Trump appears to be testing the limits of his pretrial release conditions in Washington, D.C., and special counsel Jack Smith has called on a federal judge to take note, citing in its recent request for a gag order the former president's handling of a gun in public and his tirades online that a trial witness should be executed.
In a scathing 22-page filing entered on Friday in the U.S. District Court for the District of Columbia — and tucked into the footnotes of its reply — prosecutors zeroed in on Trump's conduct at a Sept. 25 campaign stop in Summerville, South Carolina.
Trump was at the Palmetto State Armory and appeared on video holding a Glock pistol with his likeness etched onto it. Trump, who faces four criminal indictments, posed for pictures and stated, "I've got to buy one." A campaign spokesperson then went online and posted a video saying Trump had purchased the gun.
That post was quickly deleted and then retracted by campaign staff as questions rapidly swamped social media about whether Trump's purchase or handling of the gun was legal given his numerous federal criminal indictments. Not long after the retraction, however, Trump reposted the video with a message captioned above it from another Truth Social account.
The caption above the clip stated: "My PRESIDENT Trump just bought a Golden Glock before his rally in South Carolina after being arrested 4 TIMES in a year." [Emphasis, grammar original]
This type of statement, or amplification of this statement, could be intimidating to witnesses and a tailored gag order is warranted for this and other reasons, prosecutors contend.
"The defendant should not be permitted to obtain the benefits of his incendiary public statements and then avoid accountability by having others — whose messages he knows will receive markedly less attention than his own — feign retraction," Assistant U.S. Attorney Molly Gaston wrote.
Gaston also noted Trump's Sept. 22 message targeting Mark Milley, the retiring chairman of the Joint Chiefs of Staff and a witness for the prosecution as outlined in the government's indictment of Trump.
The former president falsely accused Milley of committing treason and dubbed him a "woke train wreck" that fed information to China about the U.S. while Trump was in office.
This was an act "so egregious," Trump railed on Truth Social last month, that "in times gone by, the punishment would have been DEATH!" [Emphasis original]
A day later, Trump publicly and falsely claimed yet again that there were thousands of fraudulent votes in Georgia and that the Georgia secretary of state knew this to be the case. Three days later on Truth Social, Trump targeted the special counsel's office, calling it a "team of Lunatics that are working so hard on creating Election Interference," [grammar original].
Responding to Trump's attorneys arguing that as a political candidate running for president in 2024, "he should have free rein to publicly intimidate witnesses and malign the court, citizens of [the District of Columbia] and prosecutors," Gaston countered that, "in this case, Donald Trump is a criminal defendant like any other. And as this court has correctly stated, it has an obligation to protect the integrity of these proceedings from prejudicial interference."
The tailored restrictions sought over Trump's speech around the election subversion case in Washington, D.C., and its prospective trial witnesses, survive First Amendment scrutiny, according to the government.
A hearing will be held on Oct. 16 to debate the placement of the gag order.
Trump's defense attorneys John Lauro, Todd Blanche and Greg Singer stridently argued in their filing last week that prosecutors are merely engaged in a "desperate effort at censorship" of Trump, and with the partial gag order, hope to torpedo his 2024 presidential campaign by limiting what he can say about the indictment alleging he conspired to overturn the results of the 2020 election.
Prosecutors say that the Supreme Court found in the 1991 case, Gentile v. State Bar of Nevada, that statements any reasonable person could expect to have a "substantial likelihood of prejudicing an adjudicative proceeding" — like jury selection or verdict deliberations — can and do trigger some limitations on a person's First Amendment rights.
Though in the Gentile case, the speech involved was that of a defense attorney and primary considerations were the "ethical restrictions" attorneys are forced to uphold that an ordinary citizen are not, the special counsel argued Friday that the Gentile standard still applies to Trump.
To have a fair trial for all parties involved, the First Amendment rights of litigants "may be subordinated to other interests," prosecutors wrote, and that the accused "should not be permitted to frustrate the court's function."
Trump "makes light of some of his previous attacks on witnesses — some of whom are federal and state government figures in their own right — by claiming that such witnesses do not 'shy away from a hearty public debate'" with him and are not intimidated by him. Trump has implied that the government officials he targets have somehow asked for his vitriol because they "have made politics, for all its discord and discourse, a large part of their lives," Gaston wrote.
But even assuming potential witnesses are not intimidated, other witnesses could still be affected by seeing what Trump does or says, she said
Prosecutors insist Trump cannot be allowed to "attack or bolster the credibility of any witness" that could influence the prospective jury and that Trump's own arguments basically concede that he is trying his case in the public square, not the courtroom.
This is not a bid to "unconstitutionally silence" the defendant as he claims, she continued, but Trump's screeds on his social media demonstrate a disruptive pattern.
The twice-impeached former president was already "caught making a public threat and then had a spokesperson issue an excuse" weeks before the Milley comments, she noted.
This was a reference to Trump's Aug. 4 "IF YOU GO AFTER ME, I'M COMING AFTER YOU!" [emphasis original] message on the social media forum a day after he was arraigned before Judge Tanya Chutkan.
Gaston said Trump's spokesperson had tried to falsely paint Trump's tirade as his response to "special interest groups and Super PACs."
But this is "implausible on its face," she said, and further, as the judge has already pointed out, even "arguably ambiguous statements from parties or their counsel," could taint the process.
Trump's response to the request for a gag order has included a number of creative solutions, though none of them viable, according to the special counsel. He has suggested moving venues, delaying the trial, or even altering jury instructions.
But so long as Trump continues to make "materially prejudicial statements" online, where his reach is quite broad, the effect will remain the same, prosecutors said.
"[As] long as he makes them, he will taint potential jurors anywhere in the country," Gaston wrote.
Trump, she continued, "should not be permitted to pollute the jury pool in this District… and then seek a change of venue based on the complaint that the venire is tainted."
Trump has derided his charges in Washington as bogus and his defense attorneys have argued the same in court, even saying there is no clear link between the charges and Trump's actions on Jan. 6, 2021.
To the contrary, prosecutors say this is a misrepresentation of what the special counsel has already told Judge Chutkan, and the defense, that it plans to show to jurors during trial. Prosecutors said there will be evidence and testimony to support the allegations that Trump's criminal conspiracy to target the Jan. 6 certification "capitalized on the widespread mistrust" he created through "pervasive and destabilizing lies about election fraud;" that before Jan. 6 he urged his supporters to descend on Washington and set the false expectation that then-Vice President Mike Pence had the authority to reverse the outcome; that he repeated false claims about the election and Pence and then directed his followers to march on the Capitol; and finally, that Trump exploited the violence at the Capitol he helped inspire with his deceptions so that he could further his efforts to obstruct the certification.
As for a jury study requested by Trump, the government is not wholly opposed to the defense taking one, according to its argument in Friday's filing, but they have asked for conditions to be set.
The special counsel has asked that whether it's the government or Trump doing the jury polling, the court must be notified ex parte, a brief description of the intended survey methodology must be included as well as a list of the questions to be asked and the expected number of people in the survey. Further, the study could not begin without court approval and the language of the survey itself would need to be reviewed for prejudice.
Prosecutors asked the judge to set a survey deadline of 30 days before jury selection begins and that the names and addresses of every participant are provided to the court at least two weeks before jury selection.
Trump has objected to all of these provisions and Gaston pointed out a hypocrisy to Judge Chutkan.
In court, the former president's attorneys have said if they are allowed to conduct a jury survey, they would need to do it "sooner rather than later," yet last week in their filing, defense lawyers said the prosecutor's request to survey 30 days before jury selection was too much time, and that "polling is most valuable if conducted close to trial."
Some of the polling special prosecutors would like to prevent, they noted on Friday, would be the kind Trump conducted online in 2019 while still in office. Trump said on Twitter, to his millions of followers, "A poll should be done on which is the more dishonest and deceitful newspaper, the Failing New York Times or the Amazon (lobbyist) Washington post."
He continued: "They are both a disgrace to our Country, the Enemy of the People, but I just can't seem to figure out which is worse?"
Trump's trial in D.C. is on track to begin in March.
Have a tip we should know? [email protected]